Halibut Point Hefeweizen
| Baranof Island Brewing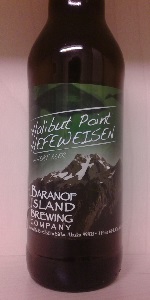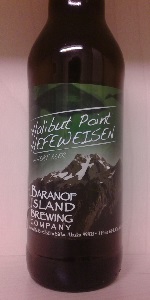 BEER INFO
Brewed by:
Baranof Island Brewing
Alaska
,
United States
baranofislandbrewing.com
Style:
Hefeweizen
Alcohol by volume (ABV):
4.70%
Availability:
Year-round
Notes / Commercial Description:
A few miles north of downtown Sitka, you can beach comb and barbecue at the Halibut Point Recreation Site (locally known as "The Rec"). The park is named after the flat, weird-eyed monster that can grow to nine feet in length and weigh up to 500 pounds. It may be the strangest fish lurking in Alaskan waters, but it lures fisherman from all over the world.
We hope our Hefeweizen can do the same.Already cosmopolitan with its German name (hefe meaning yeast) and brewed in
the traditional manner (mostly wheat malt), the Hefe is a crowd pleaser.
16 IBU
Added by BeerKangaroo on 07-09-2013
HISTOGRAM
Ratings: 12 | Reviews: 6
Reviews by utopiajane:

3.82
/5
rDev
+6.7%
look: 4 | smell: 3.75 | taste: 3.75 | feel: 3.75 | overall: 4
Pours a lovely turbid banana yellow with a graceful orange blush. Fat white head of foam that fell slowly and left lovely lace. Nose is crisp wheat on a light banana with plenty of citrus. Bright orange. There is some faint clove in the background and maybe a bit of grass. Taste is unique. It has a creamy yet light mouthfeel of a traditional hefe but the flavor is citrusy with orange. I like it. Makes it drink lightly like a wheat beer or a pale ale. Crisp dry wheat cracker and a bit of clove and faint white pepper and spice in the finish. The hops are lightly on the back end, just enough to accent that fruity taste and leave this one dry and refreshing.
Vive la difference is what I say. This is a unique interpretation of a hefe that many will say does not have enough banana and clove. I think they simply chose to give the citrus a nice place on the palate and the flavor in the end has plenty of banana but also plenty of orange to really brighten it and make it lovely on that wheat malt. Drinks creamy like a hefe, but has a slightly different slant on the flavor. Another great beer from this brewer. Thank you Adam for the chance to try another beer from this up and coming brewer.
1,200 characters
More User Reviews:

3.6
/5
rDev
+0.6%
look: 3.5 | smell: 3.5 | taste: 3.75 | feel: 3.5 | overall: 3.5
In a weizen glass the beer was a hazy orange color with a tiny white head. No discernible head.
It had a fresh, outdoorsy aroma. Grassy. Some citrus and sweet fruit.
Banana, orange, grassy.
An easy to drink beer. Refreshing. It wasn't that exciting, however.
261 characters

3.2
/5
rDev
-10.6%
look: 3.25 | smell: 3.25 | taste: 3 | feel: 3.25 | overall: 3.5
Pours a hazy orange and leaves pretty much the same color body; one finger white foamy head that concaves into the body and leaves some clingy foamy lacing in its wake and leaves some rings, smell is subdued "banana" yeastiness yet wheaty, light orange and a bit of clove the taste is bready and a bit of orange, wheaty aftertaste, dry finish the palate is about a medium, yet pretty sessionable, carbonation seems good for the style and for me; overall a mostly good hefeweizen, nothing outstanding for the style, but could still have it again.
545 characters

3.53
/5
rDev
-1.4%
look: 3.5 | smell: 3.5 | taste: 3.5 | feel: 3.75 | overall: 3.5
Poured into a Celebrator pokal. Pours a light golden amber with a half finger white head that dissipates to a thin film and ring around the glass with light lacing. Aroma of biscuit malt with hints of wheat, faint grassy hops. Flavor follows aroma, dominated by biscuit malt and mild hops. A faint passing hint of wheat and no wheat style yeast. Medium bodied with active carbonation. Possibly the oddest hefeweizen I've had; in a blind taste, I would have called this a pale ale with certainty. As a pale ale, it's quite nice, but I detect only faint suggestions of hefeweizen characters. I have to wonder if this is a labelling mistake and this is actually Baranof's pale ale!? I have checked other reviews on the internet and most found bready malt, clove and banana; I'm going to have to assume that I got a mislabelled bottle. I'm not sure how to score this, so I'm going to go half way between enjoyment (nice!) and hefeweizen character (fail). I will review this again after a fresh shipment from Alaska.
1,011 characters


3.5
/5
rDev
-2.2%
look: 3.5 | smell: 3.5 | taste: 3.5 | feel: 3.5 | overall: 3.5

2.95
/5
rDev
-17.6%
Hazy yellow amber in the tall Pilsner glass with a frothy head. Tangy and spritzy in the mouth.
This is an interesting surprise-- it tastes nothing like a Hefeweizen unless my taste buds have suddenly blown out. It also has a bitter aftertaste that seems just like a Pale Ale. There is a rather tart sensation that maybe tastes like the sourish sort of wheaty brew. It has some malty body but none of the sweet malty taste, much less any esters.
A drinkable but indefinable mongrel of a brew. A little sweet and soapy at the finish. Purchased at the brewery in Sitka and poured from the 22 oz bottle.
3.5 3 2.75 3.25 2.75
624 characters
3.5
/5
rDev
-2.2%
look: 3.5 | smell: 3.5 | taste: 3.5 | feel: 3.5 | overall: 3.5
4
/5
rDev
+11.7%
Though I've had this several times, I've never had this in a weizen until recently. Thanks Adam for letting me borrow his weizen for this.
The appearance had a cloudy yellow color with tints of crisp orange closer to the center of the beer. The head was humongous, wow, uhh...are all hefeweizens supposed to look that big in the head? Big fluffy white foaminess capping at the top and becoming slightly rocky.
The smell was awesome, actually it's always awesome to me. It's a bready/yeasty earthy spiciness. Light tart lemon flows into some bananas and then has a clove - like feature that I love.
The taste was sweet and spicy with a really nice bready / yeasty citrus flavoring.
The mouthfeel was somewhat sweet with a decent sharpness but nothing overbearing. Light wheatiness kicks with a fair bite at the end.
Overall, to me this is one of the best hefeweizens on the American market but I've never had the real German ones. Anchorage should be taking notes on this one this'll burn Thank you hefeweizen in a heartbeat. Germans can feel better knowing that not all Alaskan breweries have screwed up this style.
1,128 characters

3.06
/5
rDev
-14.5%
look: 3 | smell: 3.25 | taste: 3 | feel: 3 | overall: 3
On tap, 03/07/2017
18 characters
3.53
/5
rDev
-1.4%
look: 3.5 | smell: 3.5 | taste: 3.5 | feel: 3.75 | overall: 3.5

Halibut Point Hefeweizen from Baranof Island Brewing
Beer rating:
3.58
out of
5
with
12
ratings