Barrel Aged Broken Dream (Buffalo Trace)
| Siren Craft Brew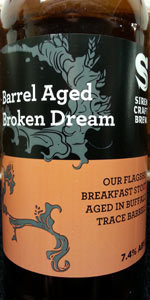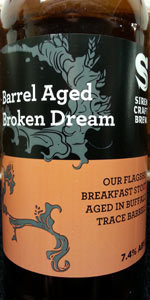 BEER INFO
Brewed by:
Siren Craft Brew
England
,
United Kingdom
sirencraftbrew.com
Style:
American Stout
Alcohol by volume (ABV):
7.40%
Availability:
Limited (brewed once)
Notes / Commercial Description:
No notes at this time.
Added by scotv on 01-31-2014
This beer is retired; no longer brewed.
HISTOGRAM
Ratings: 12 | Reviews: 3
Reviews by CwrwAmByth:
More User Reviews:


4.02
/5
rDev
+2.8%
look: 3.75 | smell: 4.25 | taste: 4 | feel: 3.75 | overall: 4
A 330ml bottle with a BB of Sept 2014, so this is well out of date. Purchased ages ago from Trembling Madness in York. The label describes it as a variant of Siren's Broken Dream that has been aged in Buffalo Trace barrels. The ingredients include oats, lactose and coffee.
A: Poured into a Duvel tulip. Bottle conditioned. A very dark reddish-brown hue that appears pitch black in the glass. Yields a minute creamy head that covers the surface of the beer before rapidly reducing to a collar.
S: Aroma of rich dark malt with hints of coffee, roasted grain, bitter cacao, molasses, bourbon notes, wood, subtle dried fruit, ale yeast and a vague earthiness. Despite the age of the bottle this smells superb.
T: Tastes of intense roasted malt with notes of coffee, burnt grain, cocoa, molasses, mild lactose, bourbon, wood, subtle dried fruit, ale yeast and a touch of earthiness. Quite sweet, followed by a substantial malt-driven bitterness upon swallowing.
M: Mouthfeel is smooth and lightly tingly, with very soft carbonation and decent body for the style. Could be both creamier and more textured. Mildly astringent. Aftertaste of coffee, roasted malt, molasses, lactose, subtle dried fruit, mild bourbon and ale yeast.
O: Excellent - undimmed by age. Looks alright, while the aroma and flavour are a fantastic blend of dark malt, coffee, lactose and bourbon notes. Decent body for the style but could be a shade more substantial. A delight for the senses; goes down all too easily. I presume this was a one-off but well worth sampling if you come across it.
1,566 characters

4.29
/5
rDev
+9.7%
look: 4 | smell: 4.25 | taste: 4.5 | feel: 3.75 | overall: 4.25
Picked this up at the Bottle Shop while on vacation in London. Pitch black pour with a one finger caramel-colored head with decent retention and lacing. Roasted coffee dominates the nose along with hints of cocoa, vanilla, bourbon, leather, oak, espresso, and dark chocolate. The taste follows suit with fresh roasted coffee once again the star along with huge oak. Hints of cocoa, dark chocolate, espresso, oats, vanilla, and bourbon on the finish. The mouthfeel was slightly fizzy with a dry, mouth-coating, bitter finish. Overall, this was really flavorful, albeit slightly thin for a stout. Way more upside than down. Another great offering from Siren.
664 characters

3.12
/5
rDev
-20.2%
look: 3 | smell: 3.5 | taste: 3 | feel: 2.5 | overall: 3.25
Reviewed from notes taken in Summer 2014.
"Barrel Aged Broken Dream (Buffalo Trace Barrels." 7.40% ABV. BB: 31st September 2014.
33cl brown glass bottle with a classy label design purchased at Craft Beer Co. Clerkenwell in London, England and served into a stem-tulip. Cost was 9.70 GBP.
No bubble show forms as it's poured.
HEAD: None whatsoever. There's a khaki colour ring atop the body, but that's it. No lacing.
BODY: Opaque solid jet black. Some fine yeast particulate is visible floating within, suggesting a lack of filtration.
Appears undercarbonated.
Not unique or special in appearance for a breakfast stout, but I'm optimistic.
AROMA: The bourbon barrel character is immediately evident - you'd pick up on bourbon right away in a blind tasting.
Lovely bourbony vanilla/barrel vanillin. A hint of buried oak. The bourbon seems to obscure the base beer, but digging in I do detect dark malts, oats, lactose sugar/milk sugar, and a kiss of coffee. I can't find any roasted barley or coffee roast, disappointingly. The prominent bourbon is lovely, though.
No overt yeasty or off aromatics. No overt alcohol.
A pleasant aroma of mild strength.
TASTE & TEXTURE: The vanilla from the aroma is pleasant in the first two acts, but surges to unpleasantly high intensity in the third act, injecting a creme brulee-like vanilla sweetness into the brew which completely sabotages the third act of the beer, ruining its structural balance. The drinker is left with an annoying sweetness lingering through the aftertaste, discouraging subsequent sips.
Milk sugar is amply distributed throughout, adding still more unneeded sweetness to the brew. Coffee and roasted barley bitterness are sorely absent; this beer lacks bitterness to compensate for all that sweetness.
Oats add a bit of body but no flavour, and push the texture towards more of a smooth and wet porter-like feel. It's full-bodied but lacks the assertive heft and monstrous weight I like in a good barrel-aged stout.
Barrel-wise, some toasted white oak would be a nice addition. If the troublesome vanilla sweetness is all the barrel is offering, I have to question if this was worth barrel aging at all.
It's unrefreshing, and the slickness of the texture drastically reduces its duration of flavour. More coarseness and dryness would really help extend the flavour. Depth of flavour is equally subpar for a bourbon barrel aged stout; there isn't much intricacy or nuance in this build, and the elements that do work for me - the early vanilla, the creaminess, the dark malts - don't coalesce into a gestalt harmonious whole.
While there aren't any true off-flavours and it's not a boozy or hot beer, it does feel fundamentally imbalanced, and its simplicity holds it back.
I do like it, but it fails to measure up to other bourbon barrel aged stouts and is disappointing as a result. It's rare a bourbon barrel aged stout is so simple - and frankly, so dull.
OVERALL: Not world-class, but it's a nice stout - just not at this price. I wouldn't bother with it again, but it does get better as it comes to temperature. Overall, it's a letdown of a Buffalo Trace stout with nothing interesting to offer the discerning drinker. Siren fails to impress with this one, but I'd like to give their other beers a go; there are enough good elements here to make this above average for the style.
C+ (3.12) / ABOVE AVERAGE
3,396 characters


3.75
/5
rDev
-4.1%
look: 3.75 | smell: 3.75 | taste: 3.75 | feel: 3.75 | overall: 3.75

Barrel Aged Broken Dream (Buffalo Trace) from Siren Craft Brew
Beer rating:
3.91
out of
5
with
12
ratings