Hunger n Thirst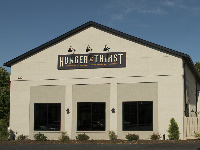 PLACE INFO
Type:
Bar, Eatery, Store
920 Landis Ave
Lancaster
,
Pennsylvania
, 17603-2522
United States
(717) 208-3808 |
map
hungernthirst.com
Notes:
No notes at this time.
Added by Neffbeer on 04-06-2013
Reviews: 9 | Ratings: 37

4.25
/5
rDev
+2.7%
vibe: 3.75 | quality: 4.25 | service: 4.25 | selection: 4.75 | food: 3.5
This place looks like it will be nothing but beards, waxed moustaches, and girls with full-sleeve tattoos. And, it kind of is. But, I've had almost universally wonderful service there (if I simply exclude the lady who seemed to be sick, hungover, or maybe currently inebriated).
Otherwise, I've had helpful staff pouring me beers styles that I just never, ever see on draft. My first visit, there was a sour tasting later that night, and they sold me sour after sour before the event. I even got an ESB, something I never see on draft outside of the UK or a British-themed pub. They have 24 taps, with the beer, style, ABV, and pour volume displayed on two big flatscreens above the taps. They'll make a flight of whatever, with the prices determined by what you choose. They have a lot of small, local breweries.
The menu is small, and I've only had one meal there. It was tasty, but I don't consider this a dining destination, more a 'trying lots of new beers' place.
There's a little gourmet shop and a bottle shop. Both are expensive but have some nice finds.
1,066 characters
4.08
/5
rDev
-1.4%
vibe: 4.25 | quality: 4.25 | service: 4 | selection: 4 | food: 3.75
Its a cool looking place on the inside, outdoor would be great when it gets warmer
beer selection was OK but relative to most places in the area it was great
service was fine, they did not rush to serve you in a relatively quite night
I would go back, but they need some more simple foods on the menu for me
307 characters
4.76
/5
rDev
+15%
vibe: 4.75 | quality: 4.75 | service: 5 | selection: 4.75 | food: 4.25
My go to bottle shop in Lancaster. Always something worth picking up in the bottle shop and chatting with Jeremy. The food and service has always been good for me, as well as a neat and clean establishment. No matter who you run into in there will be highly knowledgeable and efficient as well no matter how busy there are (which is usually fairly so).
352 characters
3
/5
rDev
-27.5%
One of few choices here in Lancater county. Pretty damn good selection. However when I chat up the guys running the register I get short, snobish answers. One guy tried to tell me that SN Narwhal came out in the spring! Great bottle shop, just needs a little more personality.
281 characters
4.26
/5
rDev
+2.9%
vibe: 4.25 | quality: 4.5 | service: 4.25 | selection: 4
I cam here for the first time recently to see what it is like after hearing it was worthy from multiple friends. I walked in and mughugger was working in the bottle shop. I learned,beerisland froggyfrog bierman2000 and tenderbranson69 so stopped in during the Christmas event. I checked out some bottles in the shop and purchased several I had not seen elsewhere.
They have the gastrpub and provisions side by side but I did not enter the provisions, just the pub. The place was packed early in the evening and did not let up. I did not try the food, but the place has an upscale vibe with lots of unique beer choices and the service was friendly and fast...I got to meet the owner Andrew and was pleased to have a flight in addition to some hard to find options on draft. I like it here and am sure I will return to try some tuna tartare tacos in the future
859 characters

4.24
/5
rDev
+2.4%
vibe: 4.25 | quality: 4.5 | service: 4.25 | selection: 4 | food: 4
A rather large building with an outside patio out front and tons of parking around back. Inside is an awesome combo of provisions shop, bottle shop and bar bar. Lots of people milling around drinking and buying beers even in the middle of the afternoon. No TV's other than the tap lists, a plus when it comes to this place. Service was some of the best around. They are all at least knowledgeable, some way more than others but still. I didn't have to wait more than a min or so for another beer. Quality is super high all around. They didn't spare a dime when it came to this place. From the beer to the food to the space itself, It's high end all around yet it isn't crazy expensive.
As far as selection goes, I am gonna base it on the bottle shop as well as the bar. The bars tap selection is pretty good but nothing that can't be found elsewhere in the area. The bottle shop has a nice, reasonably priced selection in what is best described as a storage closet. It works for what it is but its a little cold feeling. I think they operate on the "quality over quantity" when it comes to the bottle shop. I kind of want to rate the food an incomplete. I stopped in during their "in between menu" time so I could only choose from a few things. I got the soft pretzel with the cream cheese mustard and it was awesome. I look forward to trying some of the other offering on the dinner menu.
Overall an awesome addition to the Lancaster beer scene. The provisions shop has some awesome meets and cheeses, the bottle shop has some really nice bottles and the bar/kitchen is worth the stop alone. This place could easily become the best beer spot in Lancaster, brewery or not.
1,675 characters
3.5
/5
rDev
-15.5%
vibe: 3.5 | quality: 3.5 | service: 4 | selection: 3
Stopped in to get some carry out beer. Atmosphere in the main store was lively, in the bottle shop room was pretty quiet, and smaller than I expected. Decent quality of establishment and attentive and knowledgeable staff. Selection wasn't bad, but smaller than other bottle shops in Lancaster. Also this is singles and bombers only, no six packs here. I did ask about a discount for buying a mixed 6, but none was being offered at this time. I did not try any food on this visit. Prices actually weren't bad, as far as PA goes. Overall a welcome addition to the Lancaster beer scene.
583 characters
4.31
/5
rDev
+4.1%
vibe: 4.5 | quality: 4.5 | service: 4 | selection: 4.25 | food: 4.5
My wife and I stopped in for lunch today and had a very pleasant experience. The space has a beautifully designed reclaimed industrial feel. The wood table tops with natural curves left in was a nice touch.
There are three seperate areas. A small but well stocked bottle shop manned by the same helpful and affable gentleman for both of my visits. The retail/deli area has an intriguing combination of both local and imported high end meats, cheeses, and other specialty foods. The restaurant and bar area has a sleek, modern feel but still seems comfortable and inviting. The two large television screens future nothing but the 24 tap selections thankfully. The options were diverse and seemingly well thought out. I enjoyed my Rodenbach Grand Cru with lunch immensely.
We had very tasy asparagus fries for an appetizer and each enjoyed one of seven paninis from the lunch menu. Mine featured a creative combination of Serrano ham, arugla pesto, and a fried egg. Awesome.
Overall, this is a fantastic addition to the local beer scene. I'm sure I'll be back soon.
1,067 characters
4.25
/5
rDev
+2.7%
vibe: 4.25 | quality: 4.25 | service: 4.25 | selection: 4.25
Visited here on 2013-05-29 on their grand opening day.
The location is close to Lancaster City just off a main street, Harrisburg Pike. It's close to major highways. There is a lot of on-site parking and more on the street. The building is boxy on the outside but the décor on the inside is very nice and inviting.
There are three main areas:
The bar has 24 craft beer taps, wine and liquors. The bar and tables have rich wood-textured tops. Thankfully, there were no TVs. There is an interesting one-page menu featuring artisan meats and cheeses, paninis and other high-end plates.
There is an retail store area where you can buy the meats, cheeses and other interesting food stuffs and non-alcohol beverages.
The last public space is a bottle shop for takeout only. There are bigger bottle shops in Lancaster but the selection here was good for the space and I found a few things to go.
In general, the atmosphere, decorations, structure, windows, walls, flooring, etc. is upscale.
The draft beer prices were all $6.00 but the serving size varied from a pint on down, depending on the alcohol content and price of the craft beer. They plan on filling growlers in a few months.
This a good spot and a welcome addition to the ever-growing craft beer scene in Lancaster.
1,279 characters
Hunger n Thirst in Lancaster, PA
4.14
out of
5
based on
37
ratings.