La Myrtille D' Amélie (for Detrembleur)
| Brasserie d'Achouffe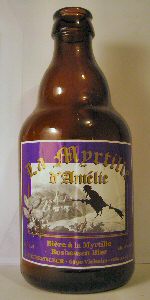 BEER INFO
Brewed by:
Brasserie d'Achouffe
Belgium
achouffe.be
Style:
Belgian Pale Ale
Alcohol by volume (ABV):
6.00%
Availability:
Limited (brewed once)
Notes / Commercial Description:
No notes at this time.
Added by Absumaster on 04-08-2007
This beer is retired; no longer brewed.
Ratings: 6 | Reviews: 4
3.11
/5
rDev
-9.3%
look: 3.5 | smell: 3 | taste: 3 | feel: 3.25 | overall: 3.25

3
/5
rDev
-12.5%
look: 3 | smell: 3 | taste: 3 | feel: 3 | overall: 3
3.23
/5
rDev
-5.8%
look: 3.25 | smell: 3.25 | taste: 3.25 | feel: 3 | overall: 3.25
Dumpy 33cl bottle (claims to be brewed by A. Detrembleur of Vielsalm): BBD 13 July 2013. Poured into a Westmalle chalice at home on 30 May 2013.
Myrtille/Bosbessen or Blueberrys: doesn't matter how you say it or in what laguage, this is a beer that is flavoured with that fruit. It smells and tastes very berry in deed.
Strange red and blue hue to the otherwise copper coloured beer, white head which started thin and stayed that way.
Not really my cup of tea, but interesting and certainly different. I first had one when staying in the Ardennes and brought this bottle home to review at leasure because i couldn't take note during my first encounter with it.
663 characters
3.01
/5
rDev
-12.2%
look: 4 | smell: 3 | taste: 2.75 | feel: 2.5 | overall: 3.5
Stubby 33cl bottle into a tulip. The brew appears a light hazy ruby tinted copper color with a big frothy white head stronger than 2 fingers. The cap fades slow leaving some webby patterns of lace sticking to the glass. Rising bubbles of carbonation maintain an uneven surface across the top throughout the entire duration.
The aroma is very berry-like but also smells somewhat augmented and a bit artificial. Think fruity pebbles breakfast cereal with a hint of grape soda, carbonic quality, sulfur and faint wheat to neutral cereal-like grains. The more I smell this, the more berry-like it gets but in a slightly artificial way that is minorly medicinal and finishes again like grape soda in the nose.
The taste is pretty uninspiring. The flavor is pretty linear upfront and displays little depth. A hint of berries comes forward that snaps pretty sharply into a carbonic quality that is minorly sulfuric and mineral filled. Some wheat is present but there is an herbal bitterness present that keeps the fruited quality from tasting sweet. It lingers in the mouth with a taste that is very familiar but I can't quite put my finger on it. Half-way through the glass, it hits me. The fruited quality of this brew is very similar to the aftertaste of blueberries but with a bit of a medicinal addition.
This is a very light bodied brew with an effervescent and somewhat distracting amount of carbonation. This is really interesting... I dont know what "myrtile" is as it has been referenced in the other reviews and this brews name but from this I get a pretty strong blueberry character. However, without any sweetness it is a bit perplexing and a strange contrast to what I want to say is natural feeling at times but also strangely strong and augmented somewhat artificially as well. While this brew wasn't bad, I think it could be tuned a little and really be turned into something special.
1,898 characters

4.02
/5
rDev
+17.2%
look: 4 | smell: 4.5 | taste: 4 | feel: 3 | overall: 4
Aside from being the only offering that I know of made with myrtle berries, this beer has three other notably distinct features. The first is its pomegranate blush, which is as pretty as it is unique. Although it is far from transparent it does have a bright, far-reaching glow that contrasts nicely with its soapy, rosé-tinted froth.
The second is the sheer level of fruitiness. I've never had myrtle berries, but their character strongly resembles that of blueberries, although I also note a likeness to açaí, blackberries and, to a lesser extent, fresh plum. With that proviso, the word 'berries' just like that sufficiently describes the bouquet. Underlying it is a strong tartness.
The beer's third distinguishing quality is its high-level of bitterness. I didn't think much that the brewer actually mentions hops in the write-up, but this is the only fruit beer I've had where bitterness absolutely demolishes sweetness. The hops add minty, lemony and rose-like florals; it tastes like a mojito with blueberry, blackberry or açaí substituted for lime.
The fruitiness, however, does become a bit stale in the aftertaste and it starts to feel like chewing on stale bubblegum. Fortunately the palate refreshes with each new sip (although I worry this 33cl bottle will quickly run out). That said, harsh soda-water-like bubbling, when combined with the bitterness and a bit of yeast spice, hinders drinkability considerably.
Brasserie Detrembleur has made a fruit beer with all the exceptionally juicy berry flavor one could want that simultaneously sheds all the style's other typical qualities: it champions bitterness not sweetness, puts a strong profile in place of a light one and favors originality over mass-appeal. I hope this brewery's operations grow so that more people can try this.
1,809 characters
3.85
/5
rDev
+12.2%
look: 4 | smell: 4 | taste: 4 | feel: 3.5 | overall: 3.5
This beer is brewed for Detrembleur, which is a brewery supplier.
Appearance is an orange/amber colored beer with lots of carbonation and some yeast particles floating around. The head is stable and thick.
Smell is strong blackberries and other dark red fruits. It appears a little artificial. The yeast adds a musty, yeasty stock smell.
Taste is less blackberry than the smell suspects, but certainly has this nice fruitiness, which basically the beer is all about. Next to that is a light maltiness which is also a bit bready. The yeast adds a nice fruitiness, that is not from the used fruit. Bitterness is low and almost absent. Mouthfeel is a little sticky and the beer leaves a dry, fruity aftertaste.
Not a sweet chemical fruit beer, but a well designed beer.
776 characters
La Myrtille D' Amélie (for Detrembleur) from Brasserie d'Achouffe
3.43
out of
5
based on
6
ratings.