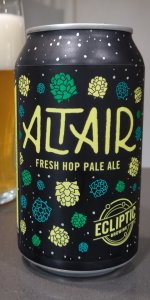 Rate It
Beer Geek Stats
| Print Shelf Talker
Style:

ABV:

5.5%

Score:

Avg:

3.73

| pDev:

16.09%

Reviews:

12

Ratings:

From:

Avail:

Rotating/Seasonal

Wants

Gots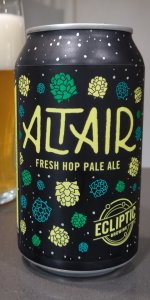 Notes:
The brightest star in the constellation Aquila, Altair uses fresh hops to celebrate the annual hop harvest.
2021: Strata & Centennial
2020: Strata & El Dorado
2019: Amarillo & El Dorado
2016: Amarillo & Simcoe
2015: Meridian

MikeWard from Pennsylvania
3.94
/5
rDev
+5.6%
look: 4 | smell: 3.75 | taste: 4 | feel: 4 | overall: 4
12oz can into a pint glass. Canned 9/10/21, so 5 weeks old.
Looks decent enough in the glass. Faintly hazy pale golden yellow body. Small white head shrinks to a collar and covering, patchy lacing.
Mixed fruit aroma.
On tasting, quite juicy, restrained, light in body, but very good flavor. Goes down very easy.
Mouth close to medium. Finish clean, slightly fruity, nice hop feel.
Overall, pretty nice fresh hop pale ale. Light and easy drinking but with some real flavor.
Friday at 02:32 AM
mschrei from Illinois
4.13
/5
rDev
+10.7%
look: 4 | smell: 4 | taste: 4.25 | feel: 4.25 | overall: 4
Cloudy pale gold color, frothy head, mild lacing. Prevalent scent is dank hops, as it is on the taste. A bit of grape, a bit of malt, a bit of citrus as well. Crisp, slightly mouth watering finish, lighter bodied. Not bad, definitely lives up to the "fresh" part of fresh hops.
Thursday at 02:42 AM

DIM from Pennsylvania
4.18
/5
rDev
+12.1%
look: 4 | smell: 4 | taste: 4.25 | feel: 4.25 | overall: 4.25
2021 version from Tavour.
This is deliciously dry and crisp. I get fruity elements of stone fruit, a little grape, and just a trace of citrus. Some mineral-y biscuits and a trace of honey. Very fresh tasting, well done.
Oct 08, 2021

mactrail from Washington
4.08
/5
rDev
+9.4%
look: 4.25 | smell: 4.25 | taste: 4 | feel: 4 | overall: 4
Reviewing the 2021 version, and I think this ought to be retired anually and post each new version since the hops change. This year it's Strata and Cetennial.
Perfectly clear yellow gold color with plenty of foam in the Blanche de Chambly goblet. Aromatic with berries and peach. Very fruity and flavorful but more complex than the citrus bombs. Tastes of nearly ripe apricot, white grapes, and even a hint of coconut. Just the right light acidity.
Overall this is a delicious lighter version of the fresh hop harvest. Aromatic and crisp. Hops are clean and avoid that herbal murk that mars many other wet cone brews. From the 12 oz can purchased at Town & Country (formerly Central Market) in Mill Creek. Can't read the date stamp among the manhy numbers on the botom, but it taste fresh.
Oct 07, 2021

oberon from North Carolina
3.66
/5
rDev
-1.9%
look: 4.25 | smell: 3.25 | taste: 3.75 | feel: 3.75 | overall: 3.75
Pours into a nonic a hazed lemon yellow color with a pillow-like one finger bone white head that sticks nicely as it settles slowly into a soapy-like mass,alot of chunkies and floaties swirling.Aromas are somewhat disappointing in how muted they are,I get a bit of stone fruit and that's about it.Very fruit forward on the palate,like others have said I get some peach in syrup,underying lightly toasted grains underneath.Light bodied and not overly complex but very drinkable.
Nov 07, 2020

TheBricenator from Oregon
4.21
/5
rDev
+12.9%
look: 4 | smell: 4.25 | taste: 4.25 | feel: 4 | overall: 4.25
Note: 2020 version uses Strata and El Dorado hops
Look: Slightly cloudy light orange and a frothy head quickly settles to a thin film atop, leaving good lacing behind
Aroma: Orange-led citrus fruits, some dank herb, peach, pear, apricot, and some bready and sweet malt notes
Taste: Apricot, peach, pear, and orange erupt on the palate with grapefruit and Cannabis close behind. Bready malt is present as well, but in the depths far below the hop-led onslaught. More fruit salad leads to a nice bite on the finish
Mouthfeel: Full, medium-high carbonation, a good hop bite and some dryness on the finish
Overall: This is awesome stuff. A delicious wet hop pale ale from a brewery I respect and consume frequently and this hop profile brings a lot of fruit and herb to the table. Not surprised that El Dorado is in this too as I always get pear notes from it and after this, I know I still do even when it is used wet/fresh. Delicious
Oct 13, 2020

Reidrover from Oregon
4
/5
rDev
+7.2%
look: 4 | smell: 4 | taste: 4 | feel: 4 | overall: 4
Pint at the Westside Taphouse in West Salem OR
$6
Slightly hazed gold coloured beer with a small yet persistent bubbly white head. Great lace
Nice yet subdued fresh leafy hop dust aroma
Taste very delicate fresh hop ..juicy. type. Gets real on the end of the mouthful.
Nice drinkable, lightish mouthfeel..nicely balanced.
Very nice FH pale ale.
Sep 26, 2020

NickSMpls from Washington
3.58
/5
rDev
-4%
look: 3.75 | smell: 3.75 | taste: 3.5 | feel: 3.5 | overall: 3.5
This APA pours a hazy light orange-amberwith light head and a whiff of fresh hops. The taste is a bit sharp and a bit harsh for a APA. Lots of hop flavor, a little light on the malt base. We think it's an ok offering, but for a fall fresh hop beer, there are better selections.
Revised - 9/28/21 - this version has taken care of our comments, but still is overshadowed by others. We've upped the grade.
Oct 27, 2019
Cliffanater
1.85
/5
rDev
-50.4%
look: 4 | smell: 2 | taste: 1.5 | feel: 1.75 | overall: 1.75
I was excited to try this beer. A fresh hop pale? From Oregon? Looks good in the glass... but the smell instantly told me I this beer was going to taste bad. Didn't smell like any fresh hops I have ever had. Taste like a bottom of the line IPA poured on tap at a bar that doesn't sell much IPA. Tempted to pour this one out. Don't fall for the fresh hop hype!
Oct 10, 2019

Lingenbrau from Oregon
3.64
/5
rDev
-2.4%
look: 3.25 | smell: 3.5 | taste: 3.5 | feel: 4.5 | overall: 3.75
Aside from the insane amount of floaties suspended in the pale orange body, Altair is still a handsome looking beer. Perhaps that's due to my expectation of having those raw delicious ingredients being typically visible for the style. Above rests a comfortable looking pillow of eggshell white foam, that lazily descends leaving frothy lacing everywhere.
Odd as this may be the first fresh hop beer of the year that the aroma didn't explode at the crack of the can. Actually, I have to dig my nose in deep to discover the melon and rubber notes. Overall, it smells a bit dirty and damp. Don't know how else to explain that one.
Again, this doesn't attack the taste buds either. Kind of funky as it continues an earthiness and even vegetal likeness. The closest thing to citrus I can muster up with is dried rind. Yeah… green peppers, even mint. This thing is all "earthy" despite it's homage to Aquila.
Perhaps the best thing about Altair is the feel. It has a nearly perfect Pale Ale feel. Light to medium body, a middle ground carbonation, great balance that leans into a wonderful lingering bitterness.
Altair doesn't quite match up to most of the fresh hop beers I've had this year, but it's still quite a good Pale Ale. I'll gladly enjoy the rest of this sixer, but that will most likely be the end of it.
Sep 29, 2019
ArrogantB from Colorado
2.32
/5
rDev
-37.8%
look: 4 | smell: 2 | taste: 2 | feel: 4 | overall: 2
This had an awful burnt rubber and dirt taste. I was shocked how bad it was. Total drainpour, hopefully it was just a bad can but I won't go back for more.
Sep 29, 2019

rarigney from Washington
4.09
/5
rDev
+9.7%
look: 3.75 | smell: 4 | taste: 4.25 | feel: 4 | overall: 4
On tap at the brewery, pours a hazy pale amber with an off white head. The aroma is initially floral and citrus, then a hint of dank sneaks in. The taste is very much like the nose with citrus and floral dominating. Brewed with fresh Centennial hops.
Oct 16, 2017
Altair from Ecliptic Brewing
Beer rating:
85
out of
100
with
19
ratings