Heylissem Brune
| Brasserie Val De Sambre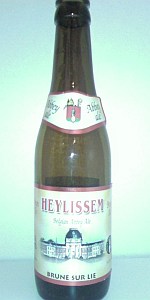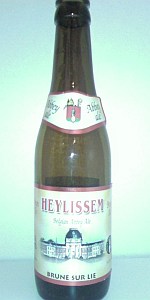 BEER INFO
Brewed by:
Brasserie Val De Sambre
Belgium
valdesambre.be
Style:
Belgian Dark Ale
Alcohol by volume (ABV):
6.00%
Availability:
Year-round
Notes / Commercial Description:
No notes at this time.
Added by cjgator3 on 05-24-2007
HISTOGRAM
Ratings: 10 | Reviews: 10
Reviews by HeroJH:
4.35
/5
rDev
+30.6%
look: 4 | smell: 4 | taste: 4.5 | feel: 4.5 | overall: 4.5
I really enjoyed this easy Belgian. It's smooth and balanced, really easy to drink. There's enough complexity in there to keep your interest.
A - Nice deep brown with lasting thin foam layer. Some nice lacing on the glass.
S - nice rich malt smell, with some dry grainy-ness. Some green notes that could be a good dosing of belgian earthy hops. Faint herbs and spice smell. (let warm up, or re-smell at the end, more comes out.)
T - Smooth... Really nice. Not overpowering in any way. Just a nice medium balance of malt with some dry finish. The malt has some subtle spicy notes.
M - perfect. Nice easy carb, starts smooth and ends dry.
D - really good. Very easy to drink and quite tasty. I wish I had more than 1.
721 characters
More User Reviews:

3.25
/5
rDev
-2.4%
look: 3.5 | smell: 3.5 | taste: 3 | feel: 3 | overall: 3.5
Bottle into a tulip.
Pours a cola brown with an off white head. Smells sweet and bready, taste follows suit with some dark fruity sweetness mixed in. Carbonation is a bit high, but not awful. Drinkability is decent nothing offensive here.
Overall this seemsto be a straightforward Belgian brew. No frills and nothing extraordinary; just plain, but pretty solid ( especially at less than $2 a bottle).
404 characters

3.56
/5
rDev
+6.9%
look: 4.5 | smell: 3.5 | taste: 3.5 | feel: 3.5 | overall: 3.5
11.2fl oz bottle poured into a tulip glass. Pours a dark brown color with a large tan head. The smell is a pleasant array of malt and spices with some belgian yeast. The mouthfeel is light and prickly from the high carbonation. The taste is slightly tart with some malt and a very dry finish. Overall, this is a pretty good brew that I wouldn't mind having again. I think the carbonation could be turned down just a tad, but many beers within this style are very heavily carbonated so it is indicative of the style. Recommended.
528 characters
2.9
/5
rDev
-12.9%
look: 3 | smell: 3 | taste: 2.5 | feel: 3 | overall: 3.5
So the Val De Sambre Heylissem line has landed in the states...
Ultimately an average brune with a fairly light body and clear appearance. Malt sweetness is present in acceptable amounts but not particularly interesting in character. Aroma has a little yeast and not much else. The beer doesn't become any more flavorful as it raises to room temperature. My example isn't as overly carbonated as the previous two.
416 characters
2.71
/5
rDev
-18.6%
look: 4 | smell: 3 | taste: 2.5 | feel: 2.5 | overall: 2.5
Kind of lacking in aroma. Some darker malt but not roast. Some yeast fruity fermentation character but not a whole lot of anything.
Brown with some ruby highlights. Big rocky head that lasts with a lot of rising carbonation bubbles that keeps feeding it. Clear, but dark enough that you have to hold it up to bright light to tell.
The carbonation level seems to be a bit of a problem on the flavor. Its very high so there's a metalic bite and most of the flavor gets washed away pretty quickly. What flavor comes through is an o.k. fruity bune with some hop bitterness. But most of the bitterness comes from the really high CO2.
Mouthfeel is very rough, again due to the high carbonation. It tickles my mouth and scratches my throat a bit.
Overall not something I would have again except maybe as a draft to see if the CO2 works out better.
853 characters
3.31
/5
rDev
-0.6%
look: 4 | smell: 3 | taste: 3.5 | feel: 2.5 | overall: 3.5
Poured into a goblet manufactured by a Trappist brewery that specializes in red, white, and blue bottles of brew.
Color is deep brown. Nice lacing on the glass. Good amount of carbonation.
Smell is mild. Dark malts, bready.
Taste is descent. Some dark fruits, a little chocolaty. Slight bitterness. I'm not as annoyed by the carbonation as some other reviewers, but it could be toned down a little. It does somewhat impede your tongue's ability to totally discern and appreciate the flavors. Mildly dry finish.
Not the most flavorful Beligan out there. It's not bad, it's just somewhat restrained.
Mouthfeel- medium bodied. A little fizzy from the carbonation.
Drinkability- It's not offensive. I COULD drink this again, but I don't think I'll be seeking it out. It's enjoyable, but there's a lot of better alternatives out there.
838 characters
2.52
/5
rDev
-24.3%
look: 4.5 | smell: 2.5 | taste: 2.5 | feel: 1.5 | overall: 2.5
Looks amazing. Pours a dark, dark brown color, shining with ruby highlights, topped off with a thick coating of off white head. Good clarity, the yeast stays in the bottle for the most part with a careful pour. That tends to be a problem with belgian yeast strains.
The aroma leaves me disappointed. Chocolaty and sweetish, not roasty, lacking the depth I expected. Some banana and honey, but one dimensional overall.
The flavor is nice enough, but overburdened with heavy, heavy carbonation. The first sip made my eyes tear up. Aside from that, it adds some unpleasant flavor as the CO2 dissolves in your mouth. Passable chocolatey malt flavor does its best to wade through the bubbles, but falls short with an overall light, overly airy feel. Some vague belgian fruitiness. Negligible hops, mostly earthy and muddled. A touch of honey in the finish, mingled with powdered cocoa. The carbonation does a good job of destroying most of the already delicate flavors.
For a belgian brune of 6%? This one falls way short of expectation. Maybe let it sit uncapped overnight to tame the carbonation. Leave it out warm while you're at it, and maybe some flavor will come out. I let mine get close to room temperature, and it didn't help much. The flavor could have been a lot livelier, and the bubbled much, much less so.
1,314 characters
4.3
/5
rDev
+29.1%
look: 4 | smell: 4 | taste: 4.5 | feel: 4 | overall: 4.5
A - poured cloudy brownish red with a fluffy 2" tan head in my tulip. Light lacing, good Belgian-style head retention
S - malty with dark fruits. Dates, figs, slightly bitter overtones, floral.
T - tangy citrus with a caramel-like malts. Dark fruitiness with a bitter and dry finish. Slight nuttiness detected.
M - light bodied with medium carbonation.
D - very drinkable and the carbonation holds the beer together quite well
Overall - I found this brew much better than the Heylissem Blonde. The yeast gives it a good nutty background and allowed me to age it 4 months before I couldn't resist to try it. Will buy again if I see it around. I think it makes a good session beer. On sale for 1.89 per bottle, damn! I should have gotten a 6 pack instead of a single!
771 characters

2.96
/5
rDev
-11.1%
look: 3 | smell: 4.5 | taste: 2 | feel: 4 | overall: 2.5
33cl into a tulip. Pours a dark chestnut with ruby highlights. Minor head recedes to the surface then remains for the duration, ok spotty lacing.
Aroma is dark fruit that have begun to rot with nearby yeasty dough for dense dark bread.
Taste is dull dark fruits and semi-sweet molasses. Low in complexity. Finishes slightly both dry and bitter, aftertaste rather short lived. Mouthfeel is thin and prickly.
Aroma is far superior to the flavor.
No significant improvement with warmth.
cheers
jd
497 characters

3.48
/5
rDev
+4.5%
look: 4 | smell: 3.5 | taste: 3.5 | feel: 4 | overall: 3
The aroma has caramel, brown sugar, yeast, and toasted malt but isn't great. The flavor is like the aroma with the addition of raisins. The appearance is like a foamy cola. The palate is smooth and not thin. Overall it's pretty good but I liked the blond better.
262 characters
Heylissem Brune from Brasserie Val De Sambre
Beer rating:
3.33
out of
5
with
10
ratings