New Holland Moxie Sour Ale
| New Holland Brewing Company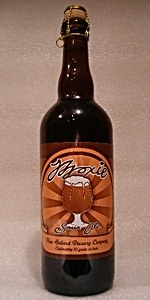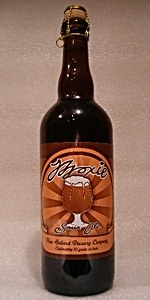 BEER INFO
Brewed by:
New Holland Brewing Company
Michigan
,
United States
newhollandbrew.com
Style:
Flanders Oud Bruin
Alcohol by volume (ABV):
not listed
Availability:
Limited (brewed once)
Notes / Commercial Description:
No notes at this time.
Added by BeerBeing on 07-25-2007
This beer is retired; no longer brewed.
Ratings: 13 | Reviews: 8
Reviews by BearsOnAcid:
3.6
/5
rDev
-1.6%
look: 4 | smell: 4 | taste: 3.5 | feel: 3 | overall: 3.5
Major props to wolfsblood on this rare tick!
Caramel, dark malt and sweetness, and sour twinge aroma. Maybe some nutmeg and cinnamon.
Sour caramel, cream, spice. Mellow, ozxidized. Surprisingly drinkable but sweet.
Creamy slightly low mouthfeel. Sweet and sour. Not too crazy but different.
293 characters
More User Reviews:
4
/5
rDev
+9.3%
look: 4 | smell: 4 | taste: 4 | feel: 4 | overall: 4
Beer review from BA Mag Sep 2007.
Happy 10th anniversary to New Holland--we raise our glasses to your next 10. What a way to celebrate: an American Sour Ale that was partially aged in bourbon barrels.
Decent lacing with a ring or two left on the glass. Great clarity with a glowing tawny color, more on the brownish-red side than orange. Dark and inviting. Vibrant aroma with suggestions of tart cherries, vanilla and carob powder. Tight fist of crispness pops as the medium body unfolds its smoothness. Solid, complex intertwined sour character never gets too tart. Hints of cherries, faint vanilla and dark cocoa powder with a dry, bready, toasty malt flavor. Minimal hopping. Alcohol stays hidden, though the warmth does grow after the glass is almost finished. Bone dry with oaky tones that linger.
Wow, certainly one of the most drinkable Sour Ales to be had. This is simply too good to be a one-off; New Holland should make this a yearly installment. Yet another great specimen from an American craft brewer that exemplifies beer as the most complex beverage in the world.
1,081 characters

3.75
/5
rDev
+2.5%
look: 4 | smell: 4 | taste: 3.5 | feel: 3.5 | overall: 4
Purchased at the brewery back in August, 205/424.
Pours a dark red tinged brown with a one finger head tha settles quickly to a thin cap and ring. The resulting lace leaves a nice webbing behind.
Smell; sour cherries and some mild green apples lead the way, with an underlying touch of vinegar and caramel. There's also a bit of an oak barrel aroma. I'm not sure if this was oak aged, but it sure smells like it.
Taste; the sour fruits (cherries and apples), vinegar, and caramel are all present in the flavor, but it all seems to be a bit beaten back by the apparent oak. This is a pretty good beer that would have been very good, for me at least, if the sourness was allowed to be a bigger player in the flavor.
Mouthfeel is a touch on the thin side, and the drinkability a good, especially with the sourness be smoothed out by the oaky flavors.
851 characters
3.97
/5
rDev
+8.5%
look: 3.5 | smell: 4 | taste: 4 | feel: 4 | overall: 4
Bottle is etched with # 92 of 424. Pours a deep, muddy reddish color with a small head and a sizeable carbonation level. Good level of lactic aroma-dried fruits and a faint mustiness. Very nice sour flavor to it. Slight taste of cherries and raisens. An earthy and slightly woody finish in the flavor. Good body-refreshingly thin and quenching. Very nicely done all around. Happy 10th New Holland with this one!
411 characters
4.38
/5
rDev
+19.7%
look: 4.5 | smell: 4 | taste: 4.5 | feel: 4.5 | overall: 4.5
Appearance: Pours a hazy rust color with a sturdy ecru head that drops to a cap but leaves all manner of splashy lace
Smell: Sour cherries and oak predominate, with undertones of wet wool, alcohol phenols, and vanilla
Taste: From the start, there is a nicely balanced blend of sweet and sour flavors that builds by mid-palate, when the distinctiveness becomes more apparent (oak and sour cherries dominate, but there is an underlying vanilla and milk chocolate sweetness that is a nice counterpoint); after the swallow, the wood really becomes apparent and dries out the palate, but the sweet and sour cherry aspects continue to linger well afterwards
Mouthfeel: Medium bodied, almost creamy, with moderate carbonation and some warmth in the gullet on the way down
Drinkability: My experiences with New Holland beers has been mixed but this is superb; true sour beer lovers might lament the oaky sweet elements, but I find that adds the balance to the style that makes it much more drinkable
Thanks, lackenhauser, for the opportunity to try this hard to find beer
1,068 characters



3.16
/5
rDev
-13.7%
look: 4 | smell: 3 | taste: 3 | feel: 4 | overall: 3
Bottle 173/424; Sampled December 2007
Pours with a frothy, initially three-finger thick, amber tinged, tan colored head that sits on top of a dark, concentrated amber colored beer that shows a somewhat hazy, dark cranberry red color when held up to the light. As I pour a lightly moldy, almost blue cheese mold, aroma lightly touches my nose. Upon closer inspection the beer smells quite sweet and fruity; it has a mix of cherry, raisin, tamarind and oxidized malt aromas to it. Lightly tart smelling, with on oak-like aroma reminiscent of vanillin, a touch of butterscotch and some spicy oak character that combines with a touch of alcohol to give this a bit of warming. There is definitely quite a bit of oak character here (it is inescapable once I place it) and it even adds a sort of nutty, almond essence like character and a touch of coconut to the aroma. An interesting aroma, though it is a bit too oak dominated for my nose.
Fairly dry tasting, but it has quite a bit more fullness to it than the dryness would suggest. Oak tannins seem to contributed to the soft creamy mouthfeel that this beer has. The oak definitely plays the leading role in the flavor as well with notes of vanillin, and butter-like oak flavors as well as the velvety textured tannins / wood extracts mentioned earlier. This is definitely tart, though not overly so; a light sourness picks up towards the end of each sip. It is hard to really get at the sour / funky flavors of this brew, the oak flavors are just a bit too dominating. Still even with that, it seems that this beer does not have nearly as much character / funk / sourness as one would expect in a good example of this style. At times the oak character seems to contribute bourbon like notes (that characteristic mix of vanillin, spice and butterscotch). At the front of each sip, before the oak really kicks in, notes of tamarind, leathery cherry and an unsweetened raisin flavor.
This is really an interesting beer, I would have love to have had the one without the oak character. I would have liked to have experienced the actual funk that was in the brew, without the overwhelming oak. As is, this seems like a surprisingly bland, dark, sour ale (at the least I would expect a lot more funkiness and an ample malt depth / complexity). Truthfully the oak here is not at outlandish levels, it is a bit too much for this particular brew, but as an example of oak extract this one is fairly drinkable.
2,451 characters

3.32
/5
rDev
-9.3%
look: 3.5 | smell: 4 | taste: 3 | feel: 3.5 | overall: 3
Poured into snifter.
Pours a light fizzy beige head. Color is a murky bark brown.
Aroma: Light sour cherries, pears, apples, oak, and some yeast.
Taste: It has a smokey and bacon flavor to it, very odd. Cherries and oak show again, but the taste is quite awkward.
Mouthfeel: Fizzy, tart, and crisp. Medium bodied with a higher amount of carbonation.
Overall, this beer started good, but took a turn for the worst at the taste. Somewhat drinkable, but not something I want a lot of.
487 characters
4.2
/5
rDev
+14.8%
look: 4 | smell: 4 | taste: 4.5 | feel: 4 | overall: 4
Bought this at the brewery about a month ago and shared with friends. Poured a deep, deep red with a yellowish head. Smells of ethanol, horse sweat, red wine. Taste is quited sour, aggressive, like a refined version of the red colored MadDog 20/20 (yeah, ok, that may not sound great but i like it). Some malty coffee and sour cherry flavors are obvious too. full bodied. Overall very nice and would probably improve with age so maybe ill get another bottle at some point if they are still available next time i'm in Holland.
525 characters
New Holland Moxie Sour Ale from New Holland Brewing Company
Beer rating:
53.8%
out of
100
with
13
ratings