Animal

Fort Point Beer Company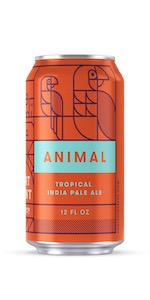 Write a Review
Beer Geek Stats:
| Print Shelf Talker
Style:

ABV:

7.4%

Score:

Avg:

3.95

| pDev:

7.85%

Reviews:

14

Ratings:

From:

Avail:

Rotating

Wants

Gots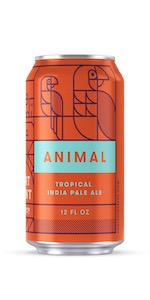 Notes: Wildly aromatic and assertively bitter, Animal roars from its first sip. Vic Secret and Citra hops blend bold pineapple flavors up front, while Simcoe and Meridian lend a piney, crisp finish. Golden Promise, Two Row and Carapils malts balance the dank, tropical punch of this big IPA.

3.76
/5
rDev
-4.8%
look: 4 | smell: 3.5 | taste: 3.75 | feel: 4.25 | overall: 3.75
12oz can, canned a month ago
An aggressive pour gives two fingers of white head. Slightly pillowy. Body is a pretty classic golden orange. Visibility is high. Almost no bubbles coming up. Retention so far is above average, after a few minutes, there is still a finger of head. Looks nice.
Tropical fruit on the nose, malty, pretty sweet, perhaps a little oxidized. Smells ok, but too sweet for me, and possibly oxidized.
Flavor does not seem all that oxidized, but it is a tad malty for me, not very crisp. Though on some sips you do get a clean malt flavor that isn't suffocating. Hops are slightly fruity, and end with a prominent bitterness. Overall nothing amazing, but good flavor, rides the line between having a nice malt presence, and being too malty.
Mouthfeel is pretty full. Bitterness is on the higher side, body is medium-large, and the carbonation is full enough, also at about medium.
Drinkability is perfectly fine, could be a tad lighter, but not much of an issue.
Appearance turned out quite nice. Head eventually dissipated, but the retention was good. Lacing was a little patchy, but consistent.
Overall a nice beer. I lean towards lighter malted IPA's, but this is serviceable.
1,213 characters
4.09
/5
rDev
+3.5%
look: 3.5 | smell: 4.5 | taste: 4 | feel: 4 | overall: 4
There's inherent biased built into this review. First west coast IPA I got hooked on.
Pours to a golden clear color, medium head. Smell is amazing and pronounced. Some orange and maybe apricot among other fruit notes, catching mango too. Citra and loral hops make up most of the taste for me, but the beer's body is perfect. Pleasantly carbonated but nothing over the top, bitter but juicy at the end with a shorter aftertaste.
433 characters

4.4
/5
rDev
+11.4%
look: 4.25 | smell: 4.25 | taste: 4.5 | feel: 4.25 | overall: 4.5
Mango
Tropical
173 characters

3.59
/5
rDev
-9.1%
look: 4 | smell: 3.75 | taste: 3.5 | feel: 3.5 | overall: 3.5
2019-04-25
12oz can served in a paper cup in a crappy hotel. Box was dated 040919.
Hard to see -- but seems a moderately hazy amber color with a big fluffy head. Smell is moderate -- fruity and a little resinous. Taste is moderate overripe tropical fruit with a strong fruit skin bitterness.
Mouthfeel is medium bodied. Overall, not bad.
339 characters
3.92
/5
rDev
-0.8%
look: 3.75 | smell: 3.5 | taste: 4.25 | feel: 4 | overall: 3.75
Hazy golden with no carbonation and a finger of yellowish head.
Smells mainly of children's aspirin, followed by dank green leaf, and some tropical fruit.
Sweet and fruity, floral notes, followed by a puckering herbal green leaf bitterness. Green tea, mango, lemon drop and yellow hard candy.
Light body, little carbonation and a tannic finish.
Drinking this in Redding, Jan 30th, 2019. Excellent brew, and enjoying the Vic hops in this one!
447 characters

3.74
/5
rDev
-5.3%
look: 4 | smell: 3.75 | taste: 3.75 | feel: 3.5 | overall: 3.75
This pours a caramel tinged gold with generous foam. I don't get a big aroma, despite it being canned a day ago. "Tropical" taste, as it promises, with a juicy mango and guava blend lingering in the back. A little overshadowed by the caramel malt backing keeps this one from really popping off.
294 characters

4.71
/5
rDev
+19.2%
look: 4.5 | smell: 4.75 | taste: 4.75 | feel: 4.5 | overall: 4.75
Canned 1/31/18
Very intense and enticing aroma of dried tropical fruits, a bit floral and grassy. Smells juicy and crisp at the same time.
The taste is just as amazing. Super intense and consistent pineapple and peach notes followed by some moderate-high bitterness, a nice even fizzy carbonation, some lime juice acidity, and then more sweetness from the tropical hop character. Enough malts for a nice solid mouthfeel and still lets the hops shine brightly. Clean crisp finish, some soft lingering tropical fruit.
I'm amazed this brew is as aromatic and flavorful as it is, being almost 1.5 months old and it still tastes and looks amazing. No cloying character and no particles or flakiness here! Will definitely buy more of these when I can as I find it sooo much tastier than the coppery tasting villager IPA.
819 characters

4.71
/5
rDev
+19.2%
look: 5 | smell: 4.5 | taste: 4.75 | feel: 4.75 | overall: 4.75
Hold the phone. First of all, not only is this delicious, but it's totally different from almost every IPA I've had before. This tastes like food. Like you've been eating wonderbread all your life and someone hands you a fresh baked slice of whole grain. I think this is the difference that being unfiltered makes.
L: The can is beautiful. Some simple drawings of buildings and tropical birds on a hazy metallic orange background which mirrors the body of the beer. Clearly unfiltered with lots of very fine sediment, great retention, bleached white head and lots of nice lacing.
S: Powerful mcintosh apple with some hints of vanilla, banana and ripe yellow nectarine, followed by a vegetabley body featuring chive and loroco (kind of like artichoke or asparagus) and a rich bready finish.
T: Weird. This tastes quite a bit like a loroco pupusa. Juicy with notes of lime, nectarine, and plum and a whiff of tropical passion and pineapple juice. It has a planty and slightly herbal finish reminiscent of green tea and thyme. Maybe a hint of honey? It's rather sweet for an IPA.
F: Nice blend between richness and hoppy crisp dryness.
O: This is not your run-of-the-mill tropical IPA. Different, interesting, and tasty. If you can find it, grab some. I heartily recommend.
1,278 characters
4.72
/5
rDev
+19.5%
look: 5 | smell: 4.75 | taste: 5 | feel: 3.75 | overall: 4.5
Good pineapple, citrus, and tropical fruit nose. Clean mouth feel. Golden orange liquid. Non-lingering, clean, crisp finish. A 7.5 ABV that drinks like a 6% ABV.
161 characters

3.58
/5
rDev
-9.4%
look: 3.75 | smell: 3.25 | taste: 3.75 | feel: 3.75 | overall: 3.5
The beer pours out a medium hazy golden orange color, with 1 finger of white head------------ the aromas are of light citrus, light tropical fruit and tea----------------- the flavors are of citrus, pine, orange peel, pineapple and apricot, the beer has a medium mouthfeel with a moderate bitterness on the finish------------------ overall this beer was nice it had some good things going on its just lacking that pop, it says it's a tropical ipa I wish it had more tropical aroma and flavors---
496 characters
3.94
/5
rDev
-0.3%
look: 4 | smell: 3.75 | taste: 4 | feel: 4 | overall: 4
Let me start off by saying this was not a cheap beer - I think it was $13.99 at the local liquor store so maybe I got ripped off or maybe this is just overpriced. That being said I really liked this beer. Pours a hazy straw color - is this unfiltered? Looks like a Blue Moon in the glass. Aroma was fruity for sure, I detected some apricot and random tropical notes. Taste was creamy and light - almost tasted like it was on draft. Nothing overbearing on the bittering hops, very balanced. This clocks in at 7.5% ABV but it goes down easy, no alcohol heat. Nice work Fort Point!
587 characters

3.85
/5
rDev
-2.5%
look: 3.75 | smell: 3.75 | taste: 4 | feel: 3.75 | overall: 3.75
Pretty solid, nice hazy golden color. Good balance of bitter, piney hops and a subtle but lingering tropical quality. A crisp, very drinkable hazy with a good ABV.
163 characters

4.54
/5
rDev
+14.9%
look: 4.5 | smell: 4.75 | taste: 4.5 | feel: 4.25 | overall: 4.5
This beer is better than the reviews here, not sure if the hop profile changed, but it's definitely a 4+ beer. Sold in cans, and the date is stamped on the box (good move Fort Point!).
Look - Beautiful tangerine
Smell - Citrusy, piney, dank
Taste - Malt nicely balances out the huge hop presence, not overbearing for big IPA
Overall - A classic west coast style IPA
Pick it up, it's on par with more expensive west coast IPAs
429 characters

3.76
/5
rDev
-4.8%
look: 3.5 | smell: 3.75 | taste: 3.75 | feel: 4 | overall: 3.75
On Tap at Soma Eats – San Francisco, CA
Full pint - Notes taken on 06/11/2015
A: The Animal IPA pours a pale golden color not unlike a honey blonde would with some moderate amounts of chill haze throughout the body. A smallish lip of khaki suds forms loosely over top for a few short moments before fizzing out to a crown. A light dotting and a few small streamers of stick decorate the empty glass.
S: Pine with herbal dank and spice mostly. I get a bit of malty cracker with a light rye addition mixing in some peppery spice. Finish reveals a light waft of sweet peach or apricot in the form of some yeasty esters.
T: The flavor is pronounced with a biscuity malt bill and a mild underlying of peppery rye spice. Hops are sappy pine tree with some light medicinal herbals and lots of stone fruit like esters from the yeast. There is a semi aggressive hop bitterness to this that tugs at the palate as it leads into a dry finish. Has a mild sweetness to it overall and the alcohol is well managed. Pretty tasty brew but nothing too special here.
M: Lightly filling body with some nice even carbonation providing a smooth cream like consistency. There is a solid peppery bitterness that hits mid-way and leads into that dry crisp finish. Mostly clean here with some modest resinous linger to it.
D: A fairly tasty IPA that is above average I would say. A bit forgettable for me but still nice to hit up some of the local options here.
1,460 characters
Animal from Fort Point Beer Company
Beer rating:
88
out of
100
with
50
ratings