Ale Of Atholl
| Moulin Hotel & Brewery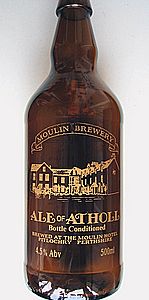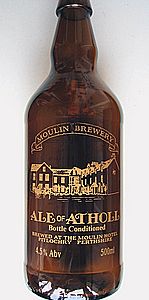 BEER INFO
Brewed by:
Moulin Hotel & Brewery
Scotland
,
United Kingdom
moulinhotel.co.uk
Style:
Scottish Ale
Alcohol by volume (ABV):
4.50%
Availability:
Year-round
Notes / Commercial Description:
No notes at this time.
Added by wl0307 on 09-15-2005
HISTOGRAM
Ratings: 7 | Reviews: 4
Reviews by wl0307:
2.02
/5
rDev
-42.3%
look: 2.5 | smell: 3 | taste: 2 | feel: 1.5 | overall: 1
Obtained this bottle from the Royal Mile Whiskies shop in London. A bottle-conditioned ale, it's brewed at a small brewpub situated at the Moulin Hotel in Perthshire, where the current brewery believes Bonnie Prince Charlie and Mary Queen of Scots both have passed and enjoyed a refreshing drink--well, before meeting their fate not unknown…;-( No trace of fresh information on the bottle itself…
A: once capping it open, the fierce carbonation forced the beer out just like a disturbbed bottle of champagne… so forceful it is I can't stop the action and it jumps into my goblet with a rocky and fluffy beige head which disappears almost in ten seconds?! The combination of the action and its very dark-brownish colour makes the beer look rather like a glass of Coca-Cola… Pouring some more again, the foam comes out from inside the liquid, with a strong "hzzz…" sound, and disappears in no time~~ looking normal for a Coke but quite intriguing and unusual for a beer...
S: profoundly sweetish chocolaty and malty, against a sour fruity (mixed forest berries) base and a deeply damp-wood like musty + yeasty note… the nearest thing I can relate the distinct sour base to is the refreshingly sour, woody note of Flanders Red Ale, but this one somehow strikes a different tone.
T&M: for the first sip the mighty yeast is in action again, pumping into my mouth a lot of fizz and I can't taste much of anything… the second sip reveals a flat texture of some dark malts accompanied with a much weaker sourness, which brings with it much less fruitiness as a result. The finish is clean with a dryish and tangy mouthfeel, leaving little aftertaste to enjoy. While the mouthfeel is fizzy, the body is just flat and one-dimensional--overall quite like fermented juice mixed with watered-down Lipton lemon tea left in the air for a while… not fresh and not good.
D: IMO this is a failure any bottle-conditioned beer wishes to avoid—the yeast condition is not right, and perhaps the beer itself is gone or has been dealt with wrongly somehow somewhere during the handling process… In any case, I'd avoid buying this beer again, unless next time there's responsible fresh information on the bottle.
2,210 characters
More User Reviews:

4.38
/5
rDev
+25.1%
look: 4.5 | smell: 4 | taste: 4.5 | feel: 4.5 | overall: 4.5
Served on cask at Atholl Arms hotel in Blair Atholl, Scotland. Lovely dark ruby color with a thick creamy head. Faintly caramel smell. Taste is malty, but not overwhelmingly so. Light bitterness with a smooth finish. Mouthfeel is creamy to the last sip, low carbonation appropriate for style, very sessionable. Overall a pleasant ale. I suspect the poor reviews are due to serving difference. I highly recommend if you are as fortunate as me to have the chance to have from the cask.
483 characters
2.38
/5
rDev
-32%
look: 3 | smell: 2.5 | taste: 2.5 | feel: 2 | overall: 2
Ruby chocolate with a clingy tan head. Sour chocolatey scent, grassy hops. Slightly unpleasant.
Dry taste, bordering on sour. No real distinct malt or hop characteristics, its all muddled and bitter. Not sure how old this is, but bottle conditioning has not worked here.
Slightly fizzy, somewhat abrasive. Not worth repeating.
328 characters

4.46
/5
rDev
+27.4%
look: 2.5 | smell: 4 | taste: 5 | feel: 3.5 | overall: 5
I sampled this in cask form at the 4th Ullapool Beer Festival.
A dark brown pint with absolutely no head, none whatsoever, this did not start well for this beer that I had previously unheard of.
The was burnt berries, raosted malts, molasses and a hint of burnt caramel. This was now strating to improve my opinion of the beer. The tastes were many, quite a complex beer with a wide variety on the palete. Roasted malts were the initial taste with coffee, nutiness, toffee with a slight aftertaste of bannana. This worked extremely well together along with a medium body. This was perfect, if the body had been any heavier then beer would have been too much to drink, but as it was it was excellent.
This was my favourite beer of the festival, I drank a lot more of this than anything else. However be warned: this is a love hate type of beer, I loved it and so did one of my mates, the other friend who was at the festival struggled to finish his. A very much a personal prefernce for this beer.
1,000 characters

3.25
/5
rDev
-7.1%
look: 3.25 | smell: 3.25 | taste: 3.25 | feel: 3.25 | overall: 3.25
Ale Of Atholl from Moulin Hotel & Brewery
Beer rating:
3.5
out of
5
with
7
ratings