Blaze

Foundation Brewing Company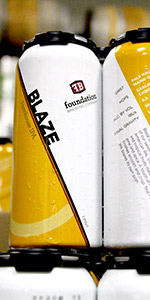 Write a Review
Beer Geek Stats:
| Print Shelf Talker
Style:

ABV:

6.2%

Score:

Avg:

3.94

| pDev:

9.14%

Reviews:

14

Ratings:

From:

Avail:

Year-round

Wants

Gots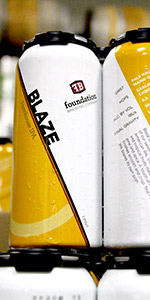 Notes:

ScaryEd from New Hampshire
3.57
/5
rDev
-9.4%
look: 4.25 | smell: 3.5 | taste: 3.5 | feel: 3.75 | overall: 3.5
Pours a clear golden color with a huge, fluffy off-white head. Leaves a nice crown of lacing around the top of the glass.
On the aroma I get a good amount of Belgian yeast and bananas, as well as a touch of peppery spice.
The flavor starts off sweet from the banana notes and some bready malt. Finishes bitter with some peppery rye and a spicy hop bite.
The feel is medium bodied with good carbonation. Nicely crisp and refreshing. Bitterness lingers for a bit too long after each sip.
Overall, a pretty good Belgian IPA that drinks just as much like a Hefeweizen. Decently balanced.
May 27, 2016
anthony23cippy from Maine
3.9
/5
rDev
-1%
look: 3.75 | smell: 4.25 | taste: 3.75 | feel: 4 | overall: 3.75
Poured from a pint can bottled on 5/3/2016 purchases at natural living center in Bangor, ME. Pours a light sraw with a tint of grapefruit juice like color mixed in, has a two finger foam head that sticks around for a while, very little to no lacing. Smell is the best part of the beer, smells of banana, cloves, vanilla, pepercorn, oak, and the sugary 2 row malt backbone. Taste doesnt really carry the smells through, at first you taste the malt sweetness from the pale, then its mostly alcohol, with a grain rye like aftertaste, really not that great or expected with the exceptional smell. Mouthfeel is perfect, nice and balanced and perfectly carbonated. Overall I love the smell and the style, more similar to a hefe than a ipa as per the smell, the taste is like an ESB. Would get again, maybe on draft though instead. 3.9/5.
May 11, 2016
WesMantooth from Ohio
3.81
/5
rDev
-3.3%
look: 3.75 | smell: 4 | taste: 3.75 | feel: 3.75 | overall: 3.75
Smells like rye and fruit. Pretty spicy. Lots of banana and cloves in the flavor with a significant peppery kick. A lot of eartht yeast. Pretty chewy body. Drinks more like a hoppy Hefe to me, but tasty.
Apr 23, 2016
pkalix from California
4.23
/5
rDev
+7.4%
look: 4.25 | smell: 4.25 | taste: 4.25 | feel: 4 | overall: 4.25
wow! very interesting!
banana and clove, for sure! super fluffy white head. bubble gum!
almost reminds me of a wheat, no? not getting the IPA out of what they are calling a "farmhouse IPA" but it's a good representation of the style and a fantastic taste. cant wait for the Epiphany tomorrow!
Apr 03, 2016
SomethingClever from Ohio
4.04
/5
rDev
+2.5%
look: 4.75 | smell: 3.75 | taste: 4 | feel: 4.5 | overall: 4
16 oz can poured into Spiegelau glass canned on 3/24
A: beautiful bright amber gold color perfect clarity big fluffy fat white head
S: clove and bananas a little rust and coriander
T: nice big banana and clove flavor with some decent bitterness and hop bitterness but no real hoppiness maybe a little earthy hoppiness
M: very smooth and crisp almost very clean tasting
O: I have to admit going in I was skeptical but this is pretty damn good. Lots of hop bitterness but not a lot of the taste drinks like a hefe pretty different. Not a beer that I would go back to again and again but it is a nice change of pace.
Apr 02, 2016

jhavs from New Hampshire
4.4
/5
rDev
+11.7%
look: 4.75 | smell: 4 | taste: 4.5 | feel: 4.5 | overall: 4.5
Can split between two snifter's. One an OH Green Diamonds branded glass, the other from Worthy Kitchen in Woodstock, VT (limited edition, "It puts the buzzer in the basket"). I hope nobody cares about that, but if you do, you do you...that's fine. More power to you.
Look: Golden, hint of copper, active carbonation bubbling up the side of the glassware. A bit of haze sits below the foamy head, nearly pure white. Foamy head slows settles and rings the glass, small floating thin foam islands move about. Lacing clings to the glass.
Smell: The most noticeable aroma's are those of a Belgian type brew. Yeast, spiciness, raw dough, slight toasty aroma. A bit of earthy hops in the background, and a little bit of that barnyard funk. Big farmhouse floral, everything else subtle.
Taste: Slight sweetness, floral, bready. Spice, earthy hops, and some tropical fruits come in to play. Very balanced flavors, enough bitterness in the back end to balance everything out. Quite an interesting brew.
Feel: Medium body, moderate carbonation.
Overall: Great addition to their lineup. I think their big hoppy brews are excellent. This is more nuanced and has a much broader flavor profile. I would definitely keep this in the fridge for times I don't feel like a hop bomb. I think it has a perfect balance of a farmhouse brew and IPA, a goal that is missed by many "Belgian" style IPA.
Mar 23, 2016

dee4maine from Maine
4.58
/5
rDev
+16.2%
look: 4.5 | smell: 4.5 | taste: 4.75 | feel: 4.25 | overall: 4.5
Looks gorgeous, simply put. Like a late summer sunset, with short lasting finger and a half head. Streams of carbonation linger on like days and day, like a good champagne!
Aromas of apricot, some tropical fruits and ending with mild horse blankets, barnyard. God it is so inviting when some extreme farmhouse ales can be quite too much for some (I love saisons and still in the discovery phase of Brett and funky ones and so it's perfect for me)
Taste is initially dominated by the floral hops and then the fruits and gets washed by THE funk! Deeeelicious. Semi Dry finish leaves one craving for more. I can't speak for all but I feel this takes way more skill then making a "hop bomb" DIPA. It just works, friends. Aftertaste of mangos, apricots, little pineapple and then the funk to bring you back to wonderland.
Mar 13, 2016

donkeyrunner from Massachusetts
4.67
/5
rDev
+18.5%
look: 4 | smell: 5 | taste: 4.5 | feel: 4.75 | overall: 4.75
thanks Josh for grabbing this for me
"to the foundation, chant him down" Dennis Brown
Gold with a frothy head. Aroma is a peppery, dry floral, fine bouquet that is a surprise and a treat. I do say. Dried lavender? Tastes peppery with dried floral stuffs. Love the dry. Love the spice. Love the floral. I don't get 68 IBUs but it's great just the same.
Mar 10, 2016

kalosjakar from Rhode Island
4.38
/5
rDev
+11.2%
look: 4.25 | smell: 4.25 | taste: 4.5 | feel: 4.5 | overall: 4.25
Nice big foamy head (vigorous pour since i shared roughly 3-4oz. with a friend) atop a light golden colored beer with clarity.
Spicy, floral, very belgian aroma. Faint yeast, bready, biscuity.
Taste: its like a saison/ipa hybrid and i love it. Although Epiphany is great, i feel like this beer is better in a sneaky way. Epiphany has a lot love/hype so this beer may go unnoticed. Myself, i bought a case of Epiphany having never tried it and unfortunately only a 4 pack of Blaze.
A little bit of resinous/stickiness at the end as well.
Amazing.
Mar 08, 2016
Lonborgski from Maine
4.33
/5
rDev
+9.9%
look: 4.5 | smell: 4 | taste: 4.5 | feel: 4 | overall: 4.5
From pint can bought at brewery dated 03/01/16.
Beautiful clear copper gold color. Thin head fades quickly.
Mild aroma.
Initial spice taste, clove? Fruit with at slight bitter taste comes in. Belgian. Not funky to me.
Feel has the great Foundation tang. Really nice to hold in mouth.
Very nice overall experience.
Mar 04, 2016
NateF90 from Connecticut
4.29
/5
rDev
+8.9%
look: 4.25 | smell: 4.5 | taste: 4.25 | feel: 4 | overall: 4.25
1 pt 9 oz capped bottle poured into a Foundation tulip. Attractive head, retains light lacing. Nose is Christmas pine. Nice mix of Belgian yeast and hops, probably should have enjoyed a little bit sooner. Full mouthfeel. Solid, delicious offering.
Jan 28, 2015
Flounder57 from Massachusetts
4.21
/5
rDev
+6.9%
look: 4.5 | smell: 4 | taste: 4.25 | feel: 4.25 | overall: 4.25
Growler was poured into a pint glass. Just filled up this weekend in Portland at their tap room.
Appearance: A one finger head was poured that reduced to a thin layer. It is a slightly hazy yellow orange color with good clarity and vision of bubbles coming up through the glass. Frothy lacing down the glass as the beer was drank.
Smell: Floral, grassy, pungent, citrus, tropical, spicy, yeasty esters, pilsner malts, pale malts,
Taste: Same as above with mild bitterness in the rear. Nice juicy hop flavor too.
Mouthfeel: Smooth, medium bodied, medium carbonation, a little chewy, and mild tingly bitterness.
Overall: More along the lines of a Belgian IPA and saison mix. Will need to get more of this next time in Portland.
Oct 14, 2014

VelvetExtract from Massachusetts
3.46
/5
rDev
-12.2%
look: 4 | smell: 3.5 | taste: 3.25 | feel: 3.75 | overall: 3.5
ACBF pour
A-Pours a murky, glowing orange color. Good sized, white head.
S-Aroma is a balance of Belgian yeast, citrus hops and sweet, unspecific malt.
T-The spicy yeastiness is the most prominent feature followed by the hops. The hops are citrus and pine.
M-Medium bodied. Moderate bitterness.
O-A blend of two styles that seems a bit stuck in the middle.
Jun 01, 2014

lordofthewiens from New Mexico
4.09
/5
rDev
+3.8%
look: 3.75 | smell: 4 | taste: 4.25 | feel: 4 | overall: 4
On tap at Loco Coco. In a pint glass the beer was a gold color. It had a small white head with a bit of lace.
Aroma of citrus, spice, and sweet malt.
Great taste. Grapefruit, tiny bit of pine. Cinnamon. Fairly funky taste.
Hoppy and spicy mouthfeel. Almost like a cross between a saison and an IPA.
This was a great beer. Looking forward to more from this brewery.
Apr 05, 2014
Blaze from Foundation Brewing Company
Beer rating:
88
out of
100
with
134
ratings