La Colombe Tandem
| Conshohocken Brewing Company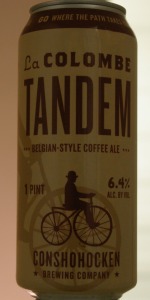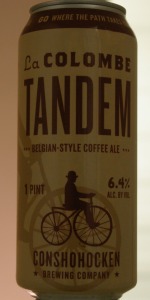 BEER INFO
Brewed by:
Conshohocken Brewing Company
Pennsylvania
,
United States
conshohockenbrewing.com
Style:
Belgian Pale Ale
Alcohol by volume (ABV):
6.40%
Availability:
Rotating
Notes / Commercial Description:
None provided.
Reviews: 7 | Ratings: 38

3.44
/5
rDev
-8%
look: 3.5 | smell: 3.25 | taste: 3.5 | feel: 3.5 | overall: 3.5
16 oz. can poured into a tulip.
A- Chestnut, hazy. Cream-colored head is dense and creamy. Decent lacing, but the head retention isn't great.
S- Nutty, almost peanut butter. Belgian yeast spice. Coffee adds some roasty notes.
T- Nutty, some dark fruit notes. Belgian yeast isn't as prominent as in the aroma. Roast is still there.
M- Bittersweet. There's a sweetness, with some roasty finish. Medium body, and low carbonation.
O- Mixed feelings about this one. I really love the subtle coffee (not overbearing, like a lot of coffee beers) but the Belgian style seems to get lost here.
589 characters

3.8
/5
rDev
+1.6%
look: 3.25 | smell: 3.75 | taste: 4 | feel: 3.5 | overall: 3.75
Whoops! Once again, the dreaded Bottle Backlog CANbined with a lack of an approved pic caused this one to fall out of the rotation. My thanks to the Conshohocken brewers & owners for providing me with CANs for inclusion in The CANQuest (tm)! I hope to run through a bunch of them today. This should be a good time.
From the CAN: "Go Where the Path Takes You"; "La Colombe Tandem breaks the mold of traditional coffee beers. We worked (in tandem) with our good friends at La Colombe to design a beer that showcases the unique coffee flavor characteristics of its Ethiopian origin. Hand crafted with Belgian yeast,La Colombe Tandem has a full, creamy mouthfeel, coffee and hop-derived fruity and floral flavors, and is packed with coffee all at the same time. Hard to define, but easy to drink."
I am working in CANdem with CANshohocken B.C. to do this review! Oh, boy. As soon as I CANducted the Crack!, I got some foaming action coming through the vent. I allowed it to calm before CANducting the gentlest of Glugs, but I still produced two fingers of foamy, light-tan head that fell rather quickly. Color was an oh-so-slightly hazy Deep Amber/Light Copper to Copper (SRM = > 13, < 17). Nose was an odd mélange of coffee (definitely coffee) plus a yeast-driven mustiness. It was like my morning coffee had been spilled on a bundle of old newspapers from the attic. Mouthfeel was medium. The taste left no doubt that coffee had been utilized in its production! It was like iced coffee infused with ... old newspapers? Is that fair? It makes it sound awful, but I liked it, if for no other reason that the idea that it was so different. I had it shortly after my morning coffee, so it was a fitting time of day, but I am not so sure I would have liked it at any other time. The finish was semi-dry since I never think of coffee as dry and that was the prevalent flavor. I see that it was only brewed once and is now retired, so it may have been a novelty, but one that I am glad that I got to try.
1,998 characters

3.63
/5
rDev
-2.9%
look: 3.75 | smell: 3.75 | taste: 3.5 | feel: 3.5 | overall: 3.75
I appreciated tenderbranson69 gifting me with this can -enjoyed chilled in a tulip.
The color is golden amber with thick haze and white head with very fine bead with lace that sticks to the glass. The smell is phenolic on entry with yeasty odor and earthy almost woody smell with light spice elment-not a typical coffee augmented scent. The feel is lightly spicy with dry texture and medium bitterness increases with medium body and medium carbonation with a slight bitter and semi-dry finish.
The taste begins with a tangy mineral yeast and lightly acidic taste either from hops or coffee not sure which, but coffee does not stand out in the taste. The flavor of hops have an herbal quality with light yeast presence intermingled and slight nuttiness of the coffee presenting itself with a dry almost toasted quality. The combination of coffee and hops conflicts slightly with a yeast flavor continuing into the finish. Overall I consider this an interesting beer I would drink again and coffee is not traditional in the roasty aspect but there is a citrus flavor that blends with the hops and adds to the complexity from the African beans.
1,144 characters
4.02
/5
rDev
+7.5%
look: 4.25 | smell: 4 | taste: 4 | feel: 4 | overall: 4
Really surprising, and good, for a coffee ale. I'm not a fan of anything coffee-like (except coffee, of course). But the Belgian yeast "twist" makes this beer a treat. Very smooth. Rich mouth feel. Beautiful amber color. Lacy foam. Not at all sweet like some Belgian-style ales--the coffee quietly balances out the malt. Nonetheless, great caramel smell and taste.
364 characters
3.76
/5
rDev
+0.5%
look: 3.75 | smell: 4.5 | taste: 3.5 | feel: 3.5 | overall: 3.5
A hazy amber-bronze color with a large, long-lasting off-white head and lots of lacing. A great Belgian-y mix of dates, raisins and toffee on the nose, with an impressive whiff of high-quality coffee in the background when you tip the glass for a sip. There's a coffee-and-butter candy taste up front that reminds me of those chewy coffee candies old grocery stores sell in the bulk bins. Not like anything I've tasted in a beer before. Unfortunately, the mouthfeel is too thin, making the middle a bit watery. The aftertaste of coffee and hop bitterness also makes for a weird mix that doesn't quite stand on its own. (When paired with a meal the layered tastes meld and it works better.) This has some very interesting notes, but just doesn't come together.
765 characters
4
/5
rDev
+7%
look: 4 | smell: 4 | taste: 4 | feel: 4 | overall: 4
16 oz can poured into a pub-style pint glass.
Appearance
Lightly hazy amber with 1 finger of off-white head. Great retention with light carbonation.
Nose
Caramel, brown sugar, plug, grape, and sourdough bread.
Taste
Sourdough bread, caramel, brown sugar, tobacco, and earth. Hints of dark fruit; red grape and black plum. Hints of light roast coffee bean and cacao. Light touches of potpourri, dried hay, and florals.
Mouthfeel
Medium bodied, smooth, and semi-dry with a medium-light bitterness.
Overall
A good Belgian Amber with a subtle coffee presence. A refreshing departure from the usual coffee fair.
611 characters

3.85
/5
rDev
+2.9%
look: 3.5 | smell: 4 | taste: 3.75 | feel: 4.25 | overall: 3.75
My first coffee ale so not much to compare against, but thought it was pretty tasty. It was juuusstt missing a bit in each categories though. Looked good, but could have a coffier hue, smelled good, but coulda been roastier, nice mouthfeel but probably coulda been creamier. Close, but not great
295 characters
La Colombe Tandem from Conshohocken Brewing Company
Beer rating:
3.74
out of
5
with
38
ratings