Tripel Deke
| Conshohocken Brewing Company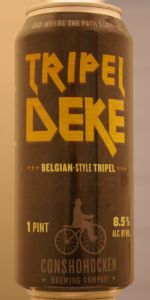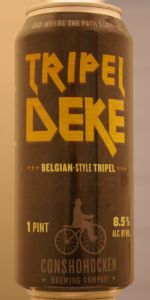 BEER INFO
Brewed by:
Conshohocken Brewing Company
Pennsylvania
,
United States
conshohockenbrewing.com
Style:
Belgian Tripel
Alcohol by volume (ABV):
8.50%
Availability:
Rotating
Notes / Commercial Description:
None provided.
Reviews: 5 | Ratings: 19

3.97
/5
rDev
+2.6%
look: 4 | smell: 4.5 | taste: 3.5 | feel: 5 | overall: 3.75
16 oz. can poured into a Belgian-style tulip. Came from a 4-pack I bought at The Beer Store in Southampton PA. Here we go....
L - Orange color with yellow highlights. Very cloudy from the beer and the yeast. Very effervescent, three finger head with some left in the can. Really good pour when done the right way. Lacing sticking to the glass, ring of foam around the edge. Yeast sediment on the bottom but not collecting. Probably unavoidable.
S - Notes: banana, lemon, dried fruit, sawdust, caramel., Soft on the nose, little to no alcohol burn.
T - Almost a hefeweizen thing going on. Wheat body with notes of banana, clove, dried fruit. Belgian yeast is distinct which separates it from being a imperial hefeweizen.
F - Elegantly heavy. Very carbonated, almost expands when swished around. Not too much alcohol burn either. Easily drinkable for someone who is familiar to the style.
O - I had this beer before from the same pack and did not like it initially and was beginning to start to sway against strong Belgians, but this is pretty damn good! I like swishing it around and getting the aromas from it because they are quite profound. Overall, tripels are fun every once in a while but sometimes Belgians can be quite the beasts. Good stuff, cheers!
1,265 characters

3.91
/5
rDev
+1%
look: 3 | smell: 3.75 | taste: 4.25 | feel: 3.75 | overall: 3.75
My thanks to the Conshohocken brewers & owners for providing me with CANs for inclusion in The CANQuest (tm)! I hope to run through a bunch of them today. This should be a good time.
From the CAN: "Go Where the Path Takes You"; "Tripel Deke features intense fruit notes from Belgian yeast esters, mild spice character from European hops and sweet flavors of dark CANdy sugar. At 8.5% ABV, our Belgian-style Tripel is deceptively smooth and warms just the right amount."
Another Crack!, another holding my breath. It was a brimful craft CAN, but nothing untoward was happening. I then performed an inverted Glug which netted two-plus fingers of dense, tawny head with decent retention, but I also saw some floaties in the glass, so maybe this is not the best idea if you are into clarity. Color was a hazy/cloudy (right on the cusp) Amber to Deep Amber/Light Copper (SRM = > 13, < 17). Nose was like a spiced fruit cake! Loads of dried fruits, especially tropical, like pineapple, mango and papaya, but with a cinnamon overlay. Mmmm. Mouthfeel was medium to full, not quite creamy, but close. The taste was extremely fruity, like to the point of fruit salad where it is tough to discern one thing from another. I tasted cherries, grapes, bananas, pineapples & marshmallow. It was sweet, to be sure, but there was also a light fusel heat to go with it. It tasted MUCH bigger than just 8.5%. Finish was in that twilight zone between semi-dry & semi-sweet. This was quite the beer and to have it from a CAN was an added bonus.
1,524 characters

3.56
/5
rDev
-8%
look: 3.5 | smell: 3.75 | taste: 3.5 | feel: 3.5 | overall: 3.5
11/7..draft. Dual matted Amber. Sits still with light layer of foam on top. Slight sugar candy nose. Yeasty sweet taste, slight astringency. Raisins figs plums. Puckers. Pretty good. Ambitious.
193 characters
4.13
/5
rDev
+6.7%
look: 4 | smell: 4 | taste: 4.25 | feel: 4.25 | overall: 4
16 oz. can
Pours dark orange and carries with it a bit of a red tint. Pretty clear and looks as if it was filtered until I pour the rest of the can in the glass. Look is then very murky. Minimal head dissipates almost immediately. The nose is predominately Belgian yeast with some grassy undertones and a little fruit juice, apple juice maybe?
Taste carries the yeastiness and then the expected banana flavors. Some sweetness likened to hard candy and some of the apple notes carry thru onto the palate as well. Alcohol not detected much at all. Opens up more sweetness as it warms.
Medium body but carbonation is much less than I was expecting. A touch syrupy but finishes quite clean, with little aftertaste
First try with a fairly new brewery a few miles from my house. I'll certainly be getting more beers from these guys.
840 characters

4.36
/5
rDev
+12.7%
look: 3.75 | smell: 4.5 | taste: 4.5 | feel: 4 | overall: 4.25
So tasty. Bubblegum taste to start then sweet then a nice rye malt finish with slight booziness. Great stuff. Glad this is close and accessible to me.
150 characters
Tripel Deke from Conshohocken Brewing Company
Beer rating:
3.87
out of
5
with
19
ratings