Day Without A Dawn
| Conshohocken Brewing Company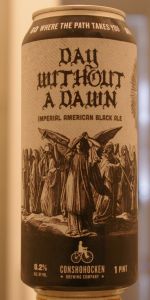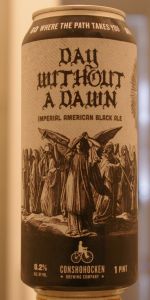 BEER INFO
Brewed by:
Conshohocken Brewing Company
Pennsylvania
,
United States
conshohockenbrewing.com
Style:
American Black Ale
Alcohol by volume (ABV):
8.20%
Availability:
Rotating
Notes / Commercial Description:
None provided.
Reviews: 7 | Ratings: 28

4.38
/5
rDev
+11.5%
look: 4.75 | smell: 4.25 | taste: 4.5 | feel: 4.25 | overall: 4.25
I am not a fan of black ales often they are not balanced. Poured into a pint glass at 37 degrees. The head is two fingers thick it is airy, billowy, and foamy. The head tatted lacing on the glass as it slowly dissipated.
The beer is inky black and opaque.
Medium roasted malts and grapefruit are the initial aromas of the beer. Additional aromas of the beer are pine, yeast, crackers, earthy, and a touch of floral.
A medium roasted malt with grapefruit notes is what I taste most. The additional flavors of the beer are wood, yeast, crackers, earthy, and a touch of floral.
The mouthfeel of the beer is crisp and dry. The body of the beer is medium, medium carbonation, and a medium finish.
This beer is the exception to a black ale it is delicious. I am not a fan of black IPA's, but this one is the exception.
823 characters

3.85
/5
rDev
-2%
look: 4.25 | smell: 4.25 | taste: 3.5 | feel: 3.75 | overall: 4
Pours nearly black with some reddish-brown hints at the edges and a finger of khaki head. I'm digging the aroma, it's malty upfront with great coffee notes; hops linger in the background and add pine and floral notes. The taste is a bit more muted: the malts are more generically dark and the hops don't add as much, and there is a hint of bitterness to balance. Mouthfeel is a bit thin, maybe light+ in body with moderate carbonation.
435 characters
4.08
/5
rDev
+3.8%
look: 4.25 | smell: 4.25 | taste: 4 | feel: 4 | overall: 4
16 oz can, no date
black, tan colored head, good head retention and lacing. piney hop aroma, some roasted malt. taste is hop dominated, but good malt balance, the flavors work well. body is thicker.
202 characters

4.54
/5
rDev
+15.5%
look: 4 | smell: 5 | taste: 5 | feel: 3.5 | overall: 3.75
My thanks to the Conshohocken brewers & owners for providing me with CANs for inclusion in The CANQuest (tm)! I hope to run through a bunch of them today. This should be a good time.
From the CAN: "Go Where the Path Takes You"; "Day Without a Dawn is our Imperial Ameri[CAN] Black Ale aka Cascadian Dark Ale/Black IPA. Six specialty malts were used to create a [CAN]plex symphony of roasted malt flavors, including chocolate, black coffee and dark cherries. With over 4 lbs of hops per barrel, Day Without a Dawn is intensely earthy and piney and makes for a tasty experience."
Hmm. I guess that if I already find Cascadian Dark Ales to be a waste of good hops, I will find this to be Imperially the case. Let's see what happens when I Crack! this open. No foaming, no gushing, but when I CANmnenced the Glug, I got a lot of foam rushing up and then doing a pseudo-cascade. These guys really need to look at their carbonation levels. The head eventually settled to become two fingers of dense, rocky, deep-tan/light-brown head with good retention. Color was Black/Opaque (SRM = 44), but with garnet highlights at the edges. Nose was interesting - minty & chocolaty, like unwrapping a York Peppermint Patty. Mmmm. Mouthfeel was medium. The taste was simply dark chocolate and minty pine. It really was a liquid York Peppermint Patty! This was great. All it took was a boatload of hops to overcome the dark malts. I really did not get either the coffee or dark cherries that they mentioned, but it was a small loss. The finish was not only dry, but it was also bringing the heat! Man, inhaling after a swallow was like a rush of coolness in my throat. This was probably the best example of this style that I have tried, but still ...
1,733 characters
3.96
/5
rDev
+0.8%
look: 4.25 | smell: 3.75 | taste: 4 | feel: 4 | overall: 4
Look: Pours a jet, oily black with a fluffy three-finger tan head. The head dissipates but maintains some rocky fluff on top and leaves decent lacing.
Aroma: An interesting variety of roasted malts and grain; most predominant for me are the coffee malts. Some floral and pine hops coming through as well. There is an underlying earthiness to this one.
Taste: Grains and malts on the initial sip, followed by coffee and slight chocolate/caramel. The malts yield to the hops which present a bitter, piney, and grassy profile.
Feel: Smooth, low carbonation, and mostly bitter aftertaste. The hops outweigh the malts, but overall it's a lot of smokiness, roasted, and earthy tones.
681 characters

4.1
/5
rDev
+4.3%
look: 4 | smell: 4 | taste: 4.25 | feel: 4 | overall: 4
Poured from a can into a pint glass.
L: Pours an inkly black with 2 fingers of tannish head.
S: Roasted malts and bitter hops. Evergreen and floral.
T/F: Roasted grains form the backbone of the beer with hints of chocolate and coffee. This gives way to the IPA with resinous hops... spruce and pine... mildly spicy, with a clean finish. Good carbonation.
O: A pretty solid black double IPA. Good flavor and a really nice representation of the style. Would definitely have again.
495 characters
3.88
/5
rDev
-1.3%
look: 4 | smell: 4 | taste: 3.75 | feel: 3.75 | overall: 4
To me, this tastes like an Imperial Stout. Reminds me somewhat of what Victory puts out, which is not a bad thing. Like most Victory beers, it has a distinct hop presence, whereas most beers of this type seem to have more of a malt presence.
Smell is pleasant - doesn't overwhelm. Hop fragrance is noticeable. It pours a very dark brown - just about black. Nice head that lasts for a minute or two. I don't know that there is anything about this beer to truly make it stand out from similar ones, but it's a nice beer that I might buy again, especially since Conshohocken is a stone's throw from where I live.
Poured into a standard beer glass from a pint can.
662 characters
Day Without A Dawn from Conshohocken Brewing Company
Beer rating:
3.93
out of
5
with
28
ratings