HopCat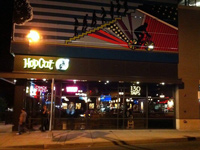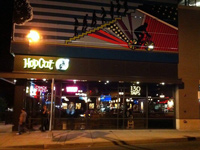 Bar, Eatery
6280 N College Ave
Indianapolis
,
Indiana
, 46220-1985
United States
(317) 565-4236 |
map
hopcat.com
Notes:

cratez from Canada (ON)
4.31
/5
rDev
+1.9%
vibe: 4.25 | quality: 4.25 | service: 4.5 | selection: 4.25 | food: 4.25
Visited with my wife on a recent trip to Indianapolis.
Had the following beers over the course of two visits:
Schlafly Dry Hopped APA (draft)
Oskar Blues Pinner Throwback IPA (draft)
Flat 12 Pogues Run Porter (draft)
Sun King / Rhinegeist Emergency Hop Kit IPA (draft)
All were drinking well and reasonably priced. Also had the delicious barbecue chicken cutlets and crack fries to eat. My wife enjoyed her dinner and wine. The bartender, meanwhile, was one of the best servers we've ever had. Our overall experience was phenomenal, and we would definitely come back.
Feb 12, 2020
NCSapiens from Indiana
4.28
/5
rDev
+1.2%
vibe: 4 | quality: 4.5 | service: 4 | selection: 4.5 | food: 4
Lots of beers on tap. If you've been to a hopcat, you know what I mean. If you haven't gone, do so. There are a ridiculous number of beers on tap, maybe a hundred or so. Half of them are local Indiana beers, then there are beers from across the US and Europe. I don't like the Indianapolis location as much as some of the others, but it is great that it is here. Good broad ripple location. Food is ok chain style burgers and whatnot.
Oct 06, 2018

Gear54 from Indiana
4.6
/5
rDev
+8.7%
vibe: 4.75 | quality: 4.5 | service: 4.5 | selection: 5 | food: 4
Great Place to visit in the Broad Ripple area.
Super clean and easy to get to. Unless there is a major area sporting even on TV you can always get a seat.
Every time we have been there they have an outrageous selection of top notch beers and the service staff always knows the rundown in terms of style and quality. This particular visit I had two different Belgians, one local and one from across the country. Neither of which I can find at the local liqueur store.
Crack Fries are exactly what they sound like. Last time I ate the biggest tenderloin I've seen and a whole plate of Crack Fries.
Overall this place is absolutely deserving of the accolades it has won. "Indiana's best beer bar" and "top 10 french fries in the country". A must visit!
Jun 24, 2016
Towyardmike from Indiana
4.63
/5
rDev
+9.5%
vibe: 4.5 | quality: 4.5 | service: 5 | selection: 4.5 | food: 4.5
Was there on a Tuesday which is $2 off local beers which was awesome. Food was great. My only problem is they don't ever carry Tow Yard Horsepower which is in the Final Four of our local newspaper beer playoff. This beer is awesome.
Mar 23, 2016

mbratt93 from New York
4.21
/5
rDev
-0.5%
vibe: 4.25 | quality: 4 | service: 4.25 | selection: 4.5 | food: 4
This place is an awesome atmosphere! I've gone late at night before on week nights that were not very busy and get mediocre service. Last time I went around dinner and had a great experience. The waitress sat right by me and talked beer with me for about 10 minutes. The selection there is great and the food is too!
Jan 30, 2016
Penguins66 from Illinois
4.21
/5
rDev
-0.5%
vibe: 4 | quality: 4.5 | service: 3.25 | selection: 5 | food: 4
Ah, HopCat...I miss you so. Having been to the Grand Rapids location several times, I knew what to expect, at least I thought I did:
Overwhelming selection of beers? Check
Crack fries, one of the best complements to any beer? Check
Decent crowds any time of the day? No, at least not early on a Saturday afternoon when we were there.
So-so service? Check. The first bartender poured us our first beers and then was more interested in talking to her friend on the other side of the bar. We had to flag down one of the other bartenders to order our food.
The Broad Ripple location is great for bikers as it is a short walk from the Monon trail. Prices vary depending on the beer you order but nothing seemed out of line. Despite the subpar service, which really wasn't terrible, HopCat is on our list of regular stops when we are in Indy.
Aug 22, 2015

bryanmuncie from Indiana
4.63
/5
rDev
+9.5%
vibe: 4.75 | quality: 4.75 | service: 4 | selection: 5 | food: 4.75
Service is hit or miss depending on the day and time of week. Most servers have a basic understanding of the beers on tap, if you want a better experience try sitting at the bar, I have tried about half the menu and the food is very good, I highly recommend this place.
Apr 04, 2015
TargaFlorio from Indiana
4.04
/5
rDev
-4.5%
vibe: 4 | quality: 4 | service: 3.75 | selection: 4.5 | food: 3.75
Maybe the largest draft beer selection in Indy. Tons of local, national and European beer options. Solid pub food options. The one complaint I have is the beer prices. I've paid less for craft beer at 5 star international hotel bars. Manhattan prices in the heart of Broad Ripple, not a great combination.
Jan 25, 2015
sgrechukhin from Indiana
3.5
/5
rDev
-17.3%
Best selection of beers in the City. Two cool bars. Some food options are very tasty. Where Hopcat falls short however is their pricing on some of the beer. 12$ for a Belgian sour in a tiny glass poor is ridiculous. Can be overrun by college kids or party-seekers on Fridays and Saturdays, which makes the place extremely busy and loud. But overall definitely worth a visit.
Oct 30, 2014

ToddGingerich from Indiana
3.75
/5
rDev
-11.3%
The music was awesome. All over the board. Convenient parking in the garage. We ate at the back bar, & I tried to order a Barleywine for an "appetizer", & was told that I would have to go to the "front" bar to get one. Disappointed off the bat. After ordering their "famous" "crack fries", I was shocked as to how mega salty they are. Borderline inedible for one that has high blood pressure. It makes sense, though, to keep patrons constantly thirsty. Overall, good experience, I will likely return to pilfer the massive beer selection.
Oct 04, 2014
ShadyRigglesbee from Indiana
4
/5
rDev
-5.4%
Beautiful new pub in Broad Ripple in a great location. It's attached to a nice parking garage, so no need to worry about not finding a spot in busy Broad Ripple. The inside is quite nice and the service is great. Wide selection of great brew. My only complaints - allot of the beer on the menu was unavailable and didn't match up with the online menu which is what made me want to go so badly. With that being said, the music, while good was far too loud. I know what you're thinking. It's a bar, the music is loud in bars. However, the volume was equal to say a dance club on Saturday night. My wife was sitting next to me and we literally had to yell to hear each other. We also couldn't hear our server, we just had to point at the menu to let her know what we wanted. Overall, HopCat was pretty nice for a beer pub. I would recommend it.
Aug 28, 2014
HopCat in Indianapolis, IN
Place rating:
4.23
out of
5
with
44
ratings