Graveyard Fields Blueberry Coffee Porter

Boojum Brewing Company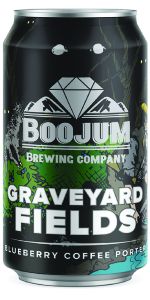 Write a Review
Beer Geek Stats:
| Print Shelf Talker
Style:

ABV:

5%

Score:

Avg:

4.11

| pDev:

9%

Reviews:

10

Ratings:

From:

Avail:

Year-round

Wants

Gots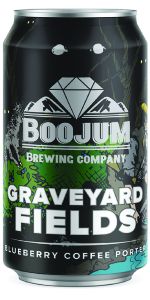 Notes: A classic English style Brown Porter with roasty cold brewed coffee and a subtle touch of blueberry added after fermentation making for a unique and delicious combination of flavors.
PEBKAC from North Carolina
4.54
/5
rDev
+10.5%
look: 3.75 | smell: 4.75 | taste: 4.5 | feel: 3.75 | overall: 5
Bought a six pack a non descript gas station just outside of town in NC. This still isn't normal to me.
Rare Vos glass @ home. Black on brown body. Not much head.
Smells of dark malt, iron, acidic coffee, very faint blueberry skin, oxidation.
Taste subtly pushes the earthy blueberry note upfront without much if any sweet blueberry flavor. Excellent restraint. Coffee is bitter, soot-y & strong. Malt is dark & mellow. Light iron note on the finish.
Texture is that of a thin porter. Carbonation is a bit low. Alcohol seems stronger than the measly 5.0%.
This craft beer is dirt cheap & propels an already good beer to an excellent selection.
Jun 05, 2020

SmokySignals from North Carolina
4.73
/5
rDev
+15.1%
look: 4.25 | smell: 5 | taste: 4.75 | feel: 4.75 | overall: 4.5
Can dated 12/11/19, purchased in a mixed 6 grocery run in Boojum's very town of Waynesville NC . Poured up deep and dark into 2 mini tumblers (sharing this one), with nice airy head.
Looks dark brown, dark fiery highlights at edges .
SMELLS AMAZING!!! Nothing is overdone , just beautiful. Must be tried to really enjoy, as describing it is difficult: Light fruitiness, roast coffee in the breeze, blended like in the window if a nice country home.
Tastes wonderfully roasty and malty, but light and tart and fizzy and great fun. If you've been to Graveyard Fields up on the Blue Ridge nearby, you'd agree this is a fitting tribute. Superb.
Feels so light and tingly, you wanna keep on having more!
As good or better than I expected, and having enjoyed several Boojum brews and visits - expectations were high.
Did Not Disappoint . Great place with great brews!
Mar 17, 2019

FriedSlug from North Carolina
4.18
/5
rDev
+1.7%
look: 4 | smell: 4 | taste: 4.25 | feel: 4.25 | overall: 4.25
A bright light shined into reveals a reddish brown translucent beer. The tan head is thin and fades quickly without leaving much behind. Roasty malt, blueberry, and coffee fill the nose. The taste is lightly sweet blueberry coffee with some roasted malt and a char bitterness at the end. Quite a tasty beer.
Sep 12, 2017

chinchill from South Carolina
3.83
/5
rDev
-6.8%
look: 4 | smell: 4 | taste: 3.75 | feel: 3.75 | overall: 3.75
12 ounce can from NC into a Fat Cat glass. No dating. Repeated July 2017.
Pours dark brown/black in color and is nearly opaque in the glass. The moderate size head is creamy, durable, and leaves ample lacing.
Aroma: roasted coffee, with blueberries, vanilla, roasted nuts and dark grains.
Flavor: the coffee flavor seems a bit stale (only 1 of 2 cans) but mixes well with the more subtle blueberry flavor. Hints of chocolate, roasted nuts, toffee, smoke and vanilla. Very mild bitterness.
Feel: medium+ body that's very smooth and appropriately carbonated (medium-light).
Jan 07, 2017
hman43 from North Carolina
3.11
/5
rDev
-24.3%
look: 3.25 | smell: 3.5 | taste: 3.25 | feel: 2.25 | overall: 2.75
Look: It pours dark brown, not quite black with a brown head. The head retention is moderate on the low side.
Smell: It has aromas of blueberries, coffee, and a combination that produces an earthly smell, plus herbal.
Taste: There are flavors that are highlighted by the blueberries and coffee. There is some roast with a low fruity ester and low herbal qualities.
Feel: It has a moderate feel also on the low side. There is some astringency with moderate bitterness in the finish.
Overall the aromas and flavors produce a good combination with the blueberries but the astringency affects the overall presentation.
Aug 07, 2016
ChazEBot913 from North Carolina
4.58
/5
rDev
+11.4%
look: 4 | smell: 4.75 | taste: 4.75 | feel: 4 | overall: 4.5
Pours almost black with caramel red/brown highlights around the edge. Thin light brown head receding into light film ring.
Fairly strong coffee and blueberry aroma amidst the usual malts as head fizzes (be sure to soak it in before foam recedes as the sweet smell is worth it and will amplify that first sip).
Immediate taste is caramel and malts with a coffee follow up that is not as strong as the aroma, but fills out the sip nicely. Likewise, the blueberry is a subtle finish compared to the smell and leaves you wanting more. Tells a story with its taste. Like blueberry picking in Graveyard Fields...while sitting comfortably.
Medium bodied, with clear feel and 5% ABV, makes this an easy drinking porter that wont leave you feeling gross after downing a couple. Which will likely happen.
Overall, my favorite porter in the Asheville NC area at the moment. I have it on my tap line-up as often as I can. It has been received quite well.
Mar 08, 2016
dbrauneis from North Carolina
4.05
/5
rDev
-1.5%
look: 4 | smell: 4 | taste: 4.25 | feel: 3.5 | overall: 4
A: Pours an opaque yet still clear extremely dark brown (approaching black) in color with moderate amounts of active visible carbonation along the edges of the glass and moderate cola brown + ruby red highlights. The beer has a half finger tall foamy tan head that reduces to a medium to large sized patch of very thin film and a thin ring at the edges of the glass. Light to moderate amounts of lacing are observed.
S: Slightly stronger than moderate aromas of fresh cold pressed coffee over the top of light to moderate aromas of roasted + caramel malts and a hint of blueberry.
T: Upfront there is a moderate flavor of roasted, caramel, and toasted cereal grain malts with slightly stronger than moderate flavors of fresh cold pressed coffee. A light hint of caramel sweetness and light flavors of blueberry towards the finish - subtle but present. There is a light to moderate amount of roasty bitterness which lingers in the finish.
M: Slightly heavier than medium bodied with moderate amounts of carbonation. Smooth and clean.
O: Very enjoyable and a nice combination of flavors - porter, coffee, and blueberry (though subtle blueberry). Kind of reminds me of eating a blueberry muffin with a coffee. Easy to drink with well hidden alcohol and definitely one that I would enjoy again.
Mar 04, 2016

mst934 from North Carolina
4.15
/5
rDev
+1%
look: 4.25 | smell: 4.25 | taste: 4.25 | feel: 3.75 | overall: 4
Poured from the new can. Canned on 2/2/16. Into a belgian glass, about a 1/2 inch head that diminishes as the beer warms. Jet black, but has a beautiful brown/ruby color at the end. Faint coffee smell, and blueberry comes through, although subtle, it's a perfect touch. Seemed a tad low on carbonation (I had the same complaint about the King of the Mountain DIPA). Regardless of that little flaw, this is one of my favorite beers in WNC right now. A great porter than keeps you going back for more.
Feb 16, 2016

AngusOg from North Carolina
4.46
/5
rDev
+8.5%
look: 4.25 | smell: 4.5 | taste: 4.5 | feel: 4.25 | overall: 4.5
Like the raspberry saison, the blueberry in this beer is a subtle compliment to everything going on in the beer. Absolutely delicious. Really impressed by what i'Ve had from these guys so far.
May 14, 2015
Caesar1pup from Georgia
4.46
/5
rDev
+8.5%
look: 4.75 | smell: 4.25 | taste: 4.5 | feel: 4.5 | overall: 4.5
Boojum Brewing Company just opened in January 2015 and the small brewery is a little off the beaten path between Waynesville and Maggie Valley NC but it's well worth the stop. The offer tastings on the weekends and fill growlers everyday but Tuesday (see website). They are in the process of opening a taproom on Main St. in Wayenesville.
Was not expecting to like this however the blueberry is extremely subtle. Full of coffee flavor and quite nice.
Jan 31, 2015
Graveyard Fields Blueberry Coffee Porter from Boojum Brewing Company
Beer rating:
89
out of
100
with
52
ratings