Stevns CCC
| Nørrebro Bryghus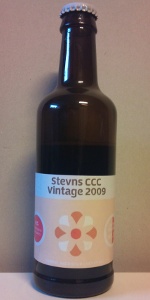 BEER INFO
Brewed by:
Nørrebro Bryghus
Denmark
noerrebrobryghus.dk
Style:
American Wild Ale
Alcohol by volume (ABV):
8.50%
Availability:
Rotating
Notes / Commercial Description:
No notes at this time.
Added by RblWthACoz on 06-20-2010
Reviews: 9 | Ratings: 11
3.74
/5
rDev
-14%
look: 3.5 | smell: 3.75 | taste: 3.75 | feel: 3.75 | overall: 3.75
330 mL bottle poured into a snifter.
Appearance - Deep amber. Small off white head.
Smell - Woody with some cherries. Lots of caramel and oak.
Taste - Lots of caramel and wood. Tart cherry. Cherry begins to take over, but the oak is equally strong. Wood lingers in the finish.
Mouthfeel - Medium carbonation. Medium heavy body.
Overall - Pretty good. Especially for its age.
Mouthfeel -
394 characters

4.47
/5
rDev
+2.8%
look: 4 | smell: 4.5 | taste: 4.5 | feel: 4.5 | overall: 4.5
8/13/2011
Bottle shared by Javier, thanks!
A: Ruddy reddish brown with a big frothy beige head.
S: Pronounced lactic cherries with wet leather and a little sugary sweetness. Notes of grape and plum waft from the glass with each swirl. Moderate lactic notes are evident.
T: Sweet and tart cherries with pronounced lactic notes and a moderate acetic acidity. Light leather and oak.
M: Medium body with moderate carbonation.
Overall: An enjoyable and complex beer. Recommended.
480 characters
4.12
/5
rDev
-5.3%
look: 4 | smell: 4.5 | taste: 4 | feel: 4 | overall: 4
The beer is clouded dark deep red ruby with nuances of brow, the head is small tan, no lacing, some curtains.
The smell is earthy and sweet fruity, like old cherries stomped into a dirt floor. Leather figs and some vinegar. Sherry notes as well. Very interesting!
Some slight cherry/fruity sweetness, sour vinegar notes, some vinous traits, port mainly.
Medium carbonation, very small foamy bubbles, smooth and rather fresh, a dry sourness at the end.
A nice ... I would say kriek.
485 characters

4.44
/5
rDev
+2.1%
look: 3.5 | smell: 4.5 | taste: 4.5 | feel: 4.5 | overall: 4.5
Props to Jason for sharing this at our Epic Chicago Tasting.
A - Reddish brown color, with some touches of purple on the edges. Left a little bit of a white ring around the edges, that was slightly uneven.
S - Lots of cherries. It elicits a ripened cherry smell, nothing fake, with a little bit of musty funk and some great tartness.
T - A great tasting brew that is sufficently tart to balance out a big dose of sweetness. Fruit forward, and finishes a bit tart for good measure.
M - Medium bodied with a moderate kick of carbonation.
D - A real easy one to drink, and a winner. This is a somewhat unique beer that I would love to try again.
648 characters

4.14
/5
rDev
-4.8%
look: 3.5 | smell: 4.5 | taste: 4 | feel: 4.5 | overall: 4
Thanks to Rachel and Jeppe for getting this beer into my hands!
Poured into a Hill Farmstead tasting glass. A murky, cherry-brown, body with a peach tint swirls back and forth in the glass. A thin ring of white foam maintains for a minute or two and then is lost.
The nose is very fruity with banana esters and tropical fruit. Somewhat acidic with a hint of alcohol and cherry. Sweet, fruity and acidic. I'm liking the more tropical aspects that come through. Pretty cool.
Banana and sour acidity mixed with cherry and guava (tropical fruits). Some oak and vanilla. Quite fruity, well done.
Mouthfeel is slick with light, spritzy, carbonation. Good sour acidity, without being overdone.
I enjoyed this quite a bit. Everything comes together well and I like the fruitiness. Doesn't quite pull me in like other wilds, but definitely top notch and a pleasure to try.
870 characters

4.47
/5
rDev
+2.8%
look: 4 | smell: 4.5 | taste: 4.5 | feel: 4.5 | overall: 4.5
Thanks to Jason (jrallen) for popping this one open during our Epic Chicago Tasting. Poured into a Rochefort tulip. Very unusual beer that I've never heard of...cool.
A - Pours a red/brown, thin ring around the glass, no lacing, no retention. Just so-so looking here, nothing crazy going on.
S - Tart/sour, cherry, slight funk. Really impressed with the combo of a fruit beer and a kriek. It does both wonderfully on the nose.
T - Oh man, I really dig this. It's got the tart/sour notes of a kriek and the fruit notes similar to something like Phoenix Kriek or the NG offerings. Good f'n combo.
M - Light, slight carbonation, dry finish.
D - Man, this one is excellent. I love how it's tart/sour but also has great fruit notes like a top-notch fruit beer. I would buy this one by the case...it's damn good!
811 characters

4.44
/5
rDev
+2.1%
look: 3.5 | smell: 4.5 | taste: 4.5 | feel: 4.5 | overall: 4.5
Thanks to Jason for sharing this unusual offering. Served in the trusty Westvleteren chalice. This was indeed the Vintage 2009, apparently there is also a 2007 and I'm unsure as to why they need different listings.
A - Finger of red-tinged foam that quickly dissolves to a thick ring and some filmy haze on top. Almost milky, hazy cherry red-brown color.
S - Big fruit aroma here, with tons of tart, ripe, cherries, and light sour and funky elements. This is a hybrid of Kriek and Fruit Beer. Not much obvious "beer" character, as the fruit and tart notes overwhelm - there's a touch of plastic in the periphery that mars things slightly.
T - This is quite sweet - more than I expected from the tart nose. Thankfully it never verges on cloying. Very juice-like, with huge taste of cherries and woodland berries. The finish is lightly sour.
M - Medium bodied, soft but active carbonation, and a satisfying dry finish. This was very refreshing after all the big beers we had earlier.
D - This was excellent, and I'd very much like to try it again. It's what I was hoping for from Phoenix Kriek. Too bad none makes it stateside.
1,130 characters
4.44
/5
rDev
+2.1%
look: 3.5 | smell: 4.5 | taste: 4.5 | feel: 4.5 | overall: 4.5
This is a special release beer had at the brewery in Copenhagen.
Beer pours a maroon/prune color with a light tan head, lighly opaque...The aroma is super nice, tons of fresh cherries, a little candy cherry with a slight funk finish. Taste is basically the same, sweet and tart, just totally awesome.
There is not ton of funk but its a very good tart cherry ale. Give it a shot, if you can find it.
400 characters
4.57
/5
rDev
+5.1%
look: 4 | smell: 4.5 | taste: 4.5 | feel: 4.5 | overall: 5
Pours a dark brown with a reddish hue. Nose is vanilla wood in very minor tones with cherry, of course. Flavor is...ahhhh...heavenly. Just some real excellent wood and cherry skin flavors with a very minor sour tone that really complements the overall cherry flavors. The Brett does not overpower. Real crisp fruit tones here and lots of nice very, very minor earthy tones. Hot damn. This is a wild ale at its best. (Though, it seems a little bit tight.) I was extremely nervous at the price, but took a chance and got what I could and am quite glad I did. I know that I am jaded by loving this style, but it makes me tingle with delight to drink it and reminds me of Saint Lamvinus too. Too bad it only came in an 33cl bottle. I would have preferred a magnum...or larger. I was thinking about trading my other bottles, but I have changed my mind. Wish I could try the '07. Will be very interesting to see how this opens up over time.
934 characters
Stevns CCC from Nørrebro Bryghus
4.35
out of
5
based on
11
ratings.