Hefeweizen
| Okanagan Spring Brewery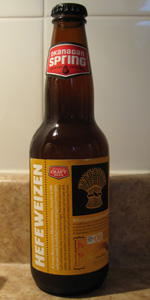 BEER INFO
Brewed by:
Okanagan Spring Brewery
British Columbia
,
Canada
okspring.com
Style:
Hefeweizen
Alcohol by volume (ABV):
5.20%
Availability:
Year-round
Notes / Commercial Description:
No notes at this time.
Added by canucklehead on 07-31-2008
This beer is retired; no longer brewed.
Reviews: 10 | Ratings: 15
4
/5
rDev
+4.7%
look: 4 | smell: 4 | taste: 4 | feel: 4 | overall: 4
A - slightly hazy golden orange, nice white head retained fairly with some random lacing
S - strong yeasty esters, clove and sweet banana, lightly toasted grains, slightly peppery
T - sweet banana weighs in nicely, cloves more subtle, hop notes of fresh flowers, grainy wheat
M - refreshing carbonation, smooth and medium body, light spicy finish
D - a good good beer all around, i like how this hefe leans on the banana more than the cloves from the yeast, the feel is very well balanced, i have to say i'm impressed compared to some other OK Springs offerings i've tried
572 characters

3.52
/5
rDev
-7.9%
look: 3.5 | smell: 4 | taste: 3.5 | feel: 2.5 | overall: 3.5
Purchased as part of the brewery's craft mix pack in MB.
Pours a somewhat lighter and less cloudy beer than I had expected, with a good white head that descended quickly. Aromas off the beer are dominated by banana, which is to my liking of Hefe's, and quite strong dominating all else. The beer itself though was a touch thin in the body with light flavours (once again banana dominating) and a light feel. Carbonation was much too low, and would have been helped out by a crisper carbonation to make the flavours jump on the tongue,
535 characters
3.36
/5
rDev
-12%
look: 4 | smell: 3 | taste: 3.5 | feel: 3 | overall: 3.5
341ml brown twist-off bottle poured in a Hefeweizen glass. Came in a 12-pack sampler.
A little cloudy and golden in colour. White frothy head is 3/4 inch on the pour and slowly recedes to a 1/8 inch cap. Spots of lacing here and there on the sides.
Light sweet malts in the nose with the typical banana overtones from the hefe yeast.
Light, sweet malts on the forefront, followed quickly by bananas and a hint of cloves. Wet finish is short lived and clean.
Lots of tiny bubbles with a light-medium body.
A pretty decent Hefe. Surprisingly better than I expected. There are lots of better examples out there, but this will do in a pinch.
642 characters

3.97
/5
rDev
+3.9%
look: 3.5 | smell: 4 | taste: 4 | feel: 4 | overall: 4
Dated: NA
From: Chris (wordemupg)
A: Cloudy gold body with two fingers of while fluffy head. Decent retention and faint lacing.
S: Nice yeast funk, cloves, some sweet fruits, banana and hints of bubblegum.
T: Just like the aromas, yeast, cloves and mixtures of fruit. Hint of bubble gum in the back. Pleasant taste here.
M: Light bodied and medium carbonation. Very froathy texture and leaves a sticky bittersweet aftertaste.
D: A well made hefe is a well made beer. I enjoyed this very much. A lot smoother than other hefe's and the flavours are well balanced. Thanks again Chris, this was a great catch.
614 characters
3.75
/5
rDev
-1.8%
look: 4 | smell: 4 | taste: 3.5 | feel: 3.5 | overall: 4
Part my of CanBIF6 box received from wordemupg. Thanks again!
This is a pretty nice looking hefeweizen but there are some weird scummy strands floating around in it. I'm guessing it's the sediment but I've never seen any like this before. Other than that, the colour is great: a glowing gold. Hazy body with a decent initial head, which sadly fades to an off-white, bubbly cap leaving only traces of lacing. The floaty things seem to have resolved themselves...wonder what those were?
Lots of banana and bubblegum are right up front in the nose, more so than your average hefeweizen. Wheat, coriander, lemon and orange rinds round it out. Again, pretty nice.
The taste is somewhat of a let down, the nose having left me with high hopes. Still, not a bad example of the style. All the great banana and bubblegum seem to be stifled here, the flavour coming off a bit weak. No real flaws though. Mostly wheat with some light orange and lemon along with a trace of coriander and even less clove. I'm only tasting the slightest hint of banana and bubblegum sweetness. A bit of drying hop bitterness sneaks up in there as well, stealthily balancing out the sweetness. The bottle isn't dated, so I don't know how old this one is. Anyway...pretty well-balanced and definitely nothing offensive.
The feel is alright: medium body and medium-high carbonation. Somehow it's not quite lively enough for me though, it feels a little dull even with the prickly carbonation.
No problems with drinking this stuff. I would love to try it fresh on tap in Vernon, I bet it's significantly better. As a bottle possibly past its prime? Still pretty nice!
1,640 characters
4.48
/5
rDev
+17.3%
look: 4.5 | smell: 4 | taste: 4.5 | feel: 4.5 | overall: 5
A - golden yellow, and a thin, dense head that leaves nice lacing on the glass
S - Citrus, faint banana, hops
T - It tastes like its smell
M - consistent, medium carbonation from the tip of the tongue to the back of your throat. Smooth going down.
D - Definitely my go-to session beer.
289 characters

4.07
/5
rDev
+6.5%
look: 3.5 | smell: 4 | taste: 4 | feel: 4 | overall: 4.5
341ml bottle poured into 400ml dab glass on aug 22 2009
A cloudy golden peach, two finger head falls fats and leaves a small amount of lace
S as the bottle claims, clove and banana are present i also get some honey. this is one of the better beers ive had from ok springs, they did a good job on this style
T as it smells, but i dont taste the honey i could smell but i could taste a little yeast. i enjoyed it not bad at all
M quite light ,bubbles up fast in your mouth, and thats not a bad thing
D perfect beer for the okanagan sun(evan if you live in calgary) this one sinks like a rock no problems here
overall i must say i enjoyed this beer more then i expected. ok springs is a decent brewery but i feel they picked it up a notch for this one
755 characters
4.56
/5
rDev
+19.4%
look: 5 | smell: 4 | taste: 4.5 | feel: 5 | overall: 5
A - poured from a 341ml bottle into a tulip glass. It pours a hazy amber with a lasting white head. The head leaves nice bands of lacing on the glass.
S - citric fruit and hops, faint banana and bubblegum
T - citric and spicy malt with more banana flavor then was on the nose
M - great carbonation with a semi dry finish that warms the stomach
D - very good. I especially enjoy the mouthfeel of this Hefeweizen.
415 characters

3.85
/5
rDev
+0.8%
look: 3.5 | smell: 3.5 | taste: 4 | feel: 4 | overall: 4
not sure why this beer is retired as it was in a newly purchased sample case with a new label, et al.
Certainly has the look of a Bavarian Hefe...nice orange/peach hue, unfiltered cloudiness, decent white head and lacing.
Lot's of banana and clove for a domestic hefe.
Sharpness right up front from the wheat malt. Some diactyl followed by an impressive blast of clove spiciness in the latter stages. Nice fullness as well.
If I can get this as a stand alone case it will be a fixture in my fridge this summer. Was very impressed...best North American Hefe/wheat ale i've tried so far. Now how do we get it unretired...
624 characters

4.1
/5
rDev
+7.3%
look: 4 | smell: 4 | taste: 4 | feel: 4 | overall: 4.5
Wow, the quality of all the new Hefes being produced is quite high and this is no exception. Big and full of banana/cloves and a yeasty finish this is a real nice beer. I have never been impressed with OK Spring beer but this is dead on for the style and for once in their career full bodied. I will seek this out and I hope it shows up in bottles soon
352 characters
Hefeweizen from Okanagan Spring Brewery
3.82
out of
5
based on
15
ratings.