Golf
| Weyerbacher Brewing Co.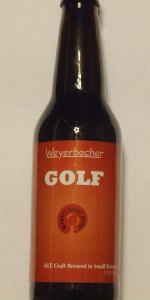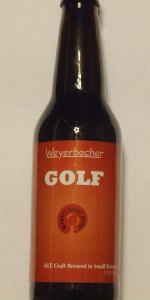 BEER INFO
Brewed by:
Weyerbacher Brewing Co.
Pennsylvania
,
United States
weyerbacher.com
Style:
German Weizenbock
Alcohol by volume (ABV):
6.00%
Availability:
Limited (brewed once)
Notes / Commercial Description:
No notes at this time.
Added by CampusCrew on 11-29-2009
This beer is retired; no longer brewed.
HISTOGRAM
Ratings: 12 | Reviews: 8
Reviews by FickleBeast:

4.16
/5
rDev
+10.3%
look: 5 | smell: 4 | taste: 4 | feel: 4 | overall: 4.5
Obtained at a WHALES Homebrew club charity auction. Donated to the auction by Weyerbacher. Thanks to both the WHALES and Weyerbacher for the opportunity to try this brew.
12 oz bottle poured into a Delerium Tremens snifter
Pours a cloudy brown with two fingers of billowing head. Have to pour the bottle in two pours. I did not make an effort to get the last of the yeast dregs out of the bottle. After sitting for five minutes, the head on this beer still hasn't dissipated. There is substantial carbonation, creating small geysers of foam in the glass.
Smell is dominated by banana and estery flavors. Some spiciness also comes through. Very aromatic.
This beer has a great wheat malt flavor. The estery flavors are subdued. It is nice that the yeast isn't over the top but sits off to the side and lets the wheat and crystal malt flavors shine. Very well balanced beer.
Mouthfeel is fizzy and effervescent due to the high level of carbonation. This is a refreshing and extremely drinkable beer! I am glad to have had the opportunity to try this, and would consider buying more if I ever saw it on the shelves.
1,120 characters
More User Reviews:
4.1
/5
rDev
+8.8%
look: 4 | smell: 4 | taste: 4 | feel: 4 | overall: 4.5
Appears a deep copper amber hue with a big off white tan head, had it on tap at Bodega in Columbus a couple weeks ago. This was a fruity/peppery dunkelweiss that really worked well for me that night. It was interesting and drinkable I could have had more and more of it. Some banana clove and dark roasts melded together oh so nicely this doesn't have to be a one off version it could easily be comfortable within their regular lineup. Flavors like I said melded nicely. Great beer easy drinking sturdy but non offensive carbonation greets you up front, what an excellent offering I'm glad they kept a few kegs back. Great place to experience a new beer I can't get enough of this stuff, gotta love it.
702 characters

4.03
/5
rDev
+6.9%
look: 4.5 | smell: 4 | taste: 4 | feel: 4 | overall: 4
On tap at Kickbacks in Jax. Poured into a Unibroue tulip. Head was a pinky thick and lasted for a short time before recessing into a uniquely colored body (although the lighting is dim, almost seemed peanut buttery colored). Soapy lacing sticks around for a second before diving back into the body of the beer. Aroma is of dark fruits mainly...maybe some banana, raisins, clove and sweet malts. No hops noted. Some sour taste is also noted, maybe from yeast? This beer is described by Weyerbacher as a hybrid Octoberfest and Hefe-weizen, (they call it a "festaweizen") To me, it smells more like a dunkelweizen crossed with a saison. Taste follows pretty closely along with the aromas. Pretty tasty offering and definitely unique in aroma, taste and look. Style and creativity points must be awarded. The fact that Weyerbacher offers experimental brews like this one, shows me that they are not content on the craft beer map and they continue to try to improve their portfolio.
977 characters

3.95
/5
rDev
+4.8%
look: 4 | smell: 4 | taste: 4 | feel: 3.5 | overall: 4
A-Hazy reddish copper with a thick, creamy, light rusty tan head. Head reduces slowly and leaves nice lace.
S-Nice pop of spice and a fruit bowl of sour apple, bananas, lemon zest and bubblegum.
T-Aggressive fruit up front with an underlying earthy bitterness. Good caramel malt support with a good spicy finish.
M-Medium-light bodied and in actuality a tad thin in body. I like my weizenbocks to have some chewiness and this one lacks that.
D-Good stuff overall...wouldn't mind more body but the fruity flavours and yeast spiciness makes up for this deficiency.
567 characters

3.7
/5
rDev
-1.9%
look: 3 | smell: 3 | taste: 4 | feel: 4 | overall: 4
This is a hybird Hefe-marzen so who knows what style is.. Had this a Kickbacks (one of the best beer bars in the country now) They said they had 2 of the 7 kegs brewed on this brew.
Interesting...
appearance: creamy froth and a peanut butter visual in the glass. Weird.... I asked the bar owner/beer coinsessoir and he insured me this was not on nitro tap as is seemed. it was extremely creamy on top.
taste: akward at first but very drinkable, even a sourness aftertaste. very bready, malty brew
mouthfeel: medium bodied
drinkability: Unsure whether I loved it but it was one of the most confusing beers I have had.
I highly recommend the experience though.
666 characters

3.95
/5
rDev
+4.8%
look: 4 | smell: 4 | taste: 4 | feel: 3.5 | overall: 4
A 12 ounce bottle poured into my shaker glass. Afer stirring up the yummies in the bottom of the bottle, the beer appears a rather cloudy crimson amber color with a good two fingers of creamy, lingering light rust colored foam. Nose and flavors consist of bananas, slightly sour lemons, tart apples, bubblegum, quite fruity, a tad bitter, nice maltiness, apple taffy. A malty hefe. This actually does not have that characteristic Weyerbacher smell that most of their beers tend to possess. A bit thin in body, but not too distracting, with more than ample carbonation. Quite the foamer on the pour, possible minor infection? Cheers to the guys in Easton for blending styles like this.
684 characters

3.58
/5
rDev
-5%
look: 4 | smell: 3.5 | taste: 3.5 | feel: 4 | overall: 3.5
Had a hard type figuring out what type of beer this was when I had it on tap at the Brewery when it came out. Turns out to be a hybrid of an Oktoberfest and a Wheat beer, one of the employees told me. Cool concept I suppose. The color was pretty nice looking, it's a amberish brown with a tan looking head. The aroma was along the lines of a dunkelweizen with a little bit more of a spiciness on the nose. It was drinkable and had some good autumn flavors in it but it's not Weyerbacher's best in my opinion.
508 characters

3.3
/5
rDev
-12.5%
look: 4 | smell: 4 | taste: 3.5 | feel: 2 | overall: 2.5
Thanks to timmush for this bottle
Appears slightly hazy deep orange/reddish. Three finger head slowly falls to thick layer that stays. mild lace.
Smells of clove, fruit, malt. Taste is malty, with some clove, some fruit. The flavor is a bit watered down.
Mouthfeel throws a wrench into the works. It's way too carbonated. It seems like a saison in carbonation level. It's too much for this beer. Body is light but takes some work to understand that with all the sharp carbonation occurring.
Drinkability is hurt by the carbonation. It's gassy and prickly. The flavor is alright though.
586 characters
Golf from Weyerbacher Brewing Co.
Beer rating:
3.77
out of
5
with
12
ratings