Papa
| Weyerbacher Brewing Co.
BA SCORE
81
good
10
Reviews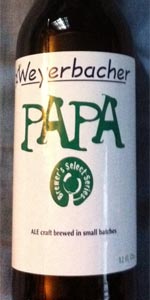 BEER INFO
Brewed by:
Weyerbacher Brewing Co.
Pennsylvania
,
United States
weyerbacher.com
Style:
Scotch Ale / Wee Heavy
Alcohol by volume (ABV):
not listed
Availability:
Limited (brewed once)
Notes / Commercial Description:
No notes at this time.
Added by ktrillionaire on 05-16-2011
This beer is retired; no longer brewed.
Reviews: 10 | Ratings: 22
2.61
/5
rDev
-23%
look: 3.5 | smell: 2.5 | taste: 2.5 | feel: 2 | overall: 3
12 oz bottle.
Pours a clear, tawny brown with a creamy light tan head. Nose is caramel, brown sugar, toffee, dark fruit and a slight tinge of sour and butter in the finish. Medium thin, light body, low carbonation, watery finish. Bready flavor, much less sugar malt and fruit than the nose. Very doughy and earthy with mild pear and apple.
★
340 characters

3.3
/5
rDev
-2.7%
look: 3 | smell: 3 | taste: 3.5 | feel: 3 | overall: 3.5
Served in a 10 oz chalice glass
Appearance – Served a mahogany color with a small just off white head. The head faded fast to give very little lacing.
Smell – The smell is largely of roasted malt mixed with an ever so light sweeter dark fruit.
Taste – The taste matches the nose quite well. A very nice roasted malt base is upfront and present throughout the taste. More towards the middle, a sweeter cherry flavor begins to develop and at the very end the malt and cherry flavors mix with very light spicy and earthy flavors.
Mouthfeel – Medium bodied with a medium carbonation level. A little thinner then desired, but not off putting in any way.
Overall – This was an aright brew. On the positive side, it has a very nice color with a great malt flavor and smell. While the malty flavor and smell are very nice, they make for a rather uni-dimensional taste, as the other flavors are really quite light in comparison to the malt flavor.
★
953 characters

3.23
/5
rDev
-4.7%
look: 4 | smell: 3.5 | taste: 3 | feel: 2.5 | overall: 3.5
From 08/12/11 notes. Had on tap at Galaxy hut in Arlington, VA. Served in a pint glass.
a - Pours a dark brown color with a dark reddish tint, one inch of white head, and light carbonation evident.
s - Smells of sour fruits, brown sugar, dark fruits, caramel and bready malts. More sour than I was expecting, though I like it.
t - Taste is similiar to the nose; sour dark fruits, bready malts, sugar and sweet fruit, and light caramel. Again, not expecting the sourness but I enjoy it.
m - Thin body and low carbonation.
o - Overall not a bad beer. but not a scotch ale. I enjoyed the lightly sour fruit to it, but not sure if that is supposed to be there.
★
661 characters
4.35
/5
rDev
+28.3%
look: 4 | smell: 4 | taste: 4.5 | feel: 4.5 | overall: 4.5
Purchased on tap at Capital Ale House in Glen Allen, VA - served in a tulip
Pours a very nice dark walnut color with good head and good lacing. Smells of dark, sweet yet also spicy malts with a caramel undertone. I love the mouthfeel on this, it's interesting because it is quite sweet yet it isn't overwhelming at all and it's kind of low abv for a wee heavy.
Overall this was a great choice and I would def buy it again
★
423 characters

3.23
/5
rDev
-4.7%
look: 3.5 | smell: 3 | taste: 3 | feel: 4 | overall: 3.5
On-tap, served in a pint glass
A mahogany body with a 1-2 finger thin, light tan cap. Retention is lacking and there is no lacing left behind. The nose is of caramel, candi sugar, bready malt, and toffee. The flavor profile mimics the nose. Caramel and toffee with brown bread and sweet candi sugar. Not a whole lot of depth and is definitely lacking in some complexity. Booze never really makes an appearance, which is a detractor given the style. Smooth and full bodied, creamy with even carbonation.
I wouldn't call this a miss, but it isn't a truly indicative example of the style. Lacking complexity and some overall flavor, which makes this easier to drink, but not enough of a redeeming quality to win me over.
★
719 characters

3.97
/5
rDev
+17.1%
look: 3.5 | smell: 4 | taste: 4 | feel: 4 | overall: 4
The brew pours out as a deep brownish red color. The head is pretty thin and doesn't really last very long. Not much in the way of lacing here either. The smell is very much full of malt. The other aromas are brown sugar and some earth as well. The taste is of caramel and malts. Not a hop bitterness in sight for this beer. The mouthfeel is medium and very smooth. This is a very easy going beer. It reminds me of an Oktoberfest but without all the spices. I enjoyed this beer.
★
478 characters

3.28
/5
rDev
-3.2%
look: 3.5 | smell: 3 | taste: 3.5 | feel: 3.5 | overall: 3
on tap at jose pistolas in philly
Pours a clear caramel brown color with some reddish hues. Thinner tanned head fades into some cloudy retention with a bit of lacing.
Scents of bready malt and caramel mixed with peat and smoke. A bit soft on the booze but some notes of alcohol and dark fruit.
A hit of dark fruit with raisin and cherry quickly coupled with smoke and peat malt. Dark roasted malts but a little on the thin side, washed away with some soft fruit flavor. Raisin and cherry towards the finish, which is quick and faint.
Lighter medium body, decent carbonation, a bit watery and light for my tastes. This was pretty drinkable but definitely not anything special or something to seek out.
★
707 characters
2.51
/5
rDev
-26%
look: 3.5 | smell: 2.5 | taste: 2 | feel: 4 | overall: 2.5
Aromas are mildly malty, some bready and toasted malt notes. Really not much here sadly.
The taste begins with the same light bready and toasty malts with the smallest amount of darker caramel and toffee. Really one of the weakest examples of the style I have had in a while.
The mouthfeel is full but without the complementary flavor to back, what's the point... Overall this is a big disappointment for me and might be the worst beer from this brewery I have ever had. I love Weyerbacher but they dropped the ball on this one.
★
530 characters
4.02
/5
rDev
+18.6%
look: 3.5 | smell: 4 | taste: 4 | feel: 4.5 | overall: 4
Thanks to my friend Dave for the bottle. This is described as malt-lovers dream, and I'll agree that it is a pretty tasty malt-centric beer. I also like that it's not too rich or heavy. The body is right at the point where a couple bottles wouldn't fill you up.
The aroma had an odd metallic note at first, but that quickly cleared and left behind a rich caramel bread crust character with a hint of peat. This does actually remind me a bit of scotch when I swill and sniff. The flavor rolls in with sweet toffee, mild candied apple, a hit of multigrain bread, and more caramel through the finish. I think this might be one of my favorite Weyerbacher beers to date. Give this a try.
★
683 characters
3.26
/5
rDev
-3.8%
look: 4 | smell: 3 | taste: 3 | feel: 4 | overall: 3.5
On-tap at Ale+Witch
A - It pours a copper-mahogany hue and is capped with a wispy off-white froth.
S - Not much here. Slightly malty, with multi-grain toast notes, but this is really too understated.
T - The flavor is just too small here. What it has going for it: a nice bready toast flavor and a hint of toffee-caramel. What it is missing: depth, nuance, peat or smoke, burnt sugar, booze et. al. That said, it does have a pleasant flavor, just too weak.
M - The feel is big, rich, and expansively creamy. Too bad there isn't much flavor to exhibit.
O - A rare miss from Weyerbacher. This tastes like it would be a great base beer for barrel or other treatments; as a stand-alone, it is underwhelming.
★
718 characters
Papa from Weyerbacher Brewing Co.
3.39
out of
5
based on
22
ratings.