Bourbon Barrel Scotch Ale
| Bluegrass Brewing Co. - East St. Matthew's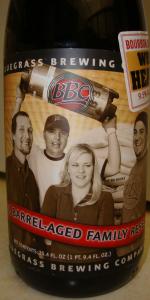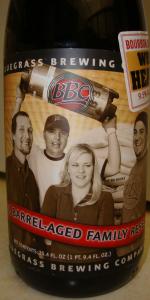 BEER INFO
Brewed by:
Bluegrass Brewing Co. - East St. Matthew's
Kentucky
,
United States
Style:
Scotch Ale / Wee Heavy
Alcohol by volume (ABV):
8.80%
Availability:
Rotating
Notes / Commercial Description:
Scotch ale that is aged in Knob Creek Bourbon barrels for 100 days.
IBUs: 27.3
OG: 18.8
Added by Buschyfor3 on 07-31-2009
This beer is retired; no longer brewed.
HISTOGRAM
Ratings: 12 | Reviews: 9
Reviews by Buschyfor3:

4.12
/5
rDev
+1.7%
look: 3.5 | smell: 4 | taste: 4.5 | feel: 3.5 | overall: 4
This is BBC's bourbon barrel-aged scotch ale, aged in Kentucky's own Knob Creek Bourbon barrels. It is also locally known as "Knob Creek Scotch Ale" and you can get it on tap at the "Growler Heaven" located at the Springhurst Liquor Barn.
Ordered a half-pint fresh off the tap at BBC's Shelbyville Road brewpub.
A: Mahogany brown with burgundy highlights nestling beneath a creme-colored, finger thick head. After the first sip, the head reduces to a ring of foamy lacing.
S: Earthy oak, charcoal, caramel and bourbon are the prominent aromas that I detect. The bourbon barrel aging adds a nice depth to the nose with the balance of sweet caramel, honey and vanilla touches of the bourbon and just faint hints of its alcohol punch.
T: The first note definitely reveals the barrel aging - salty, drying oak and slightly chalky charred wood notes. Then there is a touch of caramel and vanilla sweetness and just a kiss of the spicy alcohol from the bourbon. The alcohol presence in the beer is actually pleasant and not over the top as can happen with some bourbon barrel-aged beers. Nutty/buttery flavors, an earthy, kind of peat-like twist and some thick, malty bread notes from the underlying ale round out the finish. A nice measure of flavors and to be quite honest, the bourbon and barrel notes never seem to overpower the base scotch ale; rather, the bourbon serves to augment and add new layers to the sweet, malty notes from the ale.
M: Medium bodied and moderate carbonation off the tap produce just enough silky slickness on the mouthfeel to make this beer slide down easily.
D: 8.8% ABV is decently masked. You can get whiffs of the bourbon in this beer, but it never approaches the point of lighting you up - not much burn, and really, I think you probably sense more of the alcohol sting from the bourbon in the nose than in the actual taste. Easy to quaff.
Another great local beer by BBC. I'm really digging what they're putting into the market lately.
1,974 characters
More User Reviews:

4.04
/5
rDev
-0.2%
look: 3.5 | smell: 4.5 | taste: 4 | feel: 3.5 | overall: 4
750 ml bottle. Served in a nonic pint glass, the beer pours a reddish/chestnut brown color with about a half inch light tan head. The head doesn't stay around for very long, and there's a decent amount of lacing on the glass. Aroma is pretty nice, it smells like bourbon, vanilla, toffee, and a bit of dark fruit (raisins, figs). Taste is pretty much the same as the aroma, except that there's some peat flavors noticeable too. Mouthfeel/body is medium, it's a bit creamy and smooth with low/moderate carbonation. I think it's a solid overall brew, and definitely worth trying.
577 characters
4.15
/5
rDev
+2.5%
look: 4 | smell: 4 | taste: 4.5 | feel: 3.5 | overall: 4
750 ml bottle, 9.5% abv. Fairly clear mahogany color. Fizzy tan head disappears immediately. Seems to be a good amount of carbonation.
Nice notes of bourbon and vanilla up front. Toffee and caramel follow, and compliment very well.
A bit sweet up front, with lots of toffee. Bourbon notes compliment very well, as it is not overpowering. Nice smooth vanilla notes round things out.
Body may be a bit light, carbonation is nice and soft. Alcohol is not as strong as expected. A very well made beer.
503 characters

3.86
/5
rDev
-4.7%
look: 3 | smell: 4.5 | taste: 4 | feel: 3 | overall: 3.5
Poured into a snifter.
3.0 A: Clear (I think) deep amber brown color. Just one finger of frothy off-white head that falls quickly and leaves no lacing.
4.5 S: The bourbon is just touch stronger than the base beer. Leathery bourbon with melon and peat notes. Good amounts of oak and vanilla as well. The underlying beer is malty sweet with caramel and toffee being apparent. Dark fruits with focus on sugar plums, figs, and sweetened raisins. Very nice nose on this.
4.0 T: The taste is good, but it's missing the thick, aggressive sweetness that defines the style. In a sentence, the taste is like the nose watered down. Even the bourbon isn't as prominent, but it still offers the flavors listed above. There is much less caramel and toffee than in the nose and the candied fruits take a substantial (those not quite as large) hit.
3.0 M: Here is the worst aspect of the brew and this aspect caused a lower taste score. The lighter medium body is just too damn light for the style and bourbon treatment. The carbonation is fine, but the creaminess is missing. Smooth though.
3.5 D: If this was mashed a bit higher, this would have been a helluva lot better. Still, as it is it's not bad, but the nose indicated that this was a missed opportunity to make something great.
1,278 characters
4.22
/5
rDev
+4.2%
look: 4 | smell: 4.5 | taste: 4 | feel: 4 | overall: 4.5
Pours a nice deep brown color with hints of red when held up to the light. There is a nice one finger head which disappears after the first sip to some lacing. The aroma is of oak, bourbon, caramel, and roasted malts. Very complex appeasing smell. The taste is much of the same, caramel and roasted malt backbone, with hints of a bourbon flavor over the top with a slight vanilla taste and some oak taste as well. The mouthfeel is of moderate carbonation and is very smooth. The drinkability is high, there is more than enough going on to keep you interested and the alcohol is well hidden.
590 characters


4
/5
rDev
-1.2%
look: 4 | smell: 4 | taste: 4 | feel: 4 | overall: 4
Pours a chestnut color with some reddish hues. A nice half inch head of tan fades quickly into a ring around the glass. No glass.
Nice sweet toffee and caramel, with a brew even sweeter bourbon, and vanilla with some doorstep notes. Dried fruit aromas as well. Prune, fig and date.
Nice light bodied, slightly creamy but also a bit thin at the end. Alcohol burn in the chest with only a hint of peat. Middle is chewy toffee, caramel, rum soaked prunes, date and fig. Good amount of bourbon flavor which adds a great layer of complexity. Nice vanilla, hints of coconut and Bready, sweet malty goodness. Nice, round.d and very tawdry.
634 characters

4.07
/5
rDev
+0.5%
look: 4 | smell: 4.5 | taste: 4 | feel: 3.5 | overall: 4
Served in a 16 oz snifter.
A- Dark amber with little lacing and nearly no head retention.
S- Sweet toffee, dark fruits (cherry, prunes), oak, and vanilla. Amazing mix of aromas.
T- Sweet toffee, caramel malts with the dark fruits quickly behind (cherries are the first that come to mind). Oak and vanilla are noticeable but not overwhelming, along with the bourbon that plays nicely off of the mixture of sweet,dark fruits, and vanilla.
M- A bit thin for a 9.5% beer with low carbonation and a smooth finish with just enough burn to remind you of the abv.
O- Had no expectations going into this one, but really liked everything about this beer. Haven't had a lot of Wee Heavy beers but I think I like them.
711 characters

4.43
/5
rDev
+9.4%
look: 4.25 | smell: 4.25 | taste: 4.5 | feel: 4.5 | overall: 4.5
I guess the last review of this brew was damn near a year ago. Kentucky will ALWAYS be home home, so it's my pleasure to drink this.
Picked up at the brewery a couple of years ago.
Served in a "Game of Thrones" glass.
A: Wow, what a gusher! I hope the beer is okay. Poured a dark purple color, cloudy, and with a beige head with a whipped cream consistency.
S: Yummy. Coconut bourbon, for sure, along will sort of a plum/blueberry component. Interesting.
T: This is balls! A bit brighter and less dank than I was expecting, but pretty friggin awesome. Infinitely drinkable and with a raspberry component on the front that was to die for. The bourbon was present, but still not as present as I thought it was going to be based on the nose.
M: Almost champagne-like. To be honest, I've always been fond of the flavor of Bluegrass' brews, but many of the entries I've always found the mouth thin and lacking: http://beeradvocate.com/beer/profile/395/69250/?ba=Chaney This was great.
O: I'm totally blow away. I popped this brew on a whim and it turned out to be a hidden gem. Whoda thunk it?
1,096 characters

3.96
/5
rDev
-2.2%
look: 3.75 | smell: 4 | taste: 4 | feel: 3.75 | overall: 4
Certainly on the sweet side, with caramel malt dominance, and butterscotch notes adding depth of flavor. Not much in the way of peat, but more bourbon vanilla and caramel presence.
180 characters

Bourbon Barrel Scotch Ale from Bluegrass Brewing Co. - East St. Matthew's
Beer rating:
4.05
out of
5
with
12
ratings