5,000 Year Ale
| Pyramid Breweries, Inc.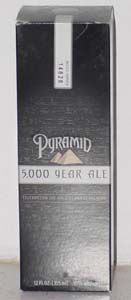 BEER INFO
Brewed by:
Pyramid Breweries, Inc.
Washington
,
United States
pyramidbrew.com
Style:
Old Ale
Alcohol by volume (ABV):
9.10%
Availability:
Year-round
Notes / Commercial Description:
No notes at this time.
Added by BeerAdvocate on 04-14-2002
This beer is retired; no longer brewed.
Ratings: 14 | Reviews: 7
Reviews by beerceller99:
4.42
/5
rDev
+16.6%
look: 4 | smell: 4.5 | taste: 4.5 | feel: 4 | overall: 4.5
12 oz. bottle in the cellar since 1999.
Pours a burnt orange color with a slight tan head. Has a sweet cinnamin roll smell. Full bodied with a super smooth mouthfeel. Taste is sweet raisons, caramel, and grapes; not unlike a port wine. No hint of oxidation or off flavors. Finishes with a sweet alcohol taste on the breath.
Average as a fresh beer in 1999, it has aged surprisingly well over the last five years into an excellent brew.
440 characters
More User Reviews:
3.27
/5
rDev
-13.7%
look: 3.5 | smell: 4 | taste: 3 | feel: 3 | overall: 3
This beer was not made for aging. It poured nice for a barley wine (at least that's what the label said). I bought a few bottles and was a sucker for the box and bottle numbering. It gave off a good nose of malt, honey and sugar. The taste was light and slightly tart and not serious enough for the style. For a mediocre product they should not try to fool you with a nice wrapper.
381 characters


3.47
/5
rDev
-8.4%
look: 3.5 | smell: 4 | taste: 3.5 | feel: 3 | overall: 3
A big thanks to chickencoop for the bottle.
A. Pours brown with orange and yellow edges and a whisp of head.
S. Smells of honey, caramel malt, and a touch of acid.
T. Tart almost fruity flavor with some bitterness and a port-like sweetness.
M. Medium body with low carbonation level.
D. Good, but not great. Certainly an interesting beer with a great story. I've got another bottle stashed away in my cellar that I'll pop in a few years (or more) just to see what further aging does to this.
496 characters
3.09
/5
rDev
-18.5%
look: 3 | smell: 3.25 | taste: 3 | feel: 3.25 | overall: 3
Thanks to GRG1313 for sharing this one at his tasting.
Pours a murky orange-brown with a foamy tan head that settles to wisps of film on top of the beer. Tiny dots of lace form around the glass on the drink down. Smell is of toasted malt, caramel, toffee, and cardboard aromas. Taste is much the same with caramel, toffee, fruit, and cardboard flavors on the finish. There is a mild amount of earth bitterness on the palate with each sip. This beer has a lower level of carbonation with a slightly crisp and medium bodied mouthfeel. Overall, this is an average beer that is definitely past it's prime but I am glad I got to try this one.
638 characters

3.99
/5
rDev
+5.3%
look: 4.5 | smell: 3 | taste: 4.5 | feel: 4 | overall: 4
A huge thanks to Jeremy (Chickencoop) for this long awaited want of mine!
Bottle number 03947. Opened from its original box that had the original unbroken sticker.
A - poured a deep mahogany red with a slight whitish head of 1/2". It lasted maybe 3 minutes, but left a thin bubbly cap and spots of lace. Mildly hazy in my Duvel tulip. Looks rather attractive. The sediment was left in the bottle. This beer was apparently brewed to celebrate the millennium and is thus at least 10 years old. The fact that it still has carbonation is awesome! A light swirl brings forth more bubbles and reforms the thin cap. 4.5
Sm - Rich aromas of ripe plums, a hint of fig, and oxidation. Perhaps a bit much on the oxidation, but this beer is clearly mature and ready to be consumed. I enjoy the subtle hints of sherry and vanilla too. But again, the oxidation is creeping up to this beer. 3.0
T - Wow I'm gathering deep, rich caramelized malts, a hint of toffee and black currants, followed by the sweetness of ruby port. A bit of prune throughout. Very mellow spiciness and warmth of alcohol in the finish. The bitterness is short-lived and seems to accent the heavy malts as the sweetness lingers on the palate a bit. This is quite a complex beer and I am thoroughly enjoying it! 4.5
M - Moderate body and light carbonation. Just enough carbonation to carry the beer smoothly over the palate. Not thick, viscous, or chewy in any way. Very smooth overall and the alcohol warmth only enhances the experience. I will comment that it could be a touch fuller bodied and I would not complain. 4.0
D - This is a delicious beer and I am quite content sipping this elixir all evening. The mouthfeel and taste is great. I look forward to opening the other two bottles in the future. 4.0
Overall - I'm glad to have experienced this great beer. This is my first Pyramid Brewery beer and the impression was quite good. I am quite pleased with this beer of at least 10 years and am actually surprised that it held up this well throughout that time. My only real issue is that oxidation is detectable in the aroma. However, it complements the taste. This is a good example of how sometimes aromas do not reflect the taste.
2,203 characters

4.37
/5
rDev
+15.3%
look: 4 | smell: 4.5 | taste: 4.5 | feel: 3.5 | overall: 4.5
Got this bottle for xmas from a friend in 99. At the time, I figured this would be some funky attempt at an ancient recipe, so i just kept it in my liquor cabinet (in box) for the novelty. After the move up north 1.5 years ago, it's been sitting in an unpacked box in the basement. I just dug it up on a lark last night and put it in the fridge. Prepared for the worst, I just cracked it. After 7 years of improper storage, this beer is mighty impressive- I have no idea what it was like fresh, but this is an extremely nice beer now, kind of like a toned-back Thomas Hardy's- a rich raisiny, sherry-like aroma, wonderful flavors of candied raisins, slightly sweet and alcoholic. A slightly thinner mouthfeel than i would expect for something so rich in aromas and flavors.
Damn, this is good- I only wish I had more.
820 characters

3.5
/5
rDev
-7.7%
look: 3.5 | smell: 3.5 | taste: 3.5 | feel: 3.5 | overall: 3.5

4.2
/5
rDev
+10.8%
look: 4 | smell: 4 | taste: 4.5 | feel: 4 | overall: 4
Have been sitting on this beer for 10 years, picked up a case from my wholesaler, and threw it under the house where it was nice and cool. Pretty much no head on this, but that was expected. The nose is boozy sherry that carries throughout the taste. This has held up very well considering the age on it, and the fact that this was one of the first limited release, small batch ageable ales of it's time, it wasn't half bad. Glad I cracked, curious how long this can go.
470 characters
5,000 Year Ale from Pyramid Breweries, Inc.
3.79
out of
5
based on
14
ratings.