Spendrups Premium Gold 5,9%

Spendrups Bryggeri AB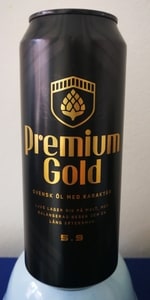 Rate It
Beer Geek Stats
| Print Shelf Talker
Style:

ABV:

5.9%

Score:

Avg:

2.25

| pDev:

22.67%

Reviews:

7

Ratings:

From:

Avail:

Year-round

Wants

Gots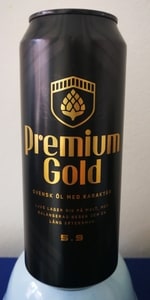 Notes: Introduced in October 2005.
Reviews by aztraz:
More User Reviews:

JamFuel from Sweden
3.29
/5
rDev
+46.2%
look: 3.5 | smell: 3.25 | taste: 3.25 | feel: 3.5 | overall: 3.25
Pours a clear yellow with thick, soapy head.
Smell is light with a bit of breadiness and some sweet and floral hints. A touch of citrus as well.
Taste is light and a bit crackery, fairly clean with a slight sweetness. Hints of rye, citrus and rye, with a soft bitterness.
Mouthfeel is thin to medium, well carbonated.
Overall, a good beer for what it is, which is a macro lager. I enjoyed it.
Oct 20, 2020
bark from Sweden
1.85
/5
rDev
-17.8%
look: 2 | smell: 2 | taste: 2 | feel: 1.5 | overall: 1.5
The colour is pale golden yellow; the foam that quickly falls down to a thin lid is white.
The smell is malty with some sweet hints of leather and some hops and yeast.
The carbonation is medium strong with medium sized bubbles.
The taste is dominated by a sweet and somewhat flat taste of malt and alcohol. The weak aftertaste lacks bitterness, but there are some hints of vegetables and artificial hops.
Reminds much of Spendrup's other lagers, but with a more conspicuous taste of alcohol: Quite boring.
Dec 03, 2004
hunteraw from China
2.17
/5
rDev
-3.6%
look: 2.5 | smell: 2.25 | taste: 2 | feel: 2.25 | overall: 2.25
Jan 05, 2015
Asgeirr from Svalbard & Jan Mayen Islands
1.71
/5
rDev
-24%
look: 3 | smell: 2 | taste: 1.5 | feel: 1.5 | overall: 1.5
Appearance: Spendrups Premium Gold pours a clear golden colour along with a rather big "airy" crown that diminishes rather quickly, the occasional bubble will pop up, and when it does it's a rather big one.
Smell: Sweet and buttery notes are the primary ones, however quite weak in their performance...
Taste: The artificial bitterness, "metallic" if you like, is what stands out the strongest; that along with some hints of butter and alcohol, not all that jazz eh?
Mouthfeel: Light-to-medium and rather flat.
Drinkability: If someone might have the dubious intent of buying you one, then try it, other than that -- NOPE says the pope!
Jan 09, 2009

Evil_Pidde from Sweden
2.11
/5
rDev
-6.2%
look: 3 | smell: 2 | taste: 2.5 | feel: 1.5 | overall: 1.5
33 cl golden can with a white and silver label with a large "S". Looks really boring.
A: Pours golden with lots of small bubbles in the liquid. Large white uneven airy head. Fast dissipation leaves some lacings.
S: Faint smell; sweet malt, corn and bitter hops.
T: Fruity, sweet malt, some corn. Both bitter as well as floral hops. Creamy.
M: Rather long aftertaste, both sweet and bitter. Medium body and quite offensive, rich carbonation.
D: More boring and flat than other swedish macro beers - aviod.
May 24, 2010
rarbring from Sweden
2.1
/5
rDev
-6.7%
look: 2 | smell: 2 | taste: 2 | feel: 2 | overall: 2.5
The beer is clear pale straw colored, has a white rather compact head that leaves no lacing.
The smell is sweet malt, some faint lemon sourness.
Tasting of white bread, rather sweet, lemon juice, a very faint bitterness.
Medium low carbonation, slightly soft feeling, no mentionable dryness.
A standard lager ("stor stark"), no thrills.
Jul 24, 2011

stjaernstoft from Sweden
2.28
/5
rDev
+1.3%
look: 2.5 | smell: 2 | taste: 2 | feel: 3.5 | overall: 2.5
Spendrups Premium Gold, ABV: 5.9%.
330 ml can, a gift (bought cheaply in Germany).
A: The colour is pale golden. The head is big, white, airy, and leaves some lacing.
S: A sweet malty aroma with hints of lemon, boiled vegetables, alcohol and some paper.
T: Here are flavours of sweet malt, bread, grassy hops with notes of lemon, alcohol and cheese(?). Medium, metallic bitterness.
M: The body is medium, and the carbonation isn't too awful.
O: This isn't the best Swedish standard lager. It's OK, but sweet, and has some less pleasing off-tastes. The feeling afterwards is all-in-all neutral.
Aug 10, 2011

TobiasGoth from Sweden
2.21
/5
rDev
-1.8%
look: 3 | smell: 2 | taste: 2 | feel: 2.5 | overall: 2.5
A very pale crystal-clear golden yellow pours from the aluminum can. 1 ½ finger of creamy white head pops up only to dissipate almost instantly.
Smell A very faint bouquet, if a bouquet at all. It's acidic on the verge to citric, some yeast and malt with a sweetness that reminds me of corn.
Taste Once again only vague outline in taste here. Definitely malty and syrupy sweetness, then an itsy-bitsy bitterness. Somewhere in there are some bready notes.
Mouthfeel Bland and wet brew with a relative high level of carbonation.
Brewed by Spendrups Bryggeri, Stockholm, Sweden
In conclusion This is not a bad beer, but it's not an average one either. This is an OK, no roller-coaster type of lager that could do on a hot and sunny day when sitting by the lake in some remote part of the country without a car at hand. This does happen!
Nov 05, 2011


gronis13 from Sweden
2.09
/5
rDev
-7.1%
look: 1.75 | smell: 2 | taste: 2.25 | feel: 2 | overall: 2
Jul 18, 2015
Spendrups Premium Gold 5,9% from Spendrups Bryggeri AB
Beer rating:
75
out of
100
with
14
ratings