ASAP IPA

2SP Brewing Company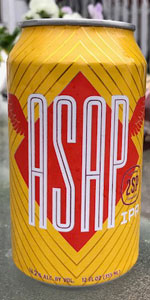 Write a Review
Beer Geek Stats:
| Print Shelf Talker
Style:

ABV:

4.2%

Score:

Avg:

3.78

| pDev:

7.41%

Reviews:

14

Ratings:

From:

Avail:

Year-round

Wants

Gots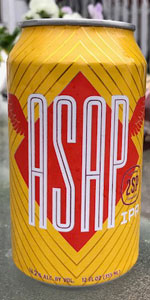 Notes:

3.23
/5
rDev
-14.6%
look: 4 | smell: 3.5 | taste: 3 | feel: 3.5 | overall: 3
There I was, knee-deep in Take Your Pils With A New Beer, We're Heading to Media, PA This Sunday (Week 752)!, when the Sterling Pig took great umbrage at my suggestion of a pig roast on the beach. He snuffed & snorted & ordered me out of town! 8=O I quickly summoned an Uber & headed 6 miles S to Aston, to see my old buddy, "Big" Bob Barrar of 2SP. Bob & I go WAY back, to when he was apprenticing under his brother-in-law, Jim CANcro, at Red Bell. "Big" Bob really is big, a giant of a man with a Russian Cossack-like black beard. He is like our Lt. Gov. Fetterman - security? Who needs security? I AM security!
From the CAN: ":Everything We CAN't Drink We CAN".
I gotta say, I might need to get in touch with my travel agent after today's excursion! As a hophead, I was going into serious withdrawal at this point. Gimme dem hops! I readied a blank shaker glass, Crack!ed open the vent & beCAN a slow, gentle pour with badly shaking hands. Phew. It was kind enough to form just under two fingers of dense, foamy, rocky, tawny head without any coaxing from me. I was starting to keel over at that point anyway so I was pretty well useless. Color was an oh-so-slightly-hazy solid Amber (SRM = > 7, < 9). Nose had the strange citrusiness that I first noticed in Founders' All Day IPA, a session IPA. I get the idea of aroma hops, but as @NeroFiddled queried, does that qualify it as an AIPA? Not really, IMHO. That needs to be its own break-out/away style. Mouthfeel was medium. The taste was almost to the point of Gertrude Stein's Oakland: no "there" there. It had an undefined bitterness, bitter for the sake of being bitter without really imparting any real flavor. 8=( If I was jonesing before, now I was going into the cold sweat of withdraw. Man, I needs some hops, dig?!? This was not going to make it as an AIPA, IMHO, 2SP. Feel me? Finish was semi-dry but wholly unsatisfying.
1,888 characters
3.64
/5
rDev
-3.7%
look: 3.75 | smell: 3.5 | taste: 3.75 | feel: 3.25 | overall: 3.75
Dusty orange in color with yellow hies and light haze. Poured with a moderate, soapy, bright white foam with good retention. Medium citrus hop aroma with orange peel. Medium malty aroma with bready notes. Medium light bodied with soft, medium high carbonation. The classic session ipa feel. Light citrus hop flavors that transition to earthy, herbal hops. Medium, spicy hop bitterness through the middle. Herbal and citrus orange notes on the back end. Finished semi-dryly with lingering pine hop bitterness. Hop characters are a bit subdued aside for the robust pine hop finish. Decent malt character for the low abv. A good session ipa.
638 characters

3.84
/5
rDev
+1.6%
look: 4 | smell: 3.75 | taste: 3.75 | feel: 4 | overall: 4
Very golden color with an off white head. Slightly on the bitter side, but easy on the tongue. Very drinkable with nice bitterness, subtle citrus and very little aftertaste. Would drink again.
195 characters

3.94
/5
rDev
+4.2%
look: 4 | smell: 3.75 | taste: 4 | feel: 4 | overall: 4
-Canned 08.29.17. consumed in spiegelau ipa glass 10.31.17.
A: Beautiful hazy lemonade coloring is full of dancing carbonation bubbles. A billowing weathered white head dominates the vessel with a strong foothold. Large soapy pockets line the vessel walls. Beautiful chunky deposits dance in the heavy pitch of carbonation, showing its unfiltered nature. Easy 4.0.
S: Nice fresh burst of citrus and lemons are fresh and juicy on the nose. Some distant tropical notes of pineapple-orange. Good awareness.
T: For flavor there was a big burst of tropical fruit and wet citrus on the start. Juicy oranges and lemons follow, lightly tart lemonade and flowery citrus backs things up. Nicely hopped, perhaps some wheat.
M: Mouthful was sharp in carbonation, very good body and depth considering its 4.2% abv. Razor sharp and lively, never watery, surprisingly thick for a session like abv gets it outstanding regards.
O: Overall the flavor and the body far exceeds its 4.2% session like billing. Been disappointed before with compromising examples for session like abv., this is not the case here, you would be hard pressed to realize the low abv. that features a respectable hop billing and razor sharp mouthful. Truely session like alcohol without any compromises in the areas that matter most. High drink-ability rate, and bonus points for a session that drinks like a (I)pa.
1,380 characters
3.58
/5
rDev
-5.3%
look: 3.75 | smell: 3.75 | taste: 3.5 | feel: 3.5 | overall: 3.5
on draft, in a shaker pint
clear, light golden yellow in color, white head. earthy, grassy hop aroma. very little malt flavor to complement the medium bitterness. thin bodied. I should just give up on ordering any other Session IPAs.
238 characters
3.83
/5
rDev
+1.3%
look: 4 | smell: 4 | taste: 3.75 | feel: 3.75 | overall: 3.75
2SP Brewing Co. "ASAP IPA"
12 fl. oz. can, "CANNED ON 12/23/16" and sampled on 05/15/17
$2 @ Weis Market # 231, Conshohocken, PA
Notes via stream of consciousness: A bit past it's prime, I'll go a little bit lenient if I find any issues. Pours nicely. Slightly hazy with some visible sediment in suspension (I'll chalk that up to age). Fluffy bright white head. Decent head retention. Aroma of grainy malt and floral, citrus fruity, earthy, grassy, and herbal hops. Some nice spotty, streaky lacing. The flavor follows the aroma with more emphasis on the hops, including a touch of pine. It's not overly bitter though, although there is a bit of a resinous edge that lends it a raspy character. Dry, piney, spicy, earthy, and floral finish. It's quite nice BUT I'VE BEEN TRICKED!!! This is no IPA! Not at 4.2% ABV anyway! It's not even labeled a "session IPA". So, OK, I get it, it is loaded with hops ~ although there are American pale ales that get close to this ~ but that doesn't make it an IPA, and that hurts it for me score-wise. I'd love to see it labeled as something like "hop-forward pale ale" or "intensely hopped APA" but it's not. It's probably labeled IPA as that's what's popular right now and they want to get on tap with the other 7 out of 12 IPAs that many bars have on tap these days (blame the drinker and the bar, not the brewer, right?). On the other hand there used to be English IPAs that used the term quite loosely as well, not really following the style but signifying the beer as something different or somehow premium. Maybe I can get behind that, maybe not. No, definitely not. I prefer clarity in advertising, not muddied promises. Forgetting that, however, let me think about my overall assessment of the enjoyability of this beer. It is like a mini IPA. It's got that hop bitterness and bite, and the aromatics and flavors are all there. It's well rounded, and nicely balanced. It really is, if you want to go with that, a great "session IPA". I love the combination of the grainy, lightly toasty malt and floral/grassy/piney/earthy hops. I'm on the fence I'll have to say, let the numbers fall where they may, I'll just judge it hedonistically and see what comes out.
2,203 characters
3.84
/5
rDev
+1.6%
look: 3.75 | smell: 4 | taste: 3.75 | feel: 4 | overall: 3.75
Never had anything from this brewery before, and this looked interesting. Canned 2/8/17
Nice fluffy foamy almost 1 finger head that fades at a med pace, a little lacing, hazy orange tan color.
Nose some orange citrus, a little musty dank hop, a unique strange tropical musty hop I can't think of like a jack fruit or something, little grassy herbal, some lemon, background cracker malt.
Taste brings sweet malts, not too sweet but a sweet like malt flavor, a little toasty, cracker, etc, into hops, fair bitterness, a little spicy and grassy, a little herbal, orange rind, touch of generic tropical and citrus fruits, some grapefruit, lots of pith and a little rind but plenty of citrus in between, turning briny spicy on the finish, a bit astringent as the low malt can't backup the big hop bitterness, drier finish.
Mouth is med bod, fluffy carb.
Overall not bad, hops bring a bit too much bitterness, spicy and briny on the finish, enjoyable though, but probably not something I would seek out.
1,002 characters
3.51
/5
rDev
-7.1%
look: 4 | smell: 3.5 | taste: 3.5 | feel: 3.25 | overall: 3.5
A thanks to the reigning champion of canned beer, woodychandler, for this beer. Poured from a 12 oz. can. Has a dark golden color with a 1/2 inch head. Smell is of tropical fruits, some citrus. Taste is the same, mild bitterness, very light malts. Feels medium/light bodied in the mouth and overall is an easy drinking thirst quencher.
335 characters
3.48
/5
rDev
-7.9%
look: 3.5 | smell: 3.5 | taste: 3.5 | feel: 3.25 | overall: 3.5
12 oz can poured into a shaker pint.
Appearance
Blonde with 1/2 finger of head that dissipates quickly. Good clarity with moderate carbonation.
Nose
Candied orange, lemon, papaya, mango, and candy sugar.
Taste
Candied orange and lemon. Papaya and apricot. Candy sugar and a light biscuity maltiness. Finishes with grapefruit zest and zesty florals.
Mouthfeel
Light bodied, crisp, off-dry, and moderately bitter.
Overall
The little IPA that could. I drank this in, like, 5 minutes so I guess it's doing its job. ;)
518 characters
3.87
/5
rDev
+2.4%
look: 3.5 | smell: 4 | taste: 3.75 | feel: 4 | overall: 4
The clear golden yellow beer pours out into a Duvel glass with a 1/2" white head that soon recedes to a think layer on the liquid leaving a modest amount of lacing. Sipping creates some scattered small patches of lacing.
The aromas are mostly citrus, a bit of pine and some tropical fruit. There's also some earthy, grassy and herbal character here. The malt is almost not even there.
The flavors are mostly about the hop bitterness and some resin with very little malt sweetness showing. What flavors there are come mostly from the hops and are much as expected from the nose.
The mounthfeel is on the light side of medium bodied with light carbonation. The finish begins as everything just begins to fade but leaves the persistent, dry bitterness to linger.
On the whole this seems a pretty ordinary session IPA that I don't expect to revisit.
852 characters
4.35
/5
rDev
+15.1%
look: 4.25 | smell: 4.25 | taste: 4.5 | feel: 4.25 | overall: 4.25
Relative clear just a touch of haze. Fresh hops! Great nose on this beer. Nice bitter after makes the beer feel bigger then it is. You forget that you drinking a session IPA. Smell is fresh dry hop of centennial and citra. I love this hop combination for this style. 5 different hop in main beer. Very well balanced fresh hop taste with a nice bitter end. Tropical taste from citrus hops very refreshing and earthy tones.
429 characters
4.02
/5
rDev
+6.3%
look: 3.25 | smell: 4.25 | taste: 4 | feel: 4 | overall: 4
Really good session IPA. If you have to take it a little easy, this is a good way to go. Has a great taste. The finish is just a tad bit session but really good by comparison. I will have this one again.
207 characters
4.14
/5
rDev
+9.5%
look: 3.75 | smell: 4 | taste: 4.25 | feel: 4 | overall: 4.25
I had this on tap at 2SP in Newark. Pour was golden with thin foam.
Nice smell of tropical fruit and citrus. The taste follows with a nice tropical fruit flavor, citrus hop and a light malt backbone. This is a very enjoyable session IPA. Many I have tasted had a bland, seltzer water backbone. This beer is right on the money - if you like Green Flash Citra you would like this.
379 characters

4.13
/5
rDev
+9.3%
look: 4 | smell: 4 | taste: 4.25 | feel: 4.25 | overall: 4
Draft, kind of cloudy golden amber with a nice long lasting head. Citrus, faint tropical fruits, some pine, toasted malts. Citrus/grapefruit, faint tropical fruits, piney finish, hints of resin, all balanced with a nice toasted, biscuit malt backbone. Smooth, lighter body. Hop levels don't make me think session IPA, but more along the lines of a pale ale.
361 characters
ASAP IPA from 2SP Brewing Company
Beer rating:
85
out of
100
with
66
ratings