Original Hek Lager
| Sleeman Breweries Ltd.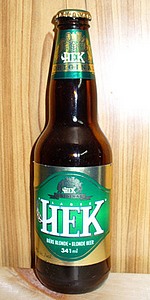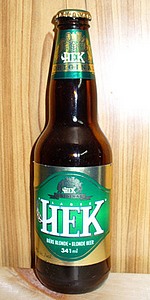 BEER INFO
Brewed by:
Sleeman Breweries Ltd.
Ontario
,
Canada
sleeman.ca
Style:
American Lager
Alcohol by volume (ABV):
4.90%
Availability:
Year-round
Notes / Commercial Description:
No notes at this time.
Added by Sammy on 12-15-2004
This beer is retired; no longer brewed.
HISTOGRAM
Ratings: 6 | Reviews: 6
Reviews by ChrisCage:
2.44
/5
rDev
+12.4%
look: 1 | smell: 2 | taste: 2 | feel: 3 | overall: 4
I bought this at Superstore and this clearly is marked as a lager. Also, on the side of the can it states that it is made for superstore in Calgary, AB by Pine Creek Brewing....can't find any info on these guys so maybe this is licensed out by Sleeman?
A- I thought I had seen the clearest, lightest beer in a previous review but this gives any light looking beer a run for it's money. It actually looks like a pale ginger ale, as there is a fizzy head that completely disappears. Adding to this are some huge bubbles that cling to the side of the glass along with some big bubbly columns rising to the top. There is no lacing to speak of, but rather some fizzy oily liquid that sticks to the glass. Not good.
S- Very mild aromas overall, and what there is isn't all that appealing to be honest. There is a big adjunct laden aroma of overcooked corn and/or rice, and some mild dry grainy malt smells. There is no hop bitterness at all. Just a bland smelling lager.
T- Not the worst tasting buck/beer that I've had but it certainly leaves a lot to the imagination. The flavor is very similar to the aroma in the fact that it tastes very much like sweet boiled corn and leaves a grainy taste in the back of my throat. No bittering hops...just tastes like a cheap macro unfortunately.
M- Thin and watery body complimented by big bold carbonation, but it does mellow out as the beer warms. Doesn't remind me much of anything except grainy malty beer.
D- I will say this....the beer is highly drinkable seeing as it is clean and crisp. It is the perfect hot weather beer and is quite easy to drink fast....and I recommend not wasting time as it doesn't get better as it warms. I've had better buck a beers and won't pass on this if its offered to me but most likely wont buy this again.
1,786 characters
More User Reviews:
1.32
/5
rDev
-39.2%
look: 3 | smell: 1 | taste: 1 | feel: 2 | overall: 1.5
Horrible smell and taste by one of Sleeman's Quebec buyouts. Hopefully not an ominous sign of what they will do to Unibroue, Heaven forbid. Skunky and negative taste. Pale yellow colour. A joke addition to the 50 or so at Doug Shoemaker's Grand tasting.
253 characters
1.19
/5
rDev
-45.2%
look: 2.5 | smell: 1 | taste: 1 | feel: 2 | overall: 1
Who is resposible for this brew or lack of? The appearace is the best thing about this product and that is just a shade above awful.
Very pale yellow, thin head with light lacing.
Carbonation is light.
The odour is like mold growing on a bathroom wall.
The taste...hmmm...ok--rip up a brown paper grocery bag, soak it down and chew on the remains and you have the taste.
ok
So if you cant say something nice about a beer, don't say anything at all....I liked the eagle on the bottle cap. Nuff said!
504 characters
2.59
/5
rDev
+19.4%
look: 2 | smell: 3 | taste: 3 | feel: 1.5 | overall: 2
From notes.
I originally tried to review this "in the style", which I believed was American Macro Lager...I was close, I guess...
Pours a pale straw colour with very minimal fizzy head that dissipated almost immediately leaving no trace whatsoever. Crystal clear. Looks like a macro with a fancy bottle.
Smell is faint. Grassy with a mild citrusy tang, more or less fresh.
Tastes better than it looks, though that's a pretty low bar to clear. There's some faint citrus, faint butter and a little bitter, I think, but there's no aftertaste at all. None. So was it really bitter? If I concentrate really hard, I think I can get some biscuit, but it's hard to judge the taste anyway because...
...of the mouthfeel, which is awkward at best. The fizzy is fighting with the creamy, but overall it's just thin and very odd. If this didn't feel like a mess, maybe the taste would be free to...well...not impress, maybe, but at least fare reasonably well.
Drinkability, again, is so hard to assess. If there wasn't a battle going on in your mouth, you could probably drink them like water. As it is, I think I'll stick with water.
1,130 characters
2.2
/5
rDev
+1.4%
look: 2 | smell: 2 | taste: 2 | feel: 3 | overall: 2.5
Seems to be The Real Canadian Liquorstore's house brand. Poured into a glass beaker. Pale golden yellow. Quarter inch head which soon disappeared. Lots of carbonation, no lacing. Grass and corn smells. Something else I can't define, but it isn't good. Weakly flavoured with a strange aftertaste. Light refreshing. Drinkability is moderate. There just isn't anything to make you want more.
388 characters
3.3
/5
rDev
+52.1%
look: 3 | smell: 3 | taste: 3.5 | feel: 3 | overall: 3.5
Tried a bottle when I was visiting Quebec. While I was drinking, I was thinking what the Hek, this tastes so much like a Bud but slightly more flavorful and refreshing. Not great, but still very much drinkable. I didn't find the aftertaste to be unpleasant as other reviewers commented on. I found my bottle of Hek to taste quite similar to a Bud on tap which is quite impressive for a cheap Canadian brew. So, if you enjoy the commerical American beers you can pretty much expect what this will be like. Overall an average to slightly above average brew. Would drink it again!
577 characters
Original Hek Lager from Sleeman Breweries Ltd.
Beer rating:
2.17
out of
5
with
6
ratings