Old Milwaukee Ice
| Sleeman Breweries Ltd.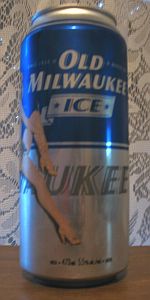 BEER INFO
Brewed by:
Sleeman Breweries Ltd.
Ontario
,
Canada
sleeman.com
Style:
American Adjunct Lager
Alcohol by volume (ABV):
5.50%
Availability:
Year-round
Notes / Commercial Description:
Traditionally brewed from the finest water, grain and hops, in a slow aging process with a slightly higher alcohol content of 5.5% abv. Appeals to those wanting a full bodied beer with a smooth clean flavour and no after taste.
Added by mintjellie on 02-10-2013
Ratings: 8 | Reviews: 3
Reviews by thehyperduck:

1.97
/5
rDev
-12.1%
look: 3.5 | smell: 1.5 | taste: 2 | feel: 3 | overall: 1.5
Tallboy can from TBS; packaged May 23 2013.
Pours a familiar pale golden-yellow colour, with one finger of frothy, sparkling-white head seated atop the liquid. Retention isn't great, but at least the foam hangs around for a few minutes before giving up the ghost, and it manages to leave behind not only a thin cap/collar but also some smears of lacing. Looks fine for what it is - unfortunately I can't say the same of the aroma (perhaps 'odour' would be a better term to use here). You can just smell the cheapness, with almost nothing to be detected besides corny adjunct and ethanol. This smells absurdly boozy for something that's only 5.5%. Absolutely unappealing.
And it doesn't get much better from here, folks. The flavour is borderline putrid, with no semblance of barley malt to counteract the overpowering flavours of corny adjunct, apple skin, damp cardboard and (mild) ethanol. The fact that this is both watery AND kind of boozy amazes (and sort of impresses) me, as I really didn't think such a thing was possible. Thin-bodied and watery, with carbonation that could probably stand to be kicked up a notch - frankly I'd rather taste the bubbles than the beer itself, bloat be damned. Not very easy to drink if you actually try to taste it - but for the bros out there, it would probably be a decent option for those seeking to reach irresponsible levels of inebriation rapidly.
Final Grade: 1.98, an awful D-. It's never a good sign when the appearance is the high point of a beer review. Old Milwaukee Ice starts off looking like an industrial style lager of at least marginal quality, but everything else about it screams of cheap ingredients and cut corners. Don't get me wrong - it's not like I expected something different from an 'ice' beer - but I am fairly tolerant of cheap pale lagers, and this is seriously one of the worst I've ever had in my 6-7 years of rampant alcoholism. For your liver's sake, drink something else.
1,952 characters
More User Reviews:

2.37
/5
rDev
+5.8%
look: 3.75 | smell: 1.75 | taste: 2.25 | feel: 3.25 | overall: 2.5
Pale straw colour. Fluffy white head, moderately retentive. Leaves collars of lace on the glass. Like Old Milwaukee Original, this is an attractive looking AAL. Boiled corn/vegetables and white bread dough aroma. Tastes sweet up front with doughy malts and corn. Faint green apple and bitter notes in the finish . Light-bodied with high carbonation, but still carries a bit more weight than most AAL's. Like Old Miwaukee Original, there are unfortunate off-flavours that mar it's otherwise redeeming qualities.
510 characters

2.31
/5
rDev
+3.1%
look: 4 | smell: 1.75 | taste: 2.75 | feel: 1.5 | overall: 2

3.1
/5
rDev
+38.4%
look: 3 | smell: 3 | taste: 3 | feel: 3.5 | overall: 3.25

2.13
/5
rDev
-4.9%
look: 2.5 | smell: 2.5 | taste: 2 | feel: 1.75 | overall: 2
Old Milwaukee 5,9% from Sleeman Breweries
Look: yellow golden color with no head at all. Lots of carbonation
Smell: It smell like newspaper.
Taste: Like the smell nothing special about that beer.
Feels: Lots of Alcohol and newspaper taste
So overall would I recommend it ? No. This beer is made to be cheap and to get people drunk really easily and more faster.
367 characters
2.5
/5
rDev
+11.6%
look: 2.5 | smell: 2.5 | taste: 2.5 | feel: 2.5 | overall: 2.5
2.59
/5
rDev
+15.6%
look: 2.25 | smell: 2.5 | taste: 2.75 | feel: 2.5 | overall: 2.5
Old Milwaukee Ice from Sleeman Breweries Ltd.
2.24
out of
5
based on
8
ratings.