Double-Double Doppelbock
| Brick Brewing Co.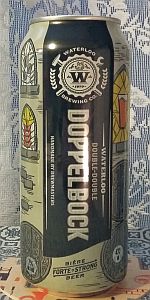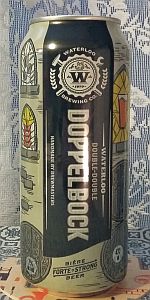 BEER INFO
Brewed by:
Brick Brewing Co.
Ontario
,
Canada
brickbeer.com
Style:
German Doppelbock
Alcohol by volume (ABV):
7.00%
Availability:
Year-round
Notes / Commercial Description:
None provided.
HISTOGRAM
Ratings: 12 | Reviews: 4
Reviews by ThinkAgain:
4.13
/5
rDev
+4.6%
look: 4 | smell: 4 | taste: 4.25 | feel: 3.75 | overall: 4.25
More User Reviews:
3.5
/5
rDev
-11.4%
look: 3.5 | smell: 3.5 | taste: 3.5 | feel: 3.5 | overall: 3.5
4.71
/5
rDev
+19.2%
look: 4 | smell: 4.75 | taste: 4.75 | feel: 4.75 | overall: 4.75
473 ml can purchased from the LBCO, poured into a snifter. No best before date on can. Consumed 9/11/16.
A: Black. Average sized bubbly head that stuck around for a while.
S: Roasted coffee. Espresso. Chocolate dessert. Rich dark fruit candy. Light booziness, but not at all off-putting.
T: WOAH. Taste EXACTLY follows smell. Strong taste of fruit chocolate. It brings to mind those dark fruit jelly candies coated in dark chocolate. It's uncanny. Coffee yet again. Really nice, really intense roasty dark bread note on the finish. Like dark chocolate spread on toast served with strawberries also dipped in dark chocolate. There isn't much of a hop presence, but what IS there definitely lends to the fruitiness. Additionally brings to mind rum filled chocolates.
M: Smooth. So smooth. Light to medium light carbonation. Really easy to let it swirl on your palette. Definitely feel a little bit of the alcohol on your tongue.
O: I loved this beer. From first sip I was enthralled by it. It's so complex. It was was a treat to sit with. It's sweet, yes, but oh so decadent. It's also a very filling beer. I found myself struggling to get through the latter half of it, but I forced myself as I was still discovering more and more with each sip. Definitely one of the better beers I've had.
1,296 characters
3.77
/5
rDev
-4.6%
look: 4 | smell: 3.75 | taste: 3.75 | feel: 3.75 | overall: 3.75

4.04
/5
rDev
+2.3%
look: 3.5 | smell: 4.5 | taste: 4 | feel: 3.5 | overall: 4
473 mL can from the LCBO; dated Mar 5 2016 and served slightly chilled.
Pours a deep garnet-brown hue, with crimson red tinges under the light. One inch of frothy, light beige-coloured head is soon reduced to a creamy collar and foamy cap. Enticing notes of rich chocolate and bready roasted malts come through on the nose, along with fresh coffee grounds, molasses and toffee. Hints of vanilla ice cream and raisin.
Pretty damn tasty; malt-forward like you'd expect, but not a cloying affair. Roasted malts run the show here, with big notes of fresh coffee and bittersweet chocolate overlapping with flavours of treacle, black cherry, bread crusts and demerara sugar. Finishes with some fading dark malt sweetness, thereupon leaving a bitter, roasted coffee flavour to linger on the palate. Medium-bodied, with restrained carbonation levels that result in a soft, smooth, somewhat creamy mouthfeel not all that unlike an actual double-double. Unbelievably easy to drink, with no sign whatsoever of the 7%.
Final Grade: 4.04, an A-. Maybe it's just because I'm a java fiend, but Double-Double Doppelbock might very well be my favourite Waterloo/Brick product to date. It is a skilfully-brewed and highly approachable beer, though not necessarily an outstanding example of a doppelbock. Not sure if this beer actually has coffee in it or not, but it sure tastes like it does. If they had started making beers this good 5-6 years ago, Brick might well be a considerably more relevant name in craft beer geek circles than it actually is these days.
1,548 characters
3.4
/5
rDev
-13.9%
look: 4 | smell: 2.75 | taste: 3.75 | feel: 3 | overall: 3.5
Smell: roasted malt, coffee, vanilla, toffee, slight metallic note.
Taste: malty sweet, fizzy carbonation, toast.
Finish: coffee, dark chocolate, slight bitterness, more coffee.
(can code: C05612 06:24 ... whatever the fuck that means!).
237 characters

3.73
/5
rDev
-5.6%
look: 4.5 | smell: 4 | taste: 3.5 | feel: 3.5 | overall: 3.75
473 ml can purchased from the LCBO for $2.75 CDN. Served cold into a pint glass.
Appearance – dark mahogany that pours to a near black in the glass. Impressive two fingers of deep tan colored head and great retention. Lots of lacing left behind too. Great looking beer.
Smell – Hints of coffee, chocolate covered cherries, some molasses and finely roasted grain. Very aromatic and enticing.
Taste – Lots of little things going on. Some grainy sweetness up front, with molasses and a hint of fruit. That turns chocolaty with some more hints of fruit before a roasty creamy coffee flavor comes in, like a fine latte. Taste becomes a little thinner after the initial sips, but still fairly robust.
Mouthfeel - Smooth and decadent, good levels of carbonation, body is hefty without being too heavy.
Overall – Waterloo continues to seriously step up their game. This doppelbock is delicate and combines a multitude of flavors together quite seamlessly, making the Double-Double Doppelbock a great beer to try while it is around. Can certainly see myself picking up some more of these.
1,096 characters
3.93
/5
rDev
-0.5%
look: 3.75 | smell: 3.75 | taste: 4 | feel: 4 | overall: 4
This is a nice bock; strong coffee addition; sweet and big mouth feel.
Will get again.
Good this brewery is trying new things.
128 characters

4.2
/5
rDev
+6.3%
look: 4.25 | smell: 4.25 | taste: 4.25 | feel: 4.25 | overall: 4
3.85
/5
rDev
-2.5%
look: 3.75 | smell: 3.75 | taste: 4 | feel: 3.75 | overall: 3.75

3.97
/5
rDev
+0.5%
look: 4 | smell: 3.75 | taste: 4 | feel: 4.25 | overall: 4

4.21
/5
rDev
+6.6%
look: 4 | smell: 4.25 | taste: 4.25 | feel: 4 | overall: 4.25
Double-Double Doppelbock from Brick Brewing Co.
Beer rating:
3.95
out of
5
with
12
ratings