Laker Honey
| Brick Brewing Co.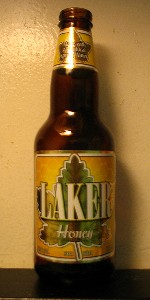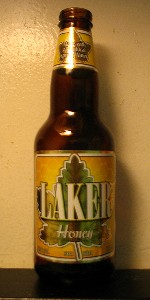 BEER INFO
Brewed by:
Brick Brewing Co.
Ontario
,
Canada
brickbeer.com
Style:
American Pale Lager
Alcohol by volume (ABV):
5.00%
Availability:
Year-round
Notes / Commercial Description:
Laker Honey is a Gold Medal Winner and two-time back to back 2010 and 2011 Peoples Choice Award Winner at the Ontario Brewing Awards.
Just a hint of 100% all natural honey, provides this brew with a lighter, dryer full flavoured taste that leaves you with a pleasantly smooth finish that has little residual sweetness making this honey just right and perfect with spicy food, roast chicken or munchies while you watch the game.
Added by Bestuurder on 02-16-2006
HISTOGRAM
Ratings: 12 | Reviews: 6
Reviews by ThinkAgain:
More User Reviews:
2.94
/5
rDev
+8.9%
look: 3 | smell: 2.75 | taste: 3 | feel: 3 | overall: 3

2.65
/5
rDev
-1.9%
look: 3 | smell: 3 | taste: 2.5 | feel: 2.5 | overall: 2.5
A: Crystal clear and sharply marked bronzed gold. Small head of fluffy white foam bubbles away quickly. Medium level of carbonation.
S:Smells like a grain silo. Afterthoughts of buttery malt and biscuit. Hints of honey.
T: Mild honey flavors over an otherwise average lager. Light malts, adjunct, grain. What more can I say? They took a lager and added honey.
M: A little too much on the watery side, although I didn't hold much for this one in the expectations dept. Mild carbonation. Slick.
D: I've had better "honey lagers". Not bad. Do-able.
Notes: Special thanks to biegaman for the 12 oz sample.
616 characters
2.35
/5
rDev
-13%
look: 2.5 | smell: 2.5 | taste: 2 | feel: 3 | overall: 2.5
Thanks biegaman, keep the good brews flowing!
Pours a dark golden/amber, thick white head forms, settles to a thin layer, decent lacing, looks better than most buck beers. Smell surprised me, for a honey beer it actually has a honey aroma, corn, some alcohol, bit of grain round it out. Taste is sweet, corn and grains, bit of honey, bit of medicinal character, general lack of real flavour. Mouthfeel is light bodied with medium carbonation. Pretty bad, thanks for trying Jan.
480 characters

3.52
/5
rDev
+30.4%
look: 3 | smell: 3.5 | taste: 4 | feel: 2 | overall: 3.5
I ended up buying a sixer of this stuff, for my girlfriend's birthday party, I figured if I could buy something cheap enough nobody would steal it, or at least I wouldn't mind so much.
Appearance: It poured a light brownish colour and was crystal clear. It also poured with a decent amount of head that faded quickly, within about five minutes or so at the longest.
Smell - It was not all that bad, some honey, some graininess, mostly corn and honey.
Taste - Again, not all that bad, some definite adjunct flavour, but definitely not as prominent as in their flagship laker lager, I think because the honey flavour helps to mask some of the adjunctiness. The honey flavour was a bit cloying, there wasn't much - if any - flavouring in it from the hops. I would recommend drinking it ice cold to mask some of the excessive sweetness, but I really didn't mind it for the most part.
Mouthfeel - This is where the beer loses points for me, it had a VERY light body, I don't think it was all that different from water. While the carbonation was pretty darn decent, the body was too light and watery for my preference.
Overall - This is a cheap budget beer, and in general you get what you pay for, so don't expect this to be all that great. The primary challenge with budget beers is finding something that doesn't taste all that bad, which this really doesn't. I managed to finish off the sixer by the end of the evening, so I guess I can say this is an alright session beer, and I would rate it as one of the better beers, for session-ing or otherwise, in its price range.
1,574 characters

3.13
/5
rDev
+15.9%
look: 3.5 | smell: 3 | taste: 3 | feel: 3 | overall: 3.5
If it wasnt for the singles bin at the LCBO Id never try beers like this.
It pours a light bronze color with a bubbly ivory head. The retention and lace are average. The aroma is of soft honey, some malt and some vegetables. The taste is on the sweet side with honey in the for front. Hops are nowhere to be found. The mouthfeel is light with strong carbonation.
This is better than I was expecting for a buck a beer beer. Its pretty watery but still way more flavorful than most Canadian macros.
502 characters

2.33
/5
rDev
-13.7%
look: 2.5 | smell: 2 | taste: 2.5 | feel: 2 | overall: 2.5
Pours with a fair level of head, a deeper golden colour. Tiny bubbles and lacing. A cloying sweetness overcoats a strong base of corn adjunct. Those same adjuncts continue to ring out - and rather boldly - all through the mouthfeel and taste. The flavour also carries a hint of honey which helps things a little but also inparts an overly sweet note and incredibly stickyness. No malt to the body which may explain why there is no aftertaste what so ever. You do actually taste the honey though. A terrible lager but acceptable as far as Ontario value brands go; Not repulsive so long as it stays cold enough.
If only you couldn't taste all the copious amounts of adjuncts this could be decent. I got exactly what I was expecting... it wasn't good.
750 characters
2.59
/5
rDev
-4.1%
look: 2.5 | smell: 2.25 | taste: 2.75 | feel: 2.5 | overall: 2.75
2.21
/5
rDev
-18.1%
look: 3 | smell: 2 | taste: 2 | feel: 2.5 | overall: 2.5
Not bad for a honey lager...though it is nothign compared to the Lakeport Honey Lager, but certainly better than that disgusting Labatt Genuine Honey!
I would certainly recommend this beer if its a party and you don't feel like being one of the crowd, or if its a hot summer day, yet we all know in Ottawa right now its 15 below!
The straw colouration is nice, but slightly too pale for a honey, smell leaves more ot be desired, as does the taste...but at least its not as bad as Labatt's!!!
you could easily drink 5-6 of these before wanting something else, since the palate is fairly thick, but slides easily down the esophagus.
639 characters

2.13
/5
rDev
-21.1%
look: 2.75 | smell: 2.75 | taste: 1.5 | feel: 2.5 | overall: 2.25
Laker Honey from Brick Brewing Co.
Beer rating:
2.7
out of
5
with
12
ratings