PC Dry
| Brick Brewing Co.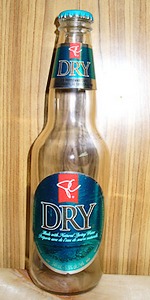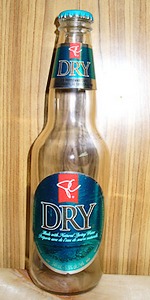 BEER INFO
Brewed by:
Brick Brewing Co.
Ontario
,
Canada
brickbeer.com
Style:
American Adjunct Lager
Alcohol by volume (ABV):
5.50%
Availability:
Year-round
Notes / Commercial Description:
PC Dry is naturally aged beer has no preservatives and is brewed with Natural Spring Water, in small batches using a special blend of imported and domestic hops to create a crisp refreshing 5.5% beer.
Added by Bestuurder on 06-08-2006
HISTOGRAM
Ratings: 8 | Reviews: 6
Reviews by thehyperduck:

More User Reviews:

2.63
/5
rDev 0%
look: 2 | smell: 2 | taste: 3 | feel: 2.75 | overall: 2.75
What can you really expect when President's choice decides to get into beer. What you're getting is almost exactly what you get from their PC food, a crappier knock of version of the real thing. When you're buying PC beer, you're buying it for the same reason you'd buy their food, it's no name and not quite as good but it's much cheaper and gets the job done, after all this beer is 5.5% so if getting drunk is the objective it'll get you there quicker than the rest of the macro-brewed AAL's.
It's a surprisingly inoffensive beer. I was almost certain when a friend offered it to me that I was about to try the worst beer I would ever try in my entire life, however, it wasn't nearly as bad as most of the Canadian brewed macros. Nothing really to speak of in terms of ASTM, just a typical corn smelling, water tasting lager. I've had much worse, and considering the price and the alcohol percentage, you could do much worse than buying PC dry. If I was going to buy a 24 or a few of beers to serve at a party, I would most certainly grab PC dry
1,049 characters

2.53
/5
rDev
-3.8%
look: 3 | smell: 2.5 | taste: 2.5 | feel: 2.5 | overall: 2.5
Grabbed a single can out of the bargain bin at Superstore, not expecting much, but will try not to be biased.
From the label - Prepared for the Real Canadian Liquor Store, Ltd. Calgary. Whitewater Brewing. Green can (same design as the blue Pilsner).
Pale gold / yellow color, starts with a short white head, but quickly fades away. No retention or lace. Lots of carbonation bubbles. Smells like corn, sweet with a bit of yeast, no real malt to speak of.
Not much going on in the flavor department, light bread malt with some grainy sweetness at the end. Mouthfeel is OK, not overly sweet, but I wouldn't call it dry either. Crisp, almost fizzy from the carbonation, and a slight metallic aftertaste. Nothing bad, a typical buck-a-beer offering, don't expect anything more.
776 characters

2.88
/5
rDev
+9.5%
look: 3.5 | smell: 3 | taste: 3 | feel: 2.5 | overall: 2.5
A: Medium yellowy color with a decent head of white foam. Medium low carbonation, no lacing.
S: Strong notes of corn and yeasty dough are noted, with minimal malt presence. Not bad.
T: Corn and bland malt flavors blend with a dry bread note. Slight cloying sweetness toward the finish. Elements of grain are abundant, yet reserved and not overly powerful.
M: Fair. Slightly sticky. Goes down smooth. Little crispness and even less carbonationation.
D: I could take it or leave it. Not a bad beer, but leaves me wanting something more.
Notes: Special thanks to biegaman for the sample.
601 characters

2.51
/5
rDev
-4.6%
look: 3 | smell: 2 | taste: 2.5 | feel: 2.5 | overall: 3
Pours with big fluffy head, leaves sparse clumps of lacing. Slightly hazed golden body. Fairly neutral aroma, narrowly avoids what I'd consider unappealing. But not a total turn-off. Flavour fairly absent. Some macro DMS unavoidable, but no worse (maybe a little better) than many other domestic macro, especially the value brands. To it's credit there is a surprising bit of malt comes through on the aftertaste, quite refreshing and crisp. Two things essential: as long you don't expect much from an Ontario value brand, and you manage to drink it while it's still cold, you could easily enjoy this.
601 characters
2.59
/5
rDev
-1.5%
look: 2.5 | smell: 2.25 | taste: 2.75 | feel: 2.5 | overall: 2.75
2.56
/5
rDev
-2.7%
look: 3.5 | smell: 2.5 | taste: 2.5 | feel: 2.5 | overall: 2.5
This is nothing like a James Ready 5.5, which I would certainly prefer over this beer. It is definitely a light couloration, very straw, and the head is non-existant. Drinkable, but I would never buy this beer again. Hopefully you would like it, I certainly didn't.
265 characters
2.57
/5
rDev
-2.3%
look: 2.75 | smell: 2.5 | taste: 2.5 | feel: 3 | overall: 2.5
I guess you can't expect too much from the buck a beer category...but I don't mind the PC Honey red and will grab it in a pinch when I want beer and just don't know what I want or am short on cash....
a pale straw colour with a head that dissipates entirely too quickly...
a kinda tinny smell....maybe some malty odours coming through...not promising...
Has a weird aftertaste I wasn't thrilled about...def taste the corn and the more unpleasant ingredients...not a clear nice maltyness or hoppyness....quite unpleasant....I had to add lime to the remaining beer in the tester glass to get it down.
Mouthfeel is fine for the abv.
Overalll this was a disappointing beer as I do like the Honey Red as a sort of summer time easy drinker....wont buy again.
757 characters
PC Dry from Brick Brewing Co.
Beer rating:
2.63
out of
5
with
8
ratings