Brick Waterloo Belgian Ale
| Brick Brewing Co.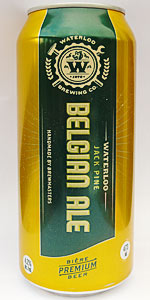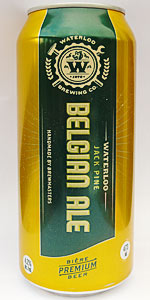 BEER INFO
Brewed by:
Brick Brewing Co.
Ontario
,
Canada
brickbeer.com
Style:
American Blonde Ale
Alcohol by volume (ABV):
4.20%
Availability:
Summer
Notes / Commercial Description:
A spicy fruitiness keeps this refreshingly light and dry beer true to it's Saison Belgian Ale roots.
Added by scott451 on 07-20-2013
HISTOGRAM
Ratings: 10 | Reviews: 4
Reviews by hopsolutely:
2.84
/5
rDev
-2.4%
look: 2.75 | smell: 3 | taste: 2.75 | feel: 3 | overall: 2.75
Can picked up at brewery this week. Live nearby and would absolutely love for it to step up to the Great Lakes, Muskoka, Amsterdam or Flying Monkeys game(s) - hence remain ever hopeful with any new beer.
Can pours an insipid, very pale golden colour with a hint of white head that disappears immediately. Decent lager aroma with elements of Belgian yeast and suitable fruity esters. Flavour has less Belgian evidence, and is more simplistic than the aroma. A very simple sugar fermentation, it may well be the HFCS that others have suggested, but I can't say that for certain - just doesn't have the body or mouthfeel of a "well barleyed" beer.
645 characters
More User Reviews:
3.04
/5
rDev
+4.5%
look: 2.75 | smell: 3 | taste: 3 | feel: 3.5 | overall: 3
473ml can. What does the Jack Pine have to do with anything Belgian?
This beer pours a mostly clear, quite pale golden yellow colour, with three fingers of puffy, tightly foamy, and fizzy eggshell white head, which deflates before my very eyes, leaving nothing in the way of permanent lacing.
It smells of grainy, somewhat bready pale malt, gritty corn, weakly spicy, er, lager yeast, faint drupe fruit esters, and middling earthy hops. The taste is more lightly corn-tainted pale malt, bready yeast, some soft stale apple and banana chip fruitiness, and well, very little else.
The carbonation is pleasantly soft and frothy, the body on the lightweight side, and plainly smooth, with a small airy creaminess. It finishes fairly dry, the muddled malt and yeast still locked in a battle of banality.
Well, at least this one doesn't seem off, which for this brewery is a major improvement. Simple, easy to drink, and it comes across exactly how one might expect - a blonde 'ale', with a bit of Belgian-style yeast tossed in. Boring, but at least I'm not wasting time ruing the small amount of coin I actually dropped on this.
1,127 characters

3.23
/5
rDev
+11%
look: 3.25 | smell: 3.25 | taste: 3.25 | feel: 3 | overall: 3.25
473 mL can pulled from one of their sampler packs. There were two cans of this inside, one of which was consumed last week. No reference to 'saison' is made on the packaging now - just the beer's alleged 'Belgian ale roots', which is still questionable but at least somewhat more accurate. Served well chilled.
This one pours a clear, pale straw yellow, with one finger of frothy, bone-white head that quickly fizzles away. A thin filmy, cap is the only remnant, with a few scattered smears of lacing left clinging to the glass. The aroma does have a distinct note of Belgian yeast, in addition to wet hay and light clove spice; in that respect it smells much more like a Belgian pale ale than a typical North American blonde - not bad at all.
Not especially delicious, but still straightforward and about as sessionable as a blonde should be. Fruity notes of red apple accompany some pale, grainy malts and corny sweetness. The Belgian yeast is most noticeable toward the finish, providing a very mild spice, and lingering a little into the dry aftertaste. Lighter bodied; not as watery as most Waterloo beers, with moderate carbonation that works out nicely here. This is easy to drink in large quantities, but it's still completely forgettable.
Final Grade: 3.23, a C+. Waterloo Jack Pine Belgian Ale really isn't a bad beer, though it's still a pretty weak effort if they were trying to cash in on the saison craze - this isn't going to fool anyone who has actually had an authentic Belgian ale, and I can't see this being terribly appealing to typical blonde ale/macro lager fans either. I haven't had Palm in a long time, but this reminds me a little of that - very basic, very plain, and pretty easy to chug (although not really worth doing so). These seasonals - including the porter and bock - are a slight step up from the flagship Waterloo brands, but that isn't really saying much.
1,896 characters


3
/5
rDev
+3.1%
look: 3 | smell: 3 | taste: 3 | feel: 3 | overall: 3
2.78
/5
rDev
-4.5%
look: 2.75 | smell: 2.75 | taste: 2.75 | feel: 3 | overall: 2.75
Thin white head on a clear pale gold. The head soon disappears. No lacing.
Smells of corn. Tastes pretty much like a standard lager with some extended spritzy fruity notes. Corn aftertaste.
Medium body and carbonation. Claims to have Saison roots but this beer bears no resemblance to a Saison. Really not a bad lager except for the corn but it does not live up to its billing.
383 characters

Brick Waterloo Belgian Ale from Brick Brewing Co.
Beer rating:
2.91
out of
5
with
10
ratings