Saisonztraminer

Brewery Ommegang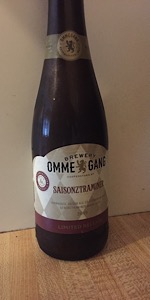 Write a Review
Beer Geek Stats:
| Print Shelf Talker
Style:

ABV:

6.7%

Score:

Avg:

4.04

| pDev:

6.44%

Reviews:

11

Ratings:

From:

Avail:

One-off

Wants

Gots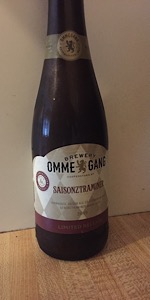 Notes: Saisonztraminer begins as a delicate farmhouse saison. After the brew house, gewürztraminer grape juice is blended in and the mixture is co-fermented using our house Belgian yeast. The result is a beer with all the peppery phenols and lively effervescence one would expect of the style, but with flavors of rose petals, lychee fruit and honeysuckle, as well as a vinous minerality that would be impossible to achieve without the co-fermentation process.
4.29
/5
rDev
+6.2%
look: 4 | smell: 4.25 | taste: 4.25 | feel: 4.25 | overall: 4.5
this a really thoughtful, distinctive, and high end beer, not sure why its flying under the radar, but a lot of good ommegang ones do. its delicious, very unique, i love the grape profile on this, and how delicate and drinkable the beer is overall, its just fantastic. there is unique fermentation profile to this, very vinous, kind of rustic but also super clean and this is crazy dry and fast finishing overall. its not quite tart but there is a little of that from the grape skins or something, amazing with the subtle esters of the saison yeast, which to me are green pear and even pineapple, just a super interesting fruity complexion well beyond the grape alone. i also get some kiwi and even green banana as it warms, a very light crackery quality from the grain in this, a slight rawness to the wheat maybe, and just a ton of character overall, especially for how dry and fast this drinks. its soft in feel but with prickly carbonation at the same time, refreshing and intriguing simultaneously. a light vanilla tone gives way to some sort of grassy noble herbal hop finish, but all very delicate. this is enormously delicious, so glad i got to drink one, i could have had a dozen of these, crazy for a beer so complex! world class!
1,240 characters
3.65
/5
rDev
-9.7%
look: 4 | smell: 4 | taste: 3.5 | feel: 3.5 | overall: 3.5
Had on tap. Pours clear, gold in color with 1/4 inch head. Taste is white grape, apricot, straw, and light pepper. Spicy, light bodied, low carbonation. Sold, tasty but not my thing. I prefer other saisons from Ommegang.
223 characters

3.83
/5
rDev
-5.2%
look: 4 | smell: 4 | taste: 3.75 | feel: 3.75 | overall: 3.75
Two fingers of bone white fizzy froth... Decent retention... Golden yellow color and loaded with carbonation... Nose has notes of fresh cut grass, yellow raisins and a subtle funkiness... Palate is uber grassy with hints of spice... Mouthfeel is on the lighter side of medium bodied, exceedingly dry and loaded with carbonation... Interesting but not something I would indulge in with any regularity....
409 characters
3.73
/5
rDev
-7.7%
look: 3.25 | smell: 4 | taste: 3.75 | feel: 3.25 | overall: 3.75
From the 2019 batch 12 fl. oz. bottle. Sampled on January 18, 2020.
The look is a slightly foggy yellow color with a modest, white foamy head that dissipates to a ring. Little to no lacing.
As to the aroma; I do get a white grape, pear, or apricot character immediately with a toasted biscuit backdrop. Belgian yeast.
Light to medium yet effervescent body.
The flavor is sweet then mildly tart with a lingering dry finale. Some fruit too. Crisp and clean.
465 characters
3.58
/5
rDev
-11.4%
look: 4 | smell: 3.5 | taste: 3.5 | feel: 4 | overall: 3.5
On tap at Das Beer Garden. Lightly hazy orange. Smells of a little sweet grain, fruity grape, and basement funk yeastiness. Tastes of that same yeastiness up front before the grain lends a slight acidity and fruitiness. Sweet toasted grain with a bit of plasticky yeast bitterness in the back end. Earth and spice finish it out. Medium body. Pleasant and subtle grape flavor.
375 characters
4.22
/5
rDev
+4.5%
look: 4.25 | smell: 4 | taste: 4.25 | feel: 4.5 | overall: 4.25
Poured from a bottle into a tulip.
Pours a hazy light, nearly straw gold. A nice light pillowy bone-white head.
Aromas of white pepper, yeast/funk, white grape, white pepper, mild clove, and mild citrus.
The flavors follow the nose but with even more strength and complexity. The brew hits the tip of the tongue with citrus, white grape, and a mild white pepper spiciness. In mid-stream, the yeast transitions from peppery to funky, and white grape/vinous notes. The brew finishes with a tart acidic flavor that has both a cider and wine quality. As the brew warms, stronger apple and malt flavors greet the back end of the quaff, along with more white pepper and clove.
The brew has a pretty special feel. Medium-light to medium bodied with a soft but solid carbonation and a tart dry finish.
This is an excellent variation on the saison style. The funk is reserved, but everything else pops pretty well.
917 characters
4.23
/5
rDev
+4.7%
look: 4.5 | smell: 4.5 | taste: 4 | feel: 4.25 | overall: 4.25
12oz wine bottle from Astoria Bier & Cheese. Ommegang anniversary glass at home.
Yellow gold, a bit chill hazed. Big, lingering, pasty, lightweight white head.
Sharp, cider-ish, fruity nose, peppery & chalky yeast.
Gently floral flavor, with juicy green grape & moderate to strong bittergreen hops. Acidic, bright, un-muddled flavors coinciding with some basic malt. Dry mineral-y finish. Believable 6.5% ABV.
Tasty.
421 characters
4.02
/5
rDev
-0.5%
look: 3.75 | smell: 3 | taste: 4.5 | feel: 4.25 | overall: 4.25
Great straw color, very high carbonation. Medium body. Tastes almost like a sour to me, more than a saison, but in a good way. From a 12 Oz bottle but truly tastes like a fresh pulled draft. Dry champagne-like finish. Loved this ale. A shame it's a one-off.
259 characters
4.12
/5
rDev
+2%
look: 4.5 | smell: 3.75 | taste: 4.25 | feel: 4 | overall: 4.25
12oz bottle into a tulip. 2019 release.
Looks superb in the glass. Hazy pale yellow body. Nice carbonation bubbles up the side of the tulip. Big fluffy white head leaves excellent lacing.
Tried hard to get some aroma, but nothing, good or bad.
Light delicate flavors. You can taste the quality. Faintly bitter, and a little dry. The grapes are more of a feel than a full on taste. A little fruit later in the drink.
Mouth above medium, finish a little dry and slightly bitter.
Overall, another quality beer from ommegang. Happy to have a couple more in the fridge.
569 characters

4.03
/5
rDev
-0.2%
look: 4 | smell: 4 | taste: 4 | feel: 4.25 | overall: 4
L: Had this beer on-tap at Brewmasters - Wilson, poured into a snifter glass. Had a golden yellow color and a slightly hazy consistency. There was a half inch of foamy, fairly long-lasting head. Fantastic lacing.
S: A decent aroma of a vinous quality, Belgian yeast, spices, malt, and citrus fruit.
T: Tasted of a good amount of Belgian-style yeast (present throughout, not overly funky), some light citrus fruit notes (orange, lemon), a bit of malt (not a huge factor), a lot of the vinous quality (white wine), and a little spice (pepper). A light and sweet flavor. Not as funky as most saisons (due to the white wine), but it works nonetheless.
F: A well-carbonated beer with a vibrant finish. Light-bodied.
O: An enjoyable beer for the summer. Worth a look.
765 characters

4.6
/5
rDev
+13.9%
look: 4.5 | smell: 4.5 | taste: 4.75 | feel: 4.5 | overall: 4.5
Saisonztraminer is a very interesting beer to me... it represents an interesting blend between a saison by a well-respected brewing venture and a white wine style that I really enjoy. As someone who really likes drier whites, Gewürztraminer is one of the very few sweet-leaning whites that I find enjoyable, so when I discovered that Ommegang was doing something with this grape's juice, I was intrigued. I have never been big into Hennepin, Ommegang's flagship saison, but I am willing to put that bias aside for this experience... I have no idea whether or nor that beer plays into this one or not, to be honest, but I figured I'd clear the air up front anyway.
The pour here is quite regal. A hazy and homogeneous golden beer with some lighter notes of particulate matter that is capped of with a retentive and appropriate head of foam measuring about two fingers. Eventually it sinks to a finger-and-a-half, but it never really goes away, and it bears incredibly nice legs and even some spotty lace... this is a very good looking modern saison, for sure.
The nose is where things get truly interesting, however. Clove, earthy spice, grassy hops and dirt meld with an incredible melange of floral notes (rose hips and hibiscus pop out immediately), pithy citrus, and pine needles. Doughy yeast, wheat malt, orange peel, rose water, white grape, gooseberry, and thyme all jump out at me. Damn, this smells awesome! It almost has the qualities of a Belgian IPA, somehow, despite having next-to-nothing to do with that style. Is the co-fermentation bringing out these complexities? No idea honestly, but this is intriguing on a very intense level!
On the tongue, this is a crisp and unusual affair, to be sure... I get a big hit of rose hips, kiwi fruit, blood orange, raspberry, and sweet grape upfront before the intense carbonation washes almost everything away and leaves me with a simple kiss of citrus and papaya. That's right... there's an awesome, understated tropical fruit note in the aftermath of every small sip of this beer. This is crazy stuff. So complex, yet so simple and easy-to-drink. I would say this is an excellent pool/lakeside crusher, but I honestly think it's too unusual and unwieldy for such a normal, everyday event. Bring this to a poolside charcuterie pairing for best results... or just hoard it to yourself like I did. This is awesome and so impressive... if you like the idea they went for, you're going to enjoy this flavorful and satisfying beer!
2,486 characters
Saisonztraminer from Brewery Ommegang
Beer rating:
88
out of
100
with
25
ratings