Crooked Hammock Brewery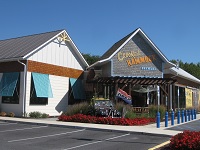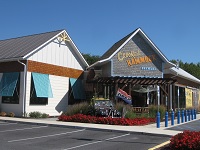 Brewery, Bar, Eatery, Beer-to-go
16989 Kings Hwy
Lewes
,
Delaware
, 19958-4782
United States
(302) 644-7837 |
map
crookedhammock.com
Notes: We craft brews that embody the Crooked Hammock spirit: easy-to-sip, but full of flavor. From juicy, citrus-forward IPA's, to thirst-quenching sours and easy-drinkin' ales and lagers, our beer is meant for the backyard, and that's just where you'll drink it.
Welcome to Crooked Hammock. For me, it was a no-brainer. Goodbye suit & tie. Hello flip flops in the sand. And dreams of creating a place like our new home, Crooked Hammock Brewery.
That was 10 years ago after moving to the beach -- relaxing in an old back yard hammock, rewarding myself with a cold beer at the end of a long day. Sound familiar?
Looking back, my own backyard beach escape helped me appreciate living at the beach, and to embrace all the imperfections that make it such a rewarding way of life.
Now that dream is reality. A unique place where all of us can celebrate our time at the beach. To grab a homemade bite. To sip a craft brew that's made right here.
A place to be with friends. To enjoy your family. Or just to get away all by yourself. Crooked Hammock is a place where we all can hop into our very own hammock!
Come hang with us anytime!

therealJAYZ from Pennsylvania
3.63
/5
rDev
-6.2%
vibe: 3 | quality: 3.5 | service: 4.25 | selection: 3.75 | food: 2.75
Tried several beers including the pils and a couple of IPAs, which all proved to be less than noteworthy. Nothing that I wanted to take home in a growler or crowler. Food was less inspiring, my wife and I got two type of "cones" aka wraps. Mine was fried chick and cole slaw. Could have got that at a fast food place. The redeeming part of this journey was the outdoor beer garden, kinda funky but in a less than authentic way if you know what I mean... but they kids loved it.
Jun 22, 2019

PapaGoose03 from Michigan
3.91
/5
rDev
+1%
vibe: 4 | quality: 3.5 | service: 4 | selection: 4.25
This was another stop by my wife and me on our 2-week beercation. The place is located where King's Hwy. splits off from Coastal Hwy. about 5 miles west of Rehoboth Beach. The building has a quirky (tropical?) motif, but it's good for a brewpub. Ample parking is available. The interior has good vibe to it, and features a long L-shaped bar and several overhead doors that open to a large patio and a covered deck area. The brewing equipment was visible. The place was not busy on a Thursday late morning so we took seats at the bar. Service was very good.
There were 14 taps plus a nitro offering, but only 13 beers were available. We ordered two sampler flights of 4 glasses each so that we could try most of the beers. All of them were brewed to proper style characteristics, but none were all that exciting for us. All were given a score of a B-minus or C-plus. The one that we liked the best was the Matcha Picchu IPA. Oak barrels were stacked in one area of the pub, so there is a barrel-aging program here. However, I did not ask their status or what beers were in them.
The pub serves food, but we wanted to wait for our next stop for a meal. I didn't look at the menu to determine how tempting it might be. I think this is a relatively new brewery, so I hope they are tweaking their recipes for some improvements to kick them up a notch or two. The potential seems to be there. This brewery is worthy of a visit.
Sep 30, 2017
cjgiant from District of Columbia
3.88
/5
rDev
+0.3%
vibe: 4.25 | quality: 3.75 | service: 4 | selection: 3.75
This is a beach-themed place a bit off from the actual beach. It seems to maybe lean just a tad towards bar/brewpub than restaurant that happens to brew beer. The restaurant seems to cater well enough to families, and there's a space for lawn games in the warmer months.
There were 10 beers on when we visited, plus a cask ale. The selection wasn't vast, but also included some styles others neglect. Belgians, browns and pale ales, a few with twists that seem to work more than not.
Service was quite friendly. The place was fairly busy even past normal lunch hour. Speed of service took a little hit during the busier times, but not drastically. There seemed to be a few regulars passing through, as well as a few bigger groups that would gather at the bar.
Was a fun place to hang out and the beers were enticing enough that we'll quite likely return another time and see what's happening.
Feb 19, 2017

DoubleSimcoe from Pennsylvania
3.51
/5
rDev
-9.3%
vibe: 3 | quality: 3.5 | service: 3.75 | selection: 3.5
The wife and I spent a weekend down the Delaware shore in early fall when the beach towns are quiet and the ocean is all for yourself. It is crazy how many new breweries the Rehoboth area now has, compared to just two years ago when Dogfish was pretty much the only option...
Crooked Hammock is the biggest of them all, but also probably our least favorite. They have a massive building in a busy corner of the highway and a beach-bum-meets-Jimmy-Buffett-at-Joes'-Crab-Shack atmosphere. Lots of families, babies, rednecks... packed even though it is the off season.
Beer-wise, I had a decent Belgian tripel and a decent, almost good (although slightly underwhelming) DIPA with New Zealand hops. Both were served in plastic cups, which is sort of like WTF, but it goes well with the Margaritaville theme of this jawn.
Glad I visited, doubt I'll go back.
We sat at the back bar, overlooking a garden-yard crowded with kids.
Nov 24, 2016
joeboe2001 from Maryland
3.05
/5
rDev
-21.2%
vibe: 3.5 | quality: 2.5 | service: 3.5 | selection: 3.5 | food: 2
I am not quite a local--we live about 75 miles away-but CH had a definite beachy tourist vibe. Lots of families, and lots of adults that you would probably not find in a craft brewery location under non-vacation circumstances. Nonetheless, CH was pleasantly decorated in that craft brewery style, and well organized--a good sized bar, and plenty of tables indoors and out. Although it was Friday night and the place was jammed, we were able to find a parking space in their overflow lot, and got seats at the bar right away.
While we waited for out table--about 20 minutes--we were able to try their double IPA (very good) and their American IPA (also pretty good) and an order of pineapple express chicken wings (among the best I have had). Then we ordered the cask version of their American IPA my wife found it acceptable, me not so much, though, in honesty, it was the last pull from the current cask. I don't understand casking a brew and adding additional elements if it does not add anything to the brew--in this instance I was served a warm, nearly flat version of the additional product with no additional flavor.
Then we moved on to our table. The waiter was very pleasant, and the menu seemed appealing, but whoever prepared the food (I hesitate to refer to them as a chef) let us all down. My wife ordered a tomato based soup, which she liked, and some sort of crab martini (a salad, not a drink) which did not come with the advertised lump crab meat (unless they started with lump crab meat and shredded it) and in fact did not even taste like the fresh blue crab meat we are used to on the Eastern Shore. The dressing was pungent and there was way too much of it sitting at the bottom of the service dish. I ordered a mahi mahi sandwich and received sole. Not filet of sole, but the kind you find on the bottom of your shoe--dried out, overcooked fish with an unpleasant barbeque sauce on it, served on a bun that fell apart as soon as I pick it up. The fries, which were not that good, were the highlight of this dish, which the waiter agreeably took off the bill. I half suspect the sandwich I was served was a mistake that had been sitting under the heat lamps for 2 hours before it ended up on my plate.
I was disappointed to say the least. There are other craft brewers in the vicinity, and many better and less expensive restaurants, so I will not be going back soon.
Jul 23, 2016
Zaktcc from Maryland
3.93
/5
rDev
+1.6%
vibe: 4.5 | quality: 3.75 | service: 4 | selection: 4 | food: 3.5
Brewery/ Bar/ Restaurant all in one. Great atmosphere with regular events and parties for both families and adults. Huge outdoor dinning and bar area with various lawn games & a playground.
All-in-all was a great experience, delicious food and drink, however, the only downside, especially if you have a large appetite like myself, is relatively small portions at a fairly high price. Would highly recommend if in the area.
Mar 23, 2016

trekbiker3000 from Pennsylvania
4.08
/5
rDev
+5.4%
vibe: 4.5 | quality: 4 | service: 4 | selection: 4 | food: 4.25
Backyard beach BBQ vibe. Was there in March, so the outdoor areas were still too cold, but I can imagine that it would be fun to hang at in the warmer months. I'll definitely come back when it gets warmer
Mar 05, 2016
lackenhauser from Maryland
3.68
/5
rDev
-4.9%
vibe: 3.25 | quality: 3.5 | service: 4.25 | selection: 3.5
Pulled in on a Saturday in January around dinner time and it was just MOBBED! Huge cavernous sort of place-corrugated metal, wood posts, primitive, shabby chic and Americana decor. Large bar area seats probably 30. I squeezed in at the bar but there had to have been 30 people waiting for tables. Service was quick and attentive once the bartender saw me.
I have mixed feelings about these sort of places. I guess we BAs expect it to be all about the beer. While they have spared no expense on a fancy new system in place behind glass behind the bar it still comes off as a beach themed restaurant. I am sure they want to turn out some good beers don't get me wrong but it's a restaurant first before brewery we are talking here.
Has the brown ale and a milk stout. The brown was ok. I wish more breweries would do a decent brown-a style that has fallen by the wayside for my money. RAR in Cambridge does a fantastic version with their Bucktown Brown but I digress. The milk stout was very good-menu said it was the brewer's first stout. Could have used a bit more roast for my liking but still a very good effort. the Belgian blonde was flying past me left and right, though I didnt try. Had a sample of the IPA and was underwhelmed but if their is something aside from the usual IPA thing I want to try that upfront.
I noticed they did offer "crowlers" to go. Had a great cup of clam chowder that was some of the chunkiest chowder I had ever had-could have been hotter temp wise but was really really good.
Overall I would have to say stop in for a beer and see what you think. When I left the wait must have been at least 45 minutes. Keep going if that's the case. Menu seemed nicely priced. Beers were ok-not worth waiting for in these instances. Another alternative at the beach for sure.....
Jan 18, 2016
Crooked Hammock Brewery in Lewes, DE
Brewery rating:
3.74
out of
5
with
100
ratings