Stumptown Tart (2009)

BridgePort Brewing Co. / Brewpub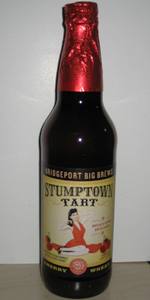 Rate It
Beer Geek Stats
| Print Shelf Talker
Style:

ABV:

8.3%

Score:

81

Avg:

3.55

| pDev:

18.87%

Reviews:

13

Ratings:

From:

Avail:

Retired (no longer brewed)

Wants

Gots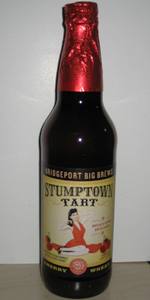 Notes: Belgian Style Wheat Ale infused with Oregon Sour Cherries.
Released June 2009.

Ryan011235 from Ohio
3.74
/5
rDev
+5.4%
look: 3 | smell: 4 | taste: 3.5 | feel: 4 | overall: 4
Poured into a snifter on 5/12/10 after sitting in the fridge for something like eight months
Thanks to PDXHops for sending this my way
On the pour the color is a light pink rose, though once settles it has more of an amber look. The one finger of white foam immediately began to fizzle out & in a very audible fashion, no less. Swirling revives a thin layer but it never holds more than a skim & ring around the inside. Needless to say, there is no lacing. The second pour is cloudy.
The aroma certainly backs up the description of bottle's description of a cherry wheat beer. The cherries are apparent off the rip & offer a mild tartness without being too sharp. I imagine that with the age of the bottle, the cherry potency may have dwindled. The wheat notes act in a complementary manner, suggesting something of a dessert-like quality. A few wisps of oak meander about but are subtle.
As with the nose, I suspect the tart flavor has subsided considerably. To that extent, it still tastes pretty good. Though not lip-puckeringly sour, there are still a few tart notes to be had. After the cherries hit upfront, the wheat quickly takes center stage & is actually the most notable flavor with a mild toastiness throughout. Oak is less apparent than in the nose, if it's distinctly appreciable at all; seems more like an invisible partner in this one.
Somewhere in between medium & light bodied, the surprising thing to me about Sumptown Tart is the low carbonation. It seemed so lively on the pour; in the glass however, it is quite restrained. The finish is clean; just a few hints of wheat & cherry linger on. The carbonation on the second pour is pricklier, which helps call the tartness to the fore.
While I likely waited to long to drink it, I still enjoyed this beer. I wish I had drunk it sooner - nothing wrong with a good bit of tartness. Were it brewed again, I'd love to give it another shot. In any case, I'm grateful for the chance to have tried it.
May 13, 2010

chickencoop from California
3.5
/5
rDev
-1.4%
look: 3.5 | smell: 3.5 | taste: 3.5 | feel: 3.5 | overall: 3.5
Been sitting on this for awhile, kinda thought it was from stumptown brewery up the road from RR, my bad. Overall, this was pretty good, flavorful but nothing spectacular. The days for Bridgeport to be creative ended when Gambrinus purchased them, just like Trumer, good but nothing special. I liked the tart cherry, the beer would be awesome on a hot day, balanced well, but overall, nothing to get you to go back and get another one.
Mar 12, 2010

jeffjeff1 from California
3.5
/5
rDev
-1.4%
look: 3.5 | smell: 3.5 | taste: 3.5 | feel: 3.5 | overall: 3.5
My fiance poured me a glass of this from a bottle she got.
Appearance- cloudy, orangeish color, thin head
Smell- mostly cherry, bit of malt
Taste- tart cherry flavor, pretty good
Mouthfeel- light to medium bodied
Drinkability- pretty good, I would drink it again.
Mar 11, 2010

popery from California
1.93
/5
rDev
-45.6%
look: 2.5 | smell: 2 | taste: 2 | feel: 2 | overall: 1.5
Too sweet, too cherry-ish, sub-par beer. This isn't the worst fruit beer that I've ever had, although it gets fairly off-putting as it warms. The cherry flavor is over the top. It has the too intense sweet and sour of a juice concentrate. The underlying beer also isn't particularly inviting. It needs to be much drier or richer - just somehow better. The beer reminds me of bad cherry pie filling. Also, it has essentially no head and an odd pumpkin orange color. I'm having more and more trouble going back for another sip. Overall, it's mediocre at best.
Dec 23, 2009

BBThunderbolt from Kiribati
3.53
/5
rDev
-0.6%
look: 3.5 | smell: 3 | taste: 3.5 | feel: 4 | overall: 4
Poured into 160z goblet. Poured a reddish-amber color with a thin cap of white head that dissipated quickly and left no lacing.
A slight cherry aroma blends with the wheat base in the aroma. The cherry and wheat flavors are more pronounced than the scent leads you to expect. The flavors are very balanced and not overly tart.
The body is refreshingly full without being heavy. This is a very drinkable beer, having a few on the deck watching the afternoon go by would be an easy thing to do. Overall, a very pleasant beer that's not as tart as it leads you to think it is. worth trying and seeking out.
Sep 08, 2009

jkdrummer from Washington
2.04
/5
rDev
-42.5%
look: 1.5 | smell: 2.5 | taste: 2 | feel: 1.5 | overall: 2
A lot of expectations here. Fancy red foil top and tempting aura of wheat and cherries. Pop the top with a whimpy pft. Poured dull hazy orangish red. Smell is a bit yeasty. But it sits there flat as an old balloon -- no head and very little carb. Taste is like hard juice. Ugh. What a waste of money -- you know that feeling as you try and force it down. Alcohol dominates this sweet spiked juice. C'mon Bridgeport, you can do better. NOT recommended.
Aug 29, 2009

Reidrover from Oregon
3.6
/5
rDev
+1.4%
look: 3.5 | smell: 3.5 | taste: 3.5 | feel: 3.5 | overall: 4
Golden ale with orangey hints,large bubbly off white head. Subdued aromas,wheat,barn and pepper. Intresting tase..strong wheatiness overlayed by tart cherrys with a bi of pit thrown in. Some alcohol tasted at end. Not bad on the palate not thin but I would say sprightly, good summer drinking. OK beer good drinking for the alcohol%.
Aug 28, 2009

morebeergood from Massachusetts
4.2
/5
rDev
+18.3%
look: 4 | smell: 4 | taste: 4.5 | feel: 4 | overall: 4
Picked up a bottle at a Whole Foods in downtown Portland and it survived the trip back to Boston in my suitcase. Poured into a stemmed glass. Has a grapefruit looking color at first, but faded into a morning sunshine yellow color. Nice sized head, moderate lacing. A refreshing looking beer. Smelled a bit citrusy and musty, like a lambic. Taste was pretty darn delicious. Tartness of a lambic, smoothness of a wheat beer, fruitiness of a fruit beer, and slight oak flavor of an aged beer. I am overly pleased at how well all of these aspects were molded together. Alcohol was a bit high for a wheat beer, but it no way hurts my ratings for this beer. Should have bought more.
Aug 21, 2009
msubulldog25 from Oregon
3.75
/5
rDev
+5.6%
look: 3.5 | smell: 3.5 | taste: 4 | feel: 4 | overall: 3.5
A 22 oz. bottle with similar (re: hot) model on the label, 50's pin-up style, as the not-so-popular 2008 marionberry version of Stumptown Tart; this one is wrapped with vibrant red foil around the cap. A Cherry Wheat Ale, brewed with 'Oregon Sour Pie Cherries'; into the pint glass it goes...
A: Golden ale with a somewhat ruddy tint; hanging sediment is a fine cloud; much cloudier as a second pour. Plenty of carbonation, streaming at breakneck speed from the sides and base of the glass, though hardly any head: a patchy film of whiteness, tiny bubbles, fizziness. No lace to speak of.
T: A pleasant 'wheat' aroma, infiltrated with mild fruit... if it weren't for the cherries on the label, I may not have even guessed 'cherry' when put to the test. Meh.
T: Interesting flavor: tart cherry hits upfront, the suggestion of 'pie' is rather pronounced. Has the crusty dough, the fruity filling, even a sugary dash...the beer/pie dichotomy is a first for me.
M: Not as soft/smooth as expected...tartness is more pronounced, carbonated crispness is sharper. Finish is cherry/earthy tartness.
D: Once the initial shock subsides, it's a likable brew - rather refreshing. Wouldn't buy alot, but look for a couple more to enjoy before the summer heat fades and fall sets in, seems refreshing despite a hefty ABV above 8%. Worth a try.
Aug 06, 2009
Docer from Washington
4.03
/5
rDev
+13.5%
look: 4 | smell: 3.5 | taste: 4 | feel: 4.5 | overall: 4.5
Had on tap at todays OBF, and now drinking a bottle I have... so kinda a 2fer'
- Clear copper, minimal to no head from the bottle... but fluffy white head and lacing on tap.... same colors...
- Sour cherry and wheat, some Belgian malt profile... with hints of rye.. slightly sweet and a bit of alcohol...
- Has a great sour bite... just not a palate killer like most sours... but it is a wild yeast... wonderful sour cherry flavor finely balanced with some wheat, caramel, and malt.... worth a try for anyone, and a nice into brew for sours...
- Nice subtle sweet after taste... clear, clean, not dry or chewy.. high marks here.
- A very drinkable intro sour, and a great taste really... a fan. If you like this... move on to one of Cascades sours and see if that is a route you are willing to take.
Jul 25, 2009
ElGordo from Oregon
3.88
/5
rDev
+9.3%
look: 4 | smell: 3.5 | taste: 4 | feel: 4 | overall: 4
Poured from the 22oz bottle into a Liefman's goblet. Body is a pretty bright orange hue with amber golden highlights, topped briefly by a light, wispy head that dissipates almost immediately. A few suspended particles dance in the light. Aroma of slightly funky, dry Belgian yeast, mild wheat, very light sweet malt and/or candi sugar, and a decent dose of sour cherries.
Palate is mildly sour up front, but kept in check by a touch of sweetness from the malt. A mild funk from the Belgian yeast and a light musty character come through mid-palate. The sour cherries definitely take over on the swallow and build in intensity on the finish.
Body is light and dry, well-carbonated without being bubbly. Not exactly a true Belgian-style gueuze or Flemish sour, but an interesting Oregon interpretation of the style. The rather high alcohol content is well-integrated, making it nice and drinkable, a thirst quencher on a warm summer night. Nice work, Bridgeport.
Jul 16, 2009

PDXHops from South Carolina
3.52
/5
rDev
-0.8%
look: 3 | smell: 3.5 | taste: 3.5 | feel: 4 | overall: 3.5
Bomber poured into a snifter.
This beer is an odd, hard to describe color. Pours sort of a hazy rosy apricot capped by a finger of bright white head. Decent retention and lacing.
Cherry aroma is pleasant and doesn't overwhelm the gentle blend of sweet bread and tangy yeast/wheat smells. Smells pretty tasty.
And so it proves to be. Big tart cherry smack at first, but it quickly transitions to a sweeter cherry flavor. There is some light sweet malt and also a crispy tangy wheat character. A bit of oak as it warms up, too, and a tiny bit of funk. All this 'stuff' blends together quite seamlessly.
The alcohol is well hidden, and it's a surprisingly refreshing beer at this ABV. Finishes crisp and nutty with some lingering tangy cherry.
Overall impression: Nice offering from Bridgeport. Recommended.
Jul 13, 2009
GreenCard from Maryland
3.98
/5
rDev
+12.1%
look: 4 | smell: 3.5 | taste: 4 | feel: 4 | overall: 4.5
[I'd been looking out for this in bars and stores since the release last Thursday, but ended up going directly to the brewpub to try it out. It wasn't on tap; just 22 oz. bottles.]
Appearance: golden-amber with ruby highlights, good clarity, very little head formation
Aroma: cherries jubilee over cream-of-wheat; quite subdued; overlay of vanilla oakiness
Flavor: dryish malt backbone with a fruity tartness taking center stage; hints of cooked cherry, vanilla, wheat, and almonds; finishes dry with a lingering cherry pie essence
Mouthfeel: medium-light body, sparkly carbonation, crisp, slight alcohol warmth
Other comments: She hides her 8.3% abv very well. Light bodied and refreshing. Cherries aren't overpowering (i.e.- obviously not an extract or flavoring). Really tasty and one to drink fresh, me thinks.
Jul 01, 2009
Stumptown Tart (2009) from BridgePort Brewing Co. / Brewpub
Beer rating:
81
out of
100
with
13
ratings