Henry Street Ale House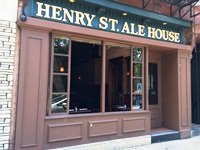 PLACE INFO
Type:
Bar, Eatery
62 Henry St
Brooklyn
,
New York
, 11201-6885
United States
(718) 522-4801 |
map
henrystreetalehouse.com
Notes:
No notes at this time.
Added by dwarbi
Reviews: 10 | Ratings: 15

4.45
/5
rDev
+8.3%
vibe: 4.5 | quality: 4.5 | service: 4.5 | selection: 4.5 | food: 4
I found this place on accident a few years ago while walking around this neighborhood, but what a find. The bar itself is on the small side, with wood floors and tin can fans. Seems like a typical neighborhood bar for the area. I cant remember the whole selection, but i do remember there was no BMC on tap and everything on tap was quality microbrews or belgian selections. The food i remember being above average for a beer bar also. I just recently found on the map where this bar is will definitely stumble in again when im in the neighborhood next time
UPDATE: went this past Friday and it was all how i remember it. I would define this bar as a session bar. All the offerings are well rounded quality brews with nothing over the top (Bellahaven Scottish Ale, Old Speckled Hen, A Czech Pilsner, Treogs Hopback, Stone IPA, Dogfish Punkin, and about a 1/2 dozen more. Had the wings here and they were excellent, cooked just right, not to crispy not to soft. and with just the right amout of heat. friendly crowd and bartenders
1,030 characters
4.22
/5
rDev
+2.7%
vibe: 5 | quality: 4.5 | service: 4 | selection: 3.5 | food: 5
I seldom go here for the beer, but, I always try to make it there for the best buffalo wings in all of New York City. (If you can find more perfect wings, please let me know!) They're crispy, just the right heat, and they tell me the sauce is made with beer. Ask for extra sauce... sometimes, it's skimpily doled out. They did have the Sierra Nevada Bigfoot and Sixpoint's Brown Ale on tap, so, I was happy enough to get those. The brown goes really well with the wings. All the customers seemed happy with whatever they were eating too. I think I've only ever had the wings. Did I say how great they were?
606 characters
3.24
/5
rDev
-21.2%
vibe: 2.5 | quality: 3.5 | service: 4.5 | selection: 2
This tiny bar is located on Henry street fairly close to the first stop on the A train going into Brooklyn. It's fairly easy to find and offers a decent beverage for the passerby. The beers on tap are usually good stuff, but they only have around 8(?...don't remember) beers on tap, maybe more, but I usually find that when i go there, I just pick one beer and stick with it for a little while. I used to go there on my walk home from work, so it was always quiet and the bartenders were either talkative or nice to look at, so that's always a plus.
Would I make a special trip out to go there? Nope. Williamsburg offers better bars, but if you are in Brooklyn Heights and wanting a decent brew, this is your place.
719 characters
4
/5
rDev
-2.7%
vibe: 4.5 | quality: 4 | service: 4.5 | selection: 3.5 | food: 3.5
For whatever reason, this got bumped from the NY Beerfly list of recommended places to grab a pint -- but it shouldn't have...
This place is everything bars should strive to be. It's not necessarily a beer-geek bar that will blow you away with its selection (hence the 4.0 on selection), although they will often have two or three surprises up their sleeve. No, this is just a solid, atmospheric, friendly pub, with good food and quality beer.
Me girl Bethy accompanied me to dinner here this week, as I've always wanted to try the place, but never did. Parking in this area is not recommended, although it is possible if you use the meters. The 2,3 and A,C subway lines are very close by, as is the Brooklyn Bridge if you're walking/biking to/from Manhattan. Upon entering, an approximately 10-seat bar lines the wall to the left, and several tables are scattered in the right side of the room. There are a couple of tables also on the left, in front of the bar, by the open-air front windows. Another small room lurks in the back right corner of the building, with three booths, a couple more tables, and the bathroom entrance. The walls are all painted a deep red color, lending an atmosphere of warmth, and the walls kind of look like those old tin roofs, adding an even more old-time feel to the place. There are two TVs above the bar for those interested in the ball game. One other interesting atmospheric touch are the celing fans -- three of them in a row, all connected and run by one giant belt. Kind of cool to see.
The beers: 16 taps, and another 10 bottles or so... not a shoddy selection among them. Some standouts on tap during this visit included Stone IPA (actually tougher to find than other Stone products), Smutty Brown Dog, Staropramen, Reissdorf Kolsch, Anchor Liberty and Fuller's ESB. I believe there were also some easier to find, but not bad selections like Guinness and Sierra Nevada Pale Ale. Bottle standouts included Stoudt's Scarlet Lady ESB, Maudite, Corsendonk. I opted for the Reissdorf to start, and Beth the Liberty Ale (she loves that Liberty Ale). Both pints were fresh and tasty. We both got burgers from the menu that sported typical pub grub. Both of our burgers (and fries) were quite good, some of the best I've had at a pub. I next had a Smutty Brown Dog, also spot on, while Beth got the Stone IPA and immediately declared it one of the best IPAs she's ever had (smart girl). Again, both fresh and spot on.
Service was attentive without being overbearing, and truly friendly. Examples of good service included immediate recognition that my glass was empty, and supplying us with a stack of napkins without our asking (must have noticed the burger juice dripping off our hands).
Lastly, prices were great. Two pints each, loaded burgers and fries, and the total bill was $44.
I suspect this would also be a super-cozy place to spend a winter evening, and I know they have some stronger, darker ales on during the colder month. They've surely carried Perkuno's for months at a time, and they always seem to showcase one or two local beers.
Although it is a bit longer walk for me than some other good bars (like Brazen Head, Atlantic Chip Shop, and Waterfront Ale House), I could see myself going out of the way to become a regular here...
3,304 characters
4.22
/5
rDev
+2.7%
vibe: 4.5 | quality: 4 | service: 4 | selection: 4.5 | food: 4.5
The high point of the Brooklyn Bar Stumble was the Henry St Ale House. Every restaurant/pub in Brooklyn seemed to have a German and a Belgian beer or two on tap, plus some regional goodies, Henry's just did it better.
The air was frosty and a light snow was falling as we entered. It is a cozy neighborhood joint. Slightly dark, it has deep red walls, old school tin ceilings and fans, and several small, intimate tables.
The selection has been spoken of before, so I won't bother anyone. A Heavyweight, DFH, Old Speckled Hen, Original Sin Cider, etc were on tap. All the beers were fresh and tasty. The cutie serving our table knew the beers and even steered the macros in the group in the right direction.
Food was very well done pub grub. From the wet fries, to chicken pot pie, to steak, we were all very happy.
The best pub we stopped in in Brooklyn. As my expat Irish buddy says, "the absolute best reason to go over to Brooklyn..."
950 characters
4.33
/5
rDev
+5.4%
vibe: 4.5 | quality: 4.5 | service: 4.5 | selection: 4 | food: 4
Just a great beer bar, that's all. Your standard beer bar has its bar food, it's wood tones, and it's beer. This place scores high marks on all.
The atmosphere was nice - all of the booths were in good shape and the tables were not rickety. The wood was not tarnished or badly worn, but rather, it looked new. The place was well-lit (although dimly), and it seemed very clean as well.
The service was great, but maybe it's because she was a hottie. Nuff said.
What I remember most about this place was the stellar food. I mean, you never can have that high of expecations from your standard bar food. But the burger I ordered was cooked perfectly, and the soup and salad I had with it were fresh and tasty. I loved it.
The beer selection was pretty good, although nothing to brag about. Overall, if I lived in this neighborhood, I could see myself going to this place a lot. It's a great neighborhood bar.
917 characters

4.06
/5
rDev
-1.2%
vibe: 4.5 | quality: 4 | service: 4 | selection: 4
Great,cozy comfortable neighborhood watering hole. Moderate selection of well known micros. No big surprises here, just all good quality, standard micros. Atmosphere is what sells me on this place. Great neighborhood, very close to great photo spot, the Brooklyn Promenade. Easy walk from here to waterfront Ale hse and/or the Brazen head. Also American Bev. on court st. is a little longer stroll. This easy going quality little place would be a good addition to a Downtown Bklyn pub crawl. didn't try the food but it looked and smelt good.
541 characters
4.3
/5
rDev
+4.6%
vibe: 4 | quality: 4.5 | service: 4.5 | selection: 4
A bar I had been neglecting to visit regularly - my mistake I discovered when I called in yesterday.
The tap range was far better than I remembered it being: here's the full list as at 8th January 2004: Victory Hop Devil IPA, Anchor Steam, Staropramen, Shipyard Old Thumper, Sierra Nevada Pale Ale & Bigfoot *2000 vintage*, Greene King Old Speckled Hen, Heavyweight Perkuno's Hammer Imperial Porter, Brooklyn Brooklyner Weisse, Fullers ESB, Smuttynose Old Brown Dog, Guinness, Interbrew Leffe Blonde & Boddingtons. No Coors or Bud! Taps I believe do change regularly, at least those with microbrews on them. No bottles of any description in view. The 2000 Bigfoot barleywine was superb!
The bar itself is dimly-lit, quite cosy, with a long bar on the left and tables at the right and in the window. At the back, the room opens out into a square dining area; the upper half of the walls are painted a deep red, sort of theatrical-blood-shade. The knowledgeable manager was behind the bar and served me well, and the happy hour was good value: $3.75 for a pint of Heavyweight is incredibly cheap in Brooklyn Heights!
Food looked and smelled good but I didn't stop long enough to eat.
Transport: 2/3 train to Clark Street or A/C train to High Street. 10 minutes walk to/from The Waterfront and The Brazen Head.
Opens from 4pm Mon-Thurs, from 2pm Friday, and from Noon Sat and Sun. I'll be back there soon...
1,419 characters
4.13
/5
rDev
+0.5%
vibe: 4 | quality: 4 | service: 4 | selection: 4.5 | food: 4
Me and FeloniousPhil hit this place for lunch somewhere between a few beers at the brewery and chili night at Ann's. A long wooden bar fairly low lit for this Saturday afternoon with some benches and a handful of tables in the off room to the rear. They had about a 16 or dozen and a half beers on tap with no clunkers. No swill to be found there. A pair of Magic hats (the 9 and the Humble Patience), Sierra, Heavyweight Hammer, Dogfish, etc. Phil drank some crazy Czech Pilsner there.
Food menu was standard pub fare done nicely. Our meals were damn good and the service was up to snuff although the place was pretty dead on this afternoon so it should have been as such. All and all a nice neighborhood bar.
712 characters
4.5
/5
rDev
+9.5%
vibe: 4.5 | quality: 4.5 | service: 4.5 | selection: 4.5 | food: 4.5
Henry Street Ale House is a fantastic place to get a good beer and a burger. It's probably one of the ten best in New York City and definitely in the Brooklyn top five. It falls just short of being perfect in every category.
The interior is predominantly dark and wooden. The bar is never too crowded, and there are plenty of places to sit, including some wooden benches. When it's nice out, they put some tables and chairs outside, where you have a view of the Manhattan Bridge and loads of interesting people strolling and biking by. The only drawback is that there are too few benches.
They have about 15 beers on tap - all micros. Some very good beers, but I don't think they change the selection often enough. This can be a good thing, however. Fans of Magic Hat will always find at least one of their beers on tap. Nothing cask-conditioned, but a sufficiently varied collection of styles, and the lines are always clean.
The staff is always very friendly and non-intrusive, but reliable. Though, I have found them to be not knowledgeable enough on beer.
The food is very good and not too expensive. Try the jalapeno poppers. Fresh fries (hard to find) and tasty wings. Nothing different, but you can get all of your favorites here.
Little fact: This bar used to be a brewery. It is the sister bar to Park Slope Ale House in (where else?) Park Slope. Neither place brews beer anymore. Sadly, Park Slope Brewery has joined a large group of defunct NY breweries. Real estate really is killer. If this place brewed its own beers, I am sure it would be the single best beer and burger joint in New York City. Park Slope Brewery still brews beer (http://www.parkslopebrewingco.com), but now in Red Hook, and it does not seem to be associated with either of the bars.
Note for tourists: This is a great place to stop by after walking over the Brooklyn Bridge. Then head over to the Brooklyn Heights Promenade for the best view of New York City.
1,961 characters
Henry Street Ale House in Brooklyn, NY
4.11
out of
5
based on
15
ratings.