Bedele Gold Label Special Beer
| Bedele Brewery
BA SCORE
80
good
12
Reviews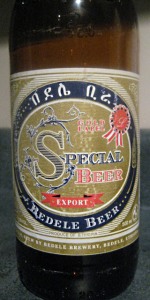 BEER INFO
Brewed by:
Bedele Brewery
Ethiopia
Style:
Dortmunder / Export Lager
Alcohol by volume (ABV):
5.50%
Availability:
Year-round
Notes / Commercial Description:
No notes at this time.
Added by goschool on 12-21-2005
Reviews: 12 | Ratings: 23

3.42
/5
rDev
+1.5%
look: 3 | smell: 3.5 | taste: 3.5 | feel: 3 | overall: 3.5
Poured into a Celebrator pokal. Pours a light, slightly hazy golden amber. Thin white head that dissipates rapidly to a ring around the glass. Aroma of sweet caramel and bready malt. Flavor follows, with light sweet bready malt, slight caramel and a hint of light fruit. Finish is attenuated and slightly dry. Light bodied. Nothing outstanding, but the light flavor is pleasant, and something I would have again with a meal or sitting in Ethiopia with no craft beer store in sight.
481 characters
3.6
/5
rDev
+6.8%
look: 3.5 | smell: 3.5 | taste: 3.5 | feel: 3.5 | overall: 4
This comes across as a dry Czech pils more than anything.
Cloudy caramel orange color, a cluster of soapy bubbles on the surface, about a finger of white foam that fades pretty quickly, stringing the larger bubbles around the rim.
Dusty sweet bubblebum and banana traces, shortbread and herbal tea. Less sweet than most Czech pils i've had.
Light flavors of shortbread, caramel, and a slight herbal grassiness. Honestly it's not bad at all. Feel is a touch heavy, some spring water mineral presence, with low carbonation. Lingering tea like aftertaste. For an Ethiopian beer I was expecting much worse, but i'll order this next time we're at an Ethiopian restaurant.
Fun fact: This brewery was recently sold to Heineken, maybe that's why it just showed up in retail shops here...
785 characters
3.59
/5
rDev
+6.5%
look: 3 | smell: 4 | taste: 3.5 | feel: 3.5 | overall: 3.5
This will be my first beer from Ethiopia (an African country that seems to have a decent number of breweries).
It pours a hazy straw/golden colour with a thin head. Nothing out of the ordinary, though the haziness is a bit of a mystery (I hope I have a good bottle).
The aroma is sweet fruity malt with some solid caramel notes in the background. Quite nice for what looks like a standard lager.
The flavour is slightly floral to start, with the some slight caramel malt flavours. It is on the light side, and there is very little carbonation, making this an easy drink.
Overall, this was a pleasant surprise! Nothing outstanding by any means, but certainly better than a lot of other typical lagers. I might have to keep my eyes open for other ethiopian beers in the future.
779 characters
2.99
/5
rDev
-11.3%
look: 4 | smell: 2.5 | taste: 3 | feel: 3.5 | overall: 3
This Lager pours a crystal golden color with a mild white head that fades quickly. There is almost no aroma. The taste is slightly sweet and hoppy with a pleasant but brief fizzing in the mouth. This is not an unpleasant beer and if I lived in Ethiopia I would probably drink it regularly. With so many other choices of good import and domestic beers in the Mid-West this will not be one of my top choices.
406 characters
3.52
/5
rDev
+4.5%
look: 3 | smell: 3.5 | taste: 3.5 | feel: 3 | overall: 4
First Ethiopian beer for me - from a very well-used looking 500ml bottle, with "Beer Only" in raised embossment above the label. Does this mean that this kind of bottle might be used for soda or milk too? Or is it a stronger consumption directive? At any rate, thanks go to Blue Nile Enterprises of the Windy City, for being the appropriately named broker for this meeting of disparate beer entities.
This beer pours a hazy pale golden mire, with one finger of big-bubbled soapy white head, which leaves some random droopy, spidery lace around the glass as it fizzles away. It smells of fruity grain, earthy honey, and very mild floral hops. The taste is sweet bready, cereal grain, mildly sugary honey butter, and more subtle, weak drying hops. The carbonation is practically non-existent, which lends to the eerie unexpected nature of this offering, and the body is medium weight, smooth, which would be hard not to achieve here, I guess, and clean. It finishes still sweet and bready, tuned down a bit, with the assumed hops never really showing themselves.
Not knowing at all what to expect from a heretofore to me unexperienced African nation's brewing prowess, I can say that this is not too shabby. More reminiscent of malty British pale ales, but I can't fault the existing classification either. Interesting, and plainly drinkable.
1,342 characters
3.06
/5
rDev
-9.2%
look: 4 | smell: 3 | taste: 3 | feel: 3 | overall: 3
I had this while dining at the Ethiopian Diamond restaurant in Chicago last night.
A= This lager poured a very clear medium gold color with a 1/4" white head. The head dropped fast and left behind zero lace.
S= Aroma was mild, with just a few notes of bakery malt, honey, sulfur, and grass.
T= Very clean taste, with a mild graininess, and a sweet note coming from the malt. There could be honey in there too, or at least that was the flavor seeming to dance around the edges.
MF= Light bodied with a crisp and fizzy carbonation level.
D= An ok beer, but there are about three dozen examples of this style that I like better. Clean flavor through and through though and at paired well with Ethiopian cuisine.
714 characters
2.68
/5
rDev
-20.5%
look: 3 | smell: 2.5 | taste: 2.5 | feel: 3 | overall: 3
Appearance: Pours a mostly clear, straw-colored body with a thin, bubbly, white head. As with the previous Ethiopian lager, you get a fine dusting of particles in the beer.
Smell: Light pale malts with a meager, indistinct hint of honey butter with floral notes and a slight whiff of cider.
Taste: Sweet, sugary, even honeyish malts. Faintest hint of butter. Minor floral hops, though essentially almost no bitterness present. Splash of tart apple cider. Drying, short finish.
Mouthfeel: Light-bodied. Medium-low carbonation.
Drinkability: As it is a guest in this country, I'll politely tolerate it. You've had one lager from a third world country, you've had them all.
674 characters

2.83
/5
rDev
-16%
look: 3 | smell: 2.5 | taste: 3 | feel: 2.5 | overall: 3
From a twelve ounce brown bottle - Pours pale/straw color with a tad of haze, no carbonation or head. Smells of sweet corn adjuncts and not much hops in the aroma. First sip is malty sweet with corn dominating the Malts. My second beer from Ethiopia and both were better tasting than I thought they would. Pretty good for the style.
332 characters
3.67
/5
rDev
+8.9%
look: 3.5 | smell: 4 | taste: 3.5 | feel: 3 | overall: 4
Thanks to ibrew2or3 for this one.
A: Pours a very light straw yellow color with a rather small head. No lace but ample carbonation is exhibited.
S: Rather bold aroma for such a light beer. Wet grass, corn, and hay is what it is mostly made up of.
T: Grain, grain, and more grain. You could feed this one to the cows. Behind the grain is a light corn like sweetness. Not bad to be honest.
M: Very light, very thin.
D: Someone at the table mentioned that it beats the hell out of BMC. I have to agree. It is light, and tasty. May actually enjoy it on a hot summer day.
571 characters
3.85
/5
rDev
+14.2%
look: 3.5 | smell: 3.5 | taste: 4 | feel: 4 | overall: 4
(Served in an American pint glass)
A- This beer pours a pale orange hue with a slight hazy and tiny bubbles gliding to the surface. The head is only a few white wisps that circle the edge.
S- The soft clean smell has notes of lightly toasted malt and a slight nougat note. When the beer is pretty warm there is a nice sweet pale malt note that comes through with a light straw hint.
T- The taste of white caramel was nice with a slight tang to it nd a faint green hint at the finish.
M- This beer has a medium mouthfeel with a bit more fullness in the finish but no real fizzy notes.
D- This beer was very light but had a nice note of caramel for some character. I could see this as a great beer for a session in the 90 degree shade. The tang note does increase as the beer warms which gets in the way of the malt a bit.
829 characters
3.56
/5
rDev
+5.6%
look: 4 | smell: 3 | taste: 3.5 | feel: 4 | overall: 4
I grabbed this one at my favorite Ethiopian restaurant, Etete, in DC. It arrived at my table in a stubby brown (grenade?) bottle with a worn label that looked as if it was glued on with a glue stick in some old guy's cellar.
The beer pours golden pale with a very thin head and looks to be unfiltered. It's odd, for an export lager, this looks more like a Heffe than anything. It even tastes more like a Heffe than an export. I was expecting more of a hoppy / dry / bitter beer for an export lager but instead I got a smooth/sweet tasting surprise.
The nose is a bit weak, but I swear that there were notes of coriander and citrus (are we sure this isn't a Heffe?). I couldn't really pick out any hoppy notes, though there were some very soft notes in the taste.
The beer goes down smooth with some citrus notes and a very light finish.
The mouthfeel is actually quite creamy and smooth, much different than any other Exports I've tried (Molson Export, Shipyard Export, GB's Golden Export, "33", etc.).
This was a pleasant surprise. I've tried other Ethiopian beers in the past and have been quite disappointed with their weak rice-y beers, but this one was quite different. It pairs well with Ethiopian fare (go figure) but would also pair nicely with a smooth chevre or possibly even some Thai dishes. I couldn't see myself buying cases of this brand, but I could see a nice summer day spent sipping down a few sixers. Definitely worth a try, it was a very pleasant surprise.
1,485 characters
3.57
/5
rDev
+5.9%
look: 3 | smell: 3.5 | taste: 3.5 | feel: 3.5 | overall: 4
330cc stubby Duvel-style bottle.
I had this at Merkato, a restaurant/market in the Little Ethiopia section of Los Angeles. The pour is an uninspiring, slightly hazy, yellow gold with a small white head, even in the Tom Collins glass that they gave me. The lacing was decent. Lots of doughy malt in the nose with faint noble hop aromas. The taste is pretty much along those lines- biscuity and doughy malts, grain and a hint of sweetness finishes with a subtle, pilsner-influenced bitterness. The mouthfeel is medium bodied with a little less carbonation then average. This beer is solid and drinkable. It exceeded my expectations and then some.
647 characters
Bedele Gold Label Special Beer from Bedele Brewery
3.37
out of
5
based on
23
ratings.