Dangerous Precedent

Kings County Brewers Collective (KCBC)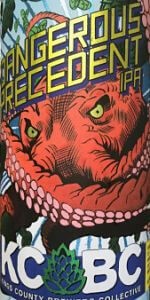 Write a Review
Beer Geek Stats:
| Print Shelf Talker
Style:

ABV:

6.6%

Score:

Avg:

4.17

| pDev:

7.43%

Reviews:

10

Ratings:

From:

Avail:

Rotating/Seasonal

Wants

Gots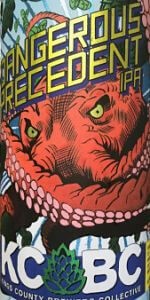 Notes: Mosaic, Azacca and Cascade hops, and finished with Mosaic lupulin powder. Ripe stone fruit & juicy citrus (peach-mango-orange), with soft, light body from copious amounts of wheat and a hint of bitterness on the dry finish. Dangerously drinkable.

JamFuel from Sweden
4.03
/5
rDev
-3.4%
look: 4 | smell: 4 | taste: 4 | feel: 4.25 | overall: 4
Pours a hazy yellow wiith fine, soapy foam.
Smell is fruity and crisp with notes of citrus, grass and lemon candy.
Taste is fruity and refreshing. Notes of citrus, green tea, nectarine and a hint of licorice. Soft bitterness and very drinkable.
Mouthfeel is medium, soft and well carbonated.
Overall, a very nice, summery IPA. Easy to drink and refreshing.
Jun 15, 2019

RJQ3 from New Jersey
4.42
/5
rDev
+6%
look: 4.5 | smell: 4.25 | taste: 4.5 | feel: 4.25 | overall: 4.5
Ok this beer is all you could want in a east coast juice bomb!
L: like OJ!
S: like Sunny Delight or any citrus juice drink but carbonated.
T: reminds me of Wrench from Industrial Arts but maybe just slightly better. Tons f juicy hops with a very nice bitter bitter bite at the end. Great beer for summer. Juicy up front, with onion, grassy finish. Fantastic east coast IPA.
F: very carbonated which makes it extremely refreshing and some creamy goodness on the back end.
O: J u st a great east coast juice bomb! I love this beer.
May 29, 2019
Oh_Dark_Star from Washington
3.58
/5
rDev
-14.1%
look: 4.25 | smell: 3.75 | taste: 3.5 | feel: 3.25 | overall: 3.5
L: A hazy tangerine hue with a half-finger ivory head, settling down with some lace.
S: Muted citrus with a little lime, grapefruit, mineral and tropicals. Comes off weakly so I may be off or missing something.
T: Follows the nose. Not sure how this one earns its title.
F: Thinner-bodied, fine carbonation.
O: A fine beer, but my least favorite so far from KCBC.
May 07, 2019
stevoj from Idaho
3.61
/5
rDev
-13.4%
look: 3.25 | smell: 3.5 | taste: 3.75 | feel: 3.75 | overall: 3.5
16 oz can from Tavour. Yelliw, orange haxy pour, small tight head, looks like pineapple juice. Citrus , tropical aroma with light dank notes. Taste also features the dank hops, e ough to make this not so juicy. Bitter, earthy...like picking a piece of fruit off the ground and eating it without washing. Like that.
Sep 17, 2018
metter98 from New York
4.25
/5
rDev
+1.9%
look: 4.25 | smell: 4.25 | taste: 4.25 | feel: 3.75 | overall: 4.5
A: The beer is quite hazy yellow in color—too hazy to see if there is any visible carbonation. It poured with a quarter finger high bright white head that died down, leaving a thin layer of bubbles covering the surface and a medium-sized collar around the edge of the glass.
S: Moderate to strong aromas of tropical fruits are present in the nose—mangos and pineapples seem to stand out in particular—along with notes of orange citrus.
T: The taste has flavors of pineapples along with notes of oranges and hints of pineapples. There is a light amount of bitterness.
M: It feels medium-bodied, somewhat crisp, and a little juicy on the palate with a moderate amount of carbonation.
O: This beer has very "bright" aromas and flavors of citrusy and tropical fruit hops. I found it to be very enjoyable.
Serving type: can
Sep 13, 2018

mike22ne from Massachusetts
4.45
/5
rDev
+6.7%
look: 4 | smell: 4.5 | taste: 4.5 | feel: 4.25 | overall: 4.5
Poured from a can, dated 12/4/17.
Lots of bright crisp juicy citrus in the smell and taste. Tropical fruits like pineapple too, moderate grapefruit/lemon peel bitterness. Excellent feel, did not end up getting too dank and sticky as some over-hopped IPAs tend to be.
Really nice, big and flavorful yet well balanced. Excellent!
Dec 30, 2017
JerzDevl2000 from New Jersey
4.27
/5
rDev
+2.4%
look: 4.5 | smell: 4.25 | taste: 4.25 | feel: 4.25 | overall: 4.25
Picked this up back in early December at KCBC, which was the first time I had set foot there. I've dropped off enough hipsters in that area of Brooklyn but had no idea that one of New York's newest brewers was in the midst of all the graffiti that I loved and seeing the design on the can reinforced the notion that this was indeed, a beer from Kings County with it as part of the name! I was impressed with this debut as it wasn't hazy, hoppy, or strong but still had enough body and flavor to be easily crushable. Having a date of Dec 07 and "#Bushwickbrewed" below it (first hashtag on a can!) only added to the allure and appeal of this...
Going back to the liquid, this had a lovely pour as the beer's softly glowing apricot hue came with plenty of head on top to boot. Loads of thick, soapy, sticky lacing were to be found on the side of my pint glass as I worked my way through this and got over the initial sweetness of the nose. Citrus, candied sugar, and Azacca hops were to be found in the nose as this had a dark tone to it that almost felt as if there was some tobacco thrown in for good measure. Lots of amber in the mouthfeel that gave this a nice slickness as the Cascade reminded me of a good West Coast IPA. Stone fruit really came out in the taste as the juice was the only aspect of the citrus that could be felt in the taste. A slight caramel stickiness and citrus peel was felt once the liquid went down as this beer had a light carbonation from start to finish.
Thankfully, the alcohol wasn't that potent in this as the odd but pleasing notes were allowed to shine through. Neither dank and hazy like local beers nor waxy and hoppy like West Coast counterparts, this was completely unique and a bit unsettling as I had a hard time pinning it down. Much like the monster on the can, this was slightly unnerving and intriguing and I love the spirit behind this, as this beer was like so many others that are helping to put the Big Apple on the brewing map. Worth the effort to obtain and quaff - when's the next gonna be?
Jan 26, 2017
GreesyFizeek from New York
4.35
/5
rDev
+4.3%
look: 4.25 | smell: 4.25 | taste: 4.5 | feel: 4.25 | overall: 4.25
This one pours a moderately hazy golden orange, with a small foamy head, and a good amount of lacing.
Smells like tangerine, some dank candied pineapple, and just a hint of pine.
This is really light, but well balanced and flavorful. There's a really crisp citrus character, with creamy orange and tangerine, some orange peel and grapefruit rind, and a solid piney bitterness. It's not quite the unabashed juice haze bombs of the NE, but it's not really close to a West Coast style IPA either- it's somewhere in between, leaning more closely to NE.
This is medium bodied, crisp, and fairly soft. It's not quite as soft and pillowy as something like HF/TH/Trillium, but it's nice enough.
This was a good introduction to this brewery.
Jan 08, 2017
Y2kWasAnInsideJob from New York
4.46
/5
rDev
+7%
look: 4.25 | smell: 4.5 | taste: 4.5 | feel: 4.25 | overall: 4.5
4-pack of 16oz cans bought from the brewery. Canned on 12/05, drank on 12/06. Also had this beer in a flight at the brewery on 12/10.
Especially compared to the other beers in the flight, this one is pretty damn hazy. Creamy orange color. Really intense tropical and citrus peel aroma that carries through to the palate. Lots of grapefruit bitterness and flavor is filled out with pineapple and lime. Really, really drinkable for how dank it is.
I'm super excited about this brewery jumping into cans! Everything I had while I was there (first time) was great.
Dec 19, 2016

Billolick from New York
4.31
/5
rDev
+3.4%
look: 4.5 | smell: 4 | taste: 4.5 | feel: 4.25 | overall: 4.25
"A mash-up of old-school West Coast IPA and new-school Northeast IPA. Intensely juicy hops, hazy orange color, moderate bitterness and stone-fruit esters. A tropical fruit bomb on the nose, with flavor waves that carry through to the finish. Cascade + Mosaic + Azacca hops = a DANGEROUSly delicious PRECEDENT indeed"
Tall can purchased at Brew and Co in Bedford, NY
Canned "Dec 07" on the bottom of the can or less then a week ago...Nice.
Pours medium hazed dull tangerine, under a super long lasting khaki cap..., leaves a great looking frothy fim, and loads of lace all the way up on the glass.
Sniff turns up all sorts of ripe and citric fruity goodness, limes and pineapple coming forward.
More of the same on the palate....soft and ripe citric big time hop package..
Simply delicious stuff
very happy to be actually in the store when they put their two cases in the fridge..
A must try
Dec 13, 2016
Dangerous Precedent from Kings County Brewers Collective (KCBC)
Beer rating:
90
out of
100
with
48
ratings