Flagship IPA

Black Flag Brewing Company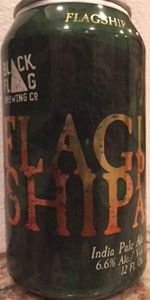 Write a Review
Beer Geek Stats:
| Print Shelf Talker
Style:

ABV:

6.6%

Score:

Avg:

3.75

| pDev:

14.4%

Reviews:

12

Ratings:

From:

Avail:

Year-round

Wants

Gots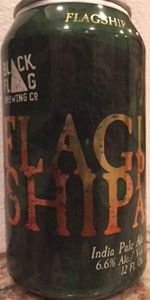 Notes: Citrus and Dank aromas and flavors paired with a muted bitterness.

3.69
/5
rDev
-1.6%
look: 3.5 | smell: 3.75 | taste: 3.5 | feel: 3.75 | overall: 4
This DelMarVa (+ DC) adventure of mine has morphed into my latest CANQuest (tm) focus! I really had no idea that MaryCANd, especially, was putting out so much beer. 8=O It seems as though every time I feel like I a close, some more beers from that area Pop! up from out of hiding to surprise me. Further, I am back to work so I CANnot keep up the pace that I set during the Christmas/Winter Break. 8=( On top of all of that, even New Beer Sunday is off-limits due to prior CANmitments. 8=( Inna meantime, a shout-out to my local, in-person trader, @tone77 who recently dropped this off for me.
From the CAN: "Flagship".
I gather that this is their flagship beer. I beCAN with a Crack! of the vent, followed by a slow, gentle C-Line Glug into the awaiting glass. This one displayed a real propensity for foaming with many fits and starts. It finally settled into two-plus fingers of dense, foamy, rocky, French Vanilla-colored head with very good retention, leaving a load of lacing in its wake. Color was a slightly-hazy Golden-Amber (SRM = > 5, < 7). Nose had a vegetal pungency, almost as though it were a wet-hopped beer. Hmm. It was minty, but not in the usual pine/evergreen way. Instead, this was more earthy, like spearmint or peppermint, fresh from the garden & brewed into tea. Hmm. Mouthfeel was medium-to-full, not quite creamy, but on the approach. The taste was equally odd, slightly medicinal, with a sharp mintiness that did not mesh well with the (possibly caramel?) malts. It reminded me of something, but I CANnot dredge it up. It seemed oversaturated in terms of its hops, giving it a chalky graininess in the mouth after the swallow. It was drinkable, but not wholly enjoyable. It tasted like its recipe needed tweaking as it was just too unbalanced in terms of its unrelenting bitterness. Finish was dry, but just too bitter for a seCANd go-'round, even for a hophead such as myself. Sorry. YMMV.
1,920 characters
2
/5
rDev
-46.7%
look: 2 | smell: 2 | taste: 2 | feel: 2 | overall: 2
Terrible. Almost made me sick. Has a barley wheat finish gone wrong sunk ship. Maybe its taste preferences but this beer is horrible!!!
I went back and gave it 2 stars instead of 1 because I drank the beer when I wasnt already drunk and it wasnt as bad
254 characters
3.8
/5
rDev
+1.3%
look: 3.5 | smell: 3.5 | taste: 4 | feel: 4 | overall: 3.75
Appearance:
Pours a pale straw yellow with a thick head. This is a very hazy beer, and looks to be quite rich, but looked a bit straw yellow to me.
3.5
Smell:
I get a mostly citrus/herbal hoppy scent from this beer. It smells like a very well hopped beer, but the scent isn't too strong and is a bit one-dimensional.
3.5
Taste 1-5:
Strong resinous hop tastes, but well balanced. Very drinkable, but with a satisfying hop punch to it.
4
Mouthfeel 1-5:
The beer is crisp, but with a heaviness to it. It is very satisfying to the palate. I could see myself getting carried away on these.
4
Overall 1-5:
I saw this beer today at my local store and decided to pick it up, and I am glad I did. It is a very well hopped American IPA that retains a surprising level of lightness and crispness. I would compare the beer to a lighter more quaff-able Dogfish head 60 minute.
3.75
877 characters

3.75
/5
rDev 0%
look: 3.75 | smell: 3.75 | taste: 3.75 | feel: 3.75 | overall: 3.75
On tap, it pours hazy yellow gold color with a 2 finger foamy head that faded slowly left little to no lacing.
Smells and tastes fruity with sharp malty notes that compliment the lemon, biscuit, grapefruit and orange peel. Not as hoppy as it smells, but smooth and easy to drink.
280 characters
3.85
/5
rDev
+2.7%
look: 4 | smell: 3.25 | taste: 4.25 | feel: 3.25 | overall: 4
Poured from the can, this IPA begins with a heavy rush of foam; filling the glass, it immediately subsides into a dark amber body topped by a flimsy head that leaves some splotches of lace around the rim. There is a pleasant nose of mango. Take a sip: there is an initial bitterness followed by the anticipated citrus notes. There is a mild bready heaviness in the mouthfeel, but nothing to distract from your quaff. While nothing extraordinary, Flagship IPA does make for a worthwhile brew.
493 characters
4.12
/5
rDev
+9.9%
look: 3.75 | smell: 4.25 | taste: 4 | feel: 4.25 | overall: 4.25
Poured from a can into a pint glass. Pours cloudy orange with a fluffy white head. Smells of citrus with slight piney and earthy notes. Tastes of citrus hops with a nice grain backbone, balanced, but nice bite. Beer is light bodied and very easy drinking, good carbonation. Overall, a very good beer.
305 characters

4.02
/5
rDev
+7.2%
look: 3.5 | smell: 4 | taste: 4 | feel: 4.5 | overall: 4
Hazy orangish gold, decent white head with ok retention, nice lace
Smells like grapefruit and herbs.
Nice grapefruit and herbal flavor. A nice, slightly caramelly malt backbone. Lingering herbal bitterness
Medium bodied, with appropriate carbonation
Not terribly exciting, but good for a go-to IPA for locals
308 characters
3.52
/5
rDev
-6.1%
look: 3.75 | smell: 3.5 | taste: 3.5 | feel: 3.5 | overall: 3.5
Poured from a 12 oz. can. Even a gentle pour couldn't slow this baby down. Has a golden color with a 1 1/2 inch head. Smell is of citrus, mint. Taste is grapefruit and orange zest, a hint of mint, fairly bitter. Feels medium bodied in the mouth and overall is a decent beer.
274 characters
3.83
/5
rDev
+2.1%
look: 4 | smell: 4 | taste: 3.75 | feel: 3.75 | overall: 3.75
On draft at brewery
Clear goldn color white head. Good lacing. Well rounded hop aroma - pine, citrus, earthy. Farily bitter, not much malt. Like a West coast IPA. Thinner bodied, crisp carbonation.
198 characters

3.94
/5
rDev
+5.1%
look: 4.5 | smell: 4.25 | taste: 3.75 | feel: 4 | overall: 3.75
New brewer for me, and a local operation to boot. Huge white head above a bright neon amber body with a plethora of citrus and herbal and floral hops accompanying the typical bread and butter note.
Big herbal and medicinal hops out of the gate and while agreeable, the hop flavor is only average. A hop bomb, this is not. Texture accommodates. Slightly better IPA than usual, especially as concerns drinkability. Worth a shot and a new MD brewer worth trying.
466 characters
4.03
/5
rDev
+7.5%
look: 4.5 | smell: 4 | taste: 4 | feel: 4 | overall: 4
Pours a hazy golden color with a tight, white head that leaves chunks of lacing.
Smells of bright, floral, and citrus hops.
Tastes of the bright hops layered over a solid malt base. Hops lead off with notes of orange peel, grapefruit, and flowers. Malts add in some caramel and toasted bread. Fairly balanced. More hops add towards the end with pine and minty herbs. Finishes with some lingering hop bitterness.
Mouthfeel is medium with a smooth amount of carbonation.
Overall, this is a tasty IPA. Nothing particularly new, but it is a good example of the style.
574 characters

4.28
/5
rDev
+14.1%
look: 4.25 | smell: 4.25 | taste: 4.25 | feel: 4.5 | overall: 4.25
Poured from can. Couldn't find a best by or canned on date, but since its from a brewery only 40 miles away I'm assuming its relatively fresh. Appearance is definitely an unfiltered IPA, but not a NEIPA. Nice dark orange hazy appearance with nice head and retention. Aroma is a nice blend of floral, pine and citrus. Fresh hops but not a pure citrus bomb. Taste reveals a surprisingly well crafted IPA. Standard American IPA that is, nicely hopped, respecatble balance of malt sweetness, full bodied, hop flavoring, then a moderate bitter finish. Everything blends quite nicely here. This was my first beer review from Black Flag brewery, and found this one quite respectable. I'll be giving more of their beers a try.
728 characters
Flagship IPA from Black Flag Brewing Company
Beer rating:
85
out of
100
with
34
ratings