Miner's Light
| Choc Beer Co. / Pete's Place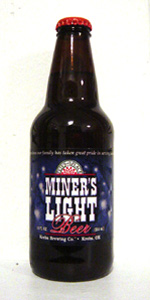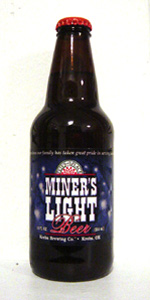 BEER INFO
Brewed by:
Choc Beer Co. / Pete's Place
Oklahoma
,
United States
chocbeer.com
Style:
Light Lager
Alcohol by volume (ABV):
not listed
Availability:
Year-round
Notes / Commercial Description:
draft only
Added by feloniousmonk on 04-06-2006
This beer is retired; no longer brewed.
HISTOGRAM
Ratings: 13 | Reviews: 12
3.3
/5
rDev
+6.1%
look: 3 | smell: 3 | taste: 3.5 | feel: 3 | overall: 3.5
Appearance: Pours a lightly hazed, gold body with, well, not much head.
Smell: Faint whiffs of malt, corn, and spicy hops. Moving on!
Taste: Faint light pale malts paired with some choice corn kernels. Lightly sweet. Spicy hops with just a hint of citrus flavor and bitterness, all of it light, mind you. Drying, crisp finish.
Mouthfeel: Light-bodied. Just a hair above medium carbonation.
Drinkability: Just what you'd expect it to be. It's a light lager and not too far removed from what you'd get from Budmilloors.
521 characters

2.73
/5
rDev
-12.2%
look: 3 | smell: 2.5 | taste: 2.5 | feel: 3.5 | overall: 3
Pours a hazy medium gold color with a small fizzy white head that fades very fast. Leaves some decent lacing though. Strange for a light lager to be this cloudy.
The nose is tart and fruity with hints of yeast, lemonade and grassy hops.
The taste is very odd. Sour lemons, tart berries and sweet grainy maltiness combine for a very strange brew to be titled a lager. I would have guessed kolsch. Mouthfeel and carbonation are fine, but I think this is a one and done for me.
476 characters
3.32
/5
rDev
+6.8%
look: 3 | smell: 3.5 | taste: 3.5 | feel: 3 | overall: 3
12 oz. bottle tried 10 Apr 2008.
Small white head. Moderate carbonation. Slightly hazy pale yellow. Smells sweet and grassy, lemony, pineapple. Starts peachy, grapefruity. Grainy sweet throughout. Finishes dry and slightly tart. Medium light body. Slight alcohol.
Seems more like a light ale than a light lager, not too bad overall.
334 characters
3.52
/5
rDev
+13.2%
look: 3 | smell: 3.5 | taste: 3.5 | feel: 3 | overall: 4
Big thanks to Beertracker for this bottle. Pours a slightly hazy golden color. Very little in the way of head or lacing.
Smell is quite a surprise for something that's labeled as a light lager. Lemon zest, acetic acid, and funk.
Tastes are watered down a bit, but still good. Sour lemon and wheat with a dry, puckering finish. Light bodied and drinkable.
Good stuff. Kinda lacking in flavor, but still refreshing.
417 characters

3.26
/5
rDev
+4.8%
look: 3.5 | smell: 2.5 | taste: 3.5 | feel: 3.5 | overall: 3.5
Thanks to Beertracker for this OK brew.
A-Hazy golden yellow, a bit deeper than most light beers. A medium bright white head reduced to a thin ring and left spotty lace.
S-An odd, slightly sour, corny biscuit aroma....and not much else.
T-Thank goodness the taste pulls the aroma out of the fire! Fairly flavourful light beer with a nice, sweet corn bread biscuity body upfront. A decent bitter twang in the background to make sure you know they really used hops in this! Not bad for a light beer.
M-Medium-light body. This really has body and is not a watery carbonated water substitute!
D-I actually liked this brew, light beer or not. I wouldn't reach for it all the time but to have it around to offer it to others as a BMC replacement...sure! Also, would make a good beer to have around to cook with. A nice all malt, unfiltered and flavourful light beer offering.
874 characters

3.26
/5
rDev
+4.8%
look: 3.5 | smell: 2.5 | taste: 3.5 | feel: 2.5 | overall: 4
Pours a slightly cloudy golden with a small white head. Smells of corn. Taste is of thin malt, with a small amount of hops to balance in the background. There is also a yeasty taste to the beer, likely from some of the sediment that spilled into the glass. Mouthfeel is pretty thin, carbonation is high. Very drinkable though, as a light lager should be. A bit more flavor than BMC, and doesnt have that sickly sweet taste that BMC beers have. Being an unfiltered, unpasturized bottle conditioned light lager though, this is the only choice in the category for me. I generally don't drink this type of beer, but on a really hot summer's day, this could hit the spot!
666 characters

3
/5
rDev
-3.5%
look: 3 | smell: 3 | taste: 3 | feel: 3 | overall: 3
Thanks to Beertracker for this brew.
Pours a cloudy light yellow color, nice carbonation, nice little creamy white head, which leaves some nice creamy sticky lacing. The nose is malty, slight yeasty, with some slight caramel. The taste is slightly sweet, malty, yeasty, and slight caramel. Light body. Drinkable, not the best of brew's, but still tasty.
354 characters
2.95
/5
rDev
-5.1%
look: 3 | smell: 3 | taste: 3 | feel: 2.5 | overall: 3
12 oz stubbie. Pours a hazy straw color with a solid cascade of bubbles that stick around a long time. The head is massive on this one and finally settles down at a finger over top. The aroma is lightly corn sweet with a mild honey touch along with a kiss of alcohol solventyness. The flavor is light with a solid corn and light husky grain. It is pretty mild overall. Thers is just a hint of hop bitter on the finish. Moutfeel is moderate with a distinct lack of carbonation in there, as everything came out during the pour. As far as light lagers go, this one has a little more flavor than others. There is a definite hop on the finish. I would like there to be better retention on hte carbonation, as the flat feel really doesn't work well for me.
750 characters
2.83
/5
rDev
-9%
look: 3 | smell: 2.5 | taste: 3 | feel: 2.5 | overall: 3
Pours clouded light golden with a thin white head.
The smell is a little musty, but a slight crispness comes through with heavy smelling.
Not much on flavor, but there is some malt and hops and taste is not unpleasant. Within style, it's not bad.
Not much to the mouthfeel. A vague crispness. Otherwise, close to carbonated water.
For the style, it's not too bad. Better than a micro light, but not much to it.
Thanks to beertracker for including this one - Not too bad of a quick refresher.
506 characters
3.34
/5
rDev
+7.4%
look: 2.5 | smell: 3.5 | taste: 3.5 | feel: 3.5 | overall: 3
Not a light beer fan but I'll review this while keeping the BJCP guidelines for Light Lager in mind.
A - Pale gold and very clear until I poured in the yeast at the bottom. Highly carbonated but only a small amount of head. No lacing to speak of.
S - Sweet but no detectable hops.
T/M - Nice and dry with excellent carbonation bite. Malt/Hop ballance is very good but there is some evident hop flavor. It feels thin which is expected, but is fairly refreshing.
D - It beats out your typical macros but nothing amazing.
530 characters
2.65
/5
rDev
-14.8%
look: 3 | smell: 3 | taste: 2.5 | feel: 2.5 | overall: 2.5
Color is a lightly hazed pale shade of gold. Carbonation is high. Head is small, with no retention. Aroma is that of a mildly sweet lager, with just a hint of herbal hop. Fortunately, no off-flavors are noted. Taste is thin and watery with a mild sugary sweetness. A mild, almost lemony off-flavor is in the mix. Just a hint of herbal hop and caramel malt constitute any interesting flavors here. Finish is abrupt. Well, this is better than macro light lager, but still not interesting enough to recommend.
506 characters
2.8
/5
rDev
-10%
look: 2.5 | smell: 2.5 | taste: 3 | feel: 2.5 | overall: 3
Clear, pale yellow coloration, short-lived head is gone in a flash, nothing to report on...
Aroma also is largely absent, aside from a corny, vegetal smell...not too pleasant.
Taste: Innocuous. Wetness is the most solid attribute, but this possesses nothing resembling flavor. slides down the throat with the effortless of aqua, but leaves nothing tasty on the way. A glimmer of grain greets the palate at first, but it fades into oblivion.
Mouthfeel: not much of any.
This would work for those who find Coors Light an acme of acheivement among beers. Anyone wanting more should search in other bottles, and leave this one be.
640 characters
Miner's Light from Choc Beer Co. / Pete's Place
Beer rating:
3.11
out of
5
with
13
ratings