Kuehner Weisse
| Choc Beer Co. / Pete's Place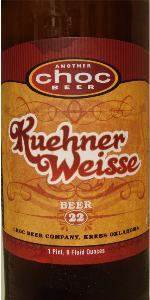 BEER INFO
Brewed by:
Choc Beer Co. / Pete's Place
Oklahoma
,
United States
chocbeer.com
Style:
Hefeweizen
Alcohol by volume (ABV):
5.00%
Availability:
Rotating
Notes / Commercial Description:
20 IBU
Added by stephens101 on 10-02-2008
Ratings: 11 | Reviews: 11
Reviews by skeetermoses:
3.93
/5
rDev
+16.6%
look: 3.5 | smell: 3 | taste: 4.5 | feel: 4 | overall: 4
I was pretty impressed with this one. The color is a nice amber color not too amber, but decent, lil too much of a carbonation feel when I drink it, overall this one was a good Hefe, I could really see drinking this one again, or even becoming a staple in the Choc line up. Overall a good beer that would go good with pork or beef. Not bad, will be trying it again.
365 characters
More User Reviews:
3.56
/5
rDev
+5.6%
look: 2.5 | smell: 4 | taste: 3.5 | feel: 3.5 | overall: 3.5
Part of my Midtown haul:
Pours a semi-hazed amber with 2 fingers of pearl white head. Below average head retention & lacing
S: Bready, yeasty & peppery, starts to get phenolic as this warms , plus band-aids
T: Bready with phenols ups front, plus crisp peppery notes. Much phenols as this warms & a touch of grainyness. Finishes crisp & dry, with a touch of band-aids
MF: Light/medium bodied with low but noticable carbonation
Drinks alright, but this had as much Belgian character as it did hefe, but not a bad beer to start the evening with
546 characters

4.1
/5
rDev
+21.7%
look: 4 | smell: 4 | taste: 4 | feel: 4 | overall: 4.5
Poured from 22 oz bottle into Ayinger weisse glass. Appears cloudy, light golden color with thick creamy offwhite head, about 1". Good head formation, low head retention, settles to thin film with a little lacing. Aroma is mostly bananas, some clovelike phenols, a little light grainy malt. Spicy cloves come through stronger in the flavor, along with some grainy malt, banana. Well attenuated. Mouthfeel is smooth with medium carbonation, dry finish. Thirst quenching, very drinkable.
485 characters

3.25
/5
rDev
-3.6%
look: 3 | smell: 3 | taste: 3.5 | feel: 3.5 | overall: 3
This beer pours a pale golden color with a finger of foamy white head that retains fairly well. The aroma is strong with earthy hops and bread. The taste is slightly floral and malty, with some spiciness at the end. The finish is clean and the mouthfeel is fairly balanced. Overall worth a try.
294 characters

3.33
/5
rDev
-1.2%
look: 4 | smell: 3.5 | taste: 3 | feel: 3.5 | overall: 3.5
Pours a clear golden amber with a big white head. Smells of banana and malt. Taste is tart and wheaty, not much Hefeweizen yeast profile though. Mouthfeel is rich, nice carbonation levels. Ok drinkability, but the tartness starts to grow old after awhile. Not the most authentic Hefe, but a good beer nonetheless.
313 characters
2.52
/5
rDev
-25.2%
look: 3 | smell: 3.5 | taste: 2 | feel: 2 | overall: 2.5
Thanks to Beertracker and thehand for bottles of this Choc brew. Pours a clear golden color just a tad darker than your standard macro. A head of coarse white bubbles forms and quickly dissipates into nothing.
Aromas of yeast, banana, flowers, and sweet citrus fruits are present.
The watered down taste begins with a tangy Belgian yeast flavor mixed with some generic spices and banana. As it warms a bread-like wheat flavor is noticeable. Carbonation is a bit extreme.
Of all the Choc beers I've tried so far, this was my least favorite. Very weak and unexciting.
568 characters

4.12
/5
rDev
+22.3%
look: 4 | smell: 4.5 | taste: 4 | feel: 4 | overall: 4
Wow, didn't even know this was coming out, and there it is on the shelf. Much promise for this one after the Biere de Garde. Ok, the label says this is a "true German-style offering". From the appearance, I would say we're well on our way to a true German-style offering. Comes in a 22oz. bomber with the traditional minimal Choc label, although a different font.
Has a hazy dark orange and brown color to it. Head is off -white thick and fluffy, but a bit bubbly with air pockets as well. A spotty, inconsistent lacing is left behind. Aroma is very spicy up front. Has very subtle elements of that original Choc metallic taste and smell, but is way creamier. It's the next logical step up from original Choc, and a damn good step up at that. There's also some bananas, apples, grapefruit, sweets and cloves mixed in aromatically. Pretty complex.
Tastes a bit sour at first, a sourness that works itself in well with the fruits, yeasts, wheat and spice. There's not a whole lot of carbonation. The more I drink on this one, the better it gets. At first I felt the mouth-feel could have been a little more creamy, but after my first glass I considered it almost perfect for the style. This is another fine brew from Pete's Place, and I am seriously happy they branched out and took on the challenge of making a true hefe, whereas most of their peers are stopping with the American wheat beer.
This one is going to give the Biere de Garde a run for it's money as Pete's best brew. Keep up the good work fellas.
1,514 characters

2.95
/5
rDev
-12.5%
look: 3 | smell: 3 | taste: 3 | feel: 3.5 | overall: 2.5
A-Pours a completely unexpected amber with a fluffy white head. Also appears to be filtered, not my preference in this style.
S-Sour milk and wheat.
T-Again, somewhat sour with some wheat character.
M-Medium bodied and a bit overcarbonated.
D-Not really for me.
HV
269 characters

3.03
/5
rDev
-10.1%
look: 3.5 | smell: 3 | taste: 3 | feel: 3 | overall: 3
A - Poured a hazy yellow color with a white head that leaves some lacing behind
S - Is of wheat citrus and some yeast
T - Follows the nose citrus and wheat for the most part
M - This beer has a lighter body with medium carbonation to it
D - I was a little let down with this one it was just average to me it was more of a wheat ale that a hefe to me theres better hefes out there before getting this one
407 characters

3.12
/5
rDev
-7.4%
look: 3 | smell: 3.5 | taste: 3 | feel: 3 | overall: 3
A 22 ounce bomber bottle shared by psycohops. Poured into a pair of shaker glasses. Nose and flavors consist of wheat, very light citrus, somewhat sour, grass, bread, mild peppery spice, yeast. The sourness put me off here. Medium in body with less that ample carbonation. Thanks for the chance to try this Bob.
311 characters
3.2
/5
rDev
-5%
look: 3 | smell: 3 | taste: 3.5 | feel: 3 | overall: 3
22 oz. bottle tried 8 Jan 2010.
Served in a Shiner Wheat glass. Small light tan head. Medium carbonation. Smells of sweet butterscotch and apple cider. Starts cidery and sweet tart. Flavor and body are somewhat watery. Finish and aftertaste is fruity sour.
Not bad but did not really seem like a hefe...
306 characters
Kuehner Weisse from Choc Beer Co. / Pete's Place
3.37
out of
5
based on
11
ratings.