Oak Aged Belgian-Style Quad
| Choc Beer Co. / Pete's Place
BA SCORE
81
good
15
Reviews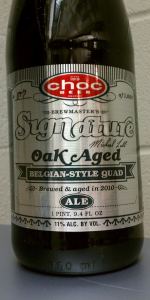 BEER INFO
Brewed by:
Choc Beer Co. / Pete's Place
Oklahoma
,
United States
chocbeer.com
Style:
Quadrupel (Quad)
Alcohol by volume (ABV):
11.00%
Availability:
Limited (brewed once)
Notes / Commercial Description:
No notes at this time.
Added by StaveHooks on 02-27-2011
This beer is retired; no longer brewed.
Reviews: 15 | Ratings: 20

3.55
/5
rDev
+2.9%
look: 3.5 | smell: 3.5 | taste: 3.5 | feel: 4 | overall: 3.5
Received this bottle in a trade about a year ago. Thanks to the trader! Opened and split with some friends at a recent tasting.
The cork pulled with an audible pop-and-hiss, thankfully. Pours a tawny amber with a small sheet of lace atop. The nose is really fruit-forward, with hints of cherry, strawberry, and oak. Mild ethanol burn in the nostrils. The body has held up well. Slightly slick feel, but drinks moderate-to-heavy. A good late-night sipper for sure. Sweet candy like flavors at the onset, and a surprising tartness. I saw that there may have been some infection issues. I'm not sure if I would call this one full-blown infected, but it definitely has some unique character to it. The cherry-flavor comes out with a bang, and finishes tart. Some mild dryness on the backend from the oak. I've never had an oak-aged Quad, so I'm not sure what to expect, but this was interesting. More tart than I expected, and lacked in its residual sweetness that I expect from a Quad. Glad I had the chance though.
1,014 characters

3.9
/5
rDev
+13%
look: 3.5 | smell: 3.5 | taste: 4.5 | feel: 3.5 | overall: 3.5
Found at a local store surprisingly still on the self. Brewed in 2010 bottled/released in 2011.
Smell Lots of vanilla and sweet malt a fruity note with a touch of earthy bread.
Sour, toasted oak, the alcohol is non existent, absolutely delicious, there is still a nice amount malt sweetness.
Overall I'm Thoroughly surprised in this brew time has done it well.
363 characters
3.45
/5
rDev 0%
look: 3.5 | smell: 3.5 | taste: 3.5 | feel: 3 | overall: 3.5
Light on body, yet full in flavor, this Belgian-style Strong Dark Ale has a prominant fruity flavor with medium tartness and a background of oak and malt sweetness for a very wine-like session.
Pouring a rusty brown color, and with a modest haze, the beer's early carbonation forms a thick blanket of lightly tanned foam. But soon after it disipates, it leaves the beer quite flat in appearance. Light on lace, I would have expected more.
Sharp fruity aromas of cherries, berries, and apples give the impression of tartness (shy of sourness), and a timid balance of light toasty, light chocolate, nuttiness, and wood must. A nice aroma, just lacking the heaft of malt aromas that's needed.
Again, the malt character of toasted barley, light caramel, chocolate, nuts have a mild showing; but then the fruit flavors dominate with black cherries, a mix of under-ripened and ripe berries, plumbs, and green apples surplant the malt complexities and give the beer a flavor that gets caught somewhere between a strong Belgian Dubbel and a Flander's Red Ale. Low on bitterness, the beer relies more on acidity and tanins for balance.
Medium bodied, the beer's fruity acidity seems to lighten the beer and discard any early creaminess. Acidic and becomming somewhat thin and astringent after mid palate and heading into finish. Without complete dryness, the beer leaves a thin sugary film on the mouth that's somewhat a distraction.
An enjoyable beer, but not what's expected from a Belgian Strong Dark Ale. This Oak Aged version seems to have a dull effect on the malts and brings about a lot of tanin astringency and flavor with fruity tartness that kicks it out of balance. It borrows characteristics from both Belgian Dubbels and Flander's Red Ales.
Thanks BlueOkie!
1,768 characters
2.03
/5
rDev
-41.2%
look: 3.5 | smell: 3 | taste: 1 | feel: 3 | overall: 2
750ml caged and corked bottle courtesy of russpowell. Thanks Russ! I really liked the regular quad from Krebs.
A huge pop when I pulled out the cork, it pours a slightly hazy mahogany colour, small and fast shrinking head of foam that does leave some lacing behind.
The smell has lots of oak notes along with dark pitted fruits and a similar sweetness to candi sugar and, what's this? Sourness?
The taste is dominated by the sour and the oak with, what I think, is some cinnamon spice. The aftertaste leaves a pretty strong flavour of vinegar. The dark fruits are there but overcome by, mostly, the sour content. There's a heck of a lot of booze coming through as well. Damn, the regular quad was SO much better; this could well be a drain pour for me; too bad. OK brews some very nice beers...
797 characters
3.97
/5
rDev
+15.1%
look: 3.5 | smell: 4 | taste: 4 | feel: 4 | overall: 4
Picked this bottle up from Freddy down in Jenks (BierGarten)
Pours an effervescent ruby/brown with 1 finger of tan head. Above average lacing & head retention, murks up a bit
S: Orchard fruit, figs, dark candi-sugar & sour notes
T: Faint fig notes combine with plums, a touch of tartness & vanilla up front, some currant notes as well, some oaky notes as well. Oaky dryness, figs & black currants as this warms, nice jammy notes mingle with a touch of booze, some tartness as well. Finishes dry, oaky with plummy & puckery/tart notes
MF: Medium bodied, fairly firm carbonation, nice warming sensation
I actually like this less than the regular quad, oakyness to seems to be a bit too dominant, but overall taste picks up the warmer it gets. ABV is fairly well concealed. Was hoping for better, the unleaded quad is cheaper & better
838 characters

3.4
/5
rDev
-1.4%
look: 3 | smell: 3 | taste: 3.5 | feel: 4 | overall: 3.5
This beer enjoyed at the Abner in Norman, OK in a Orval chalice. The beer pours a red brown with little head that does not retain at all. The aroma has hints of plum and cherry with some oak smokiness if I imagine really hard. The taste starts with some sweet plum and cherry and then becomes sour and finishes with some slight smokiness. The sourness is almost too overpowering in combination with the strong sweet flavors. The mouthfeel is nice and balanced with just the right amount of carbonation. Overall a decent quad... Let it age for a while to balance everything out a bit.
583 characters
4.02
/5
rDev
+16.5%
look: 3.5 | smell: 4 | taste: 4 | feel: 3.5 | overall: 4.5
Enjoyed during my long weekend in Tampa. I had the chance to meet some great people and try some new and some amazing new things. Had a lot of fun, but glad to be home. Enjoyed on 4/11/2011. Big thanks to Scott for bringing this one.
Pours into the glass with a reddish dark brown color. Small amount of head and lacing quickly evaporate and leave behind only a slight touch of lacing on the inside of the glass. But the aroma and flavor is really where it's at. The nose and the upfront aroma is dominated by a deep fruit note. Lots of cherries, currants, dark grapes and raisins. I was really surprised by how much of the fruit was in front. The oak was completely drowned out and almost an afterthought at this point. Warming brings it out even more and it really starts to become the major player here. Slight notes of vanilla in the finish give it a slight bit of sweetness in the finish, which masks the abv quite well. Not terribly carbonated, but very still. Slightly dry and lots of fruit finish it off quite nicely.
Overall a very solid offering that really threw me for a loop. Really just very well done and a very, very nice example of the style and what you can do with a little creativity and a barrel.
1,221 characters

3.22
/5
rDev
-6.7%
look: 4 | smell: 2 | taste: 4 | feel: 2 | overall: 3.5
A- Raisin in color with a big quickly dissipating head. Little lacing. Thin layer of head sticks around.
S- Nail Polish Remover with a hint of vinegar and dark fruits.
T- Awesome Vinegar and Oak. Dark fruits again.
M- very thin. Properly carbonated.
O- The taste is great. The smell and mouthfeel are slightly off putting. Seems like a big beer that got infected in a great way. The problem is that the beer is not correct for the style.
441 characters

2.85
/5
rDev
-17.4%
look: 3.5 | smell: 3.5 | taste: 2.5 | feel: 3 | overall: 2.5
Appearance: Large off-white head that quickly fades, prune-rasin beer below. No lacing to speak of.
Smell: a bit boozy, brown sugar and sweet leaf tobacco juice; prunes and dates behind.
Taste: Very hot, even at 11%, not particularly taste. Some heated and caramelized sugars, toffee, prunes and dates. Bits of bananas foster also.
Mouthfeel: Hot booze, medium body
Overall: I was not impressed with this beer and would not drink it again. I did not detect any evidence that this was oak aged.
497 characters
3.28
/5
rDev
-4.9%
look: 4 | smell: 3.5 | taste: 3 | feel: 3 | overall: 3.5
Choc, I really want to like your beers...
Well, let me first say that I am not the biggest fan of barrel aged beers. I think that the margin for success is very small unless the brewer is an expert at this technique. On to the review...
It is a good looking beer. Not a ton of head on my pour. It looks like dark mahogany with a tan head.
Smells like a Belgian with a hit of vinegar.
Taste is ok. Not great. Not horrible. Mouthfeel is very thin for a quad. The sour/vinegar note is very pronounced. It is devoid of the big fruity flavors most quads are known for. It is weird but drinkable.
If barrel aging is your thing, then give it a try. I just can't get down with it.
677 characters
3.17
/5
rDev
-8.1%
look: 4.5 | smell: 2.5 | taste: 3 | feel: 4 | overall: 3.5
1/2 inch bright head that disspiates quickly. Carbonation visible at pour but fleeting. Color is copper and cloudy with a moderate amount of light escaping through my Chimay glass. An intriguing boozy smell that is difficult to describe--given the description on the bottle, young & green oak bark came to mind. Sour/tart on the palate with a nice creamy mouthfeel. An aftertaste of grapes; almost like a wine. Not the most drinkable beer, even for a quad. A unique brew that is a bit too tart for my taste, but would be loved by anyone who likes a sour brew. Also, as a side note, one of the cheaper 750 ml quads I have seen ($5.99-$7.99).
Unverified information: A gentlemen I met in the liquor store told me that this was a "rescue brew" that Choc decided to age an extra six months in oak barrels rather than waste a batch of quad (not sure why it deviated from their standards for their standard quad, though). If so, a real show of ingenuity, especially for a young brewery.
981 characters

2.83
/5
rDev
-18%
look: 3 | smell: 2.5 | taste: 3 | feel: 2.5 | overall: 3
A smallish and quickly thinning tan head opens up to reveal a burgundy brew. Scattered remains of froth cling desolate. A little boozy to the nose at first with some grapes and phenols following. A little burnt sugar and grain exists. Thin and vinous on the palate, with a subtle malt presence and more graininess. Alcohol heat melds in with some grapefruit juice and there's an uneven tartness. Not getting much evidence of the barrel aging. Big fan of Choc, and absolutely love the Dubbel and the Bier de Garde, but this outing leaves a lot to be desired.
557 characters

4.01
/5
rDev
+16.2%
look: 4 | smell: 3 | taste: 4.5 | feel: 4.5 | overall: 4
Fantastic but very different. Lots going on in this brew. 750ml bottle into a glass.
A - Has an amber almost brown ale appearance. Coppery ane cloudy. Good head but quickly dissipates into nothing.
S - Very light on the aroma. Couldnt make it out really. Maybe my nose was just stuffy. Light woody and earthy smell. Thats all i could really get.
M - Great creamy mouthful with soft carbonation just like it should be.
T - Vanilla, anise, light fruits, and a sweet and sour finish. Definite oak and vanilla characteristics. Gets more sour as it warms. It's a good sour though. Tastes wonderful.
D - 11%abv, doesn't taste too strong but at same time you can feel
it sneek up on you. The drinkability would probably be low due to it coming in a 750ml bottle and high abv. Pretty darn tasty. I really like this a lot. And as forementioned on another comment, it'd be up there with Boulevards BBQ. Well played Choc!
917 characters
4.17
/5
rDev
+20.9%
look: 4 | smell: 4.5 | taste: 4 | feel: 3.5 | overall: 4.5
Much like many of the other Choc Signature Series, this beer hits the glass well carbonated but loses its bubble quickly. This beer is very sour when compared to its non-barrel-aged brother.
All in all, the color is very nice - a milky copper. The beer is quite acidic and lacks any lace. The taste is there, coming in as a nice sour quad. Its comparable to a Smokestack BBQ without the bourbon quality, and is somewhat reminiscent of a poor man's Consecration (Russian River).
A good effort by Choc, who is getting better and better with each beer.
A-
558 characters
3.21
/5
rDev
-7%
look: 3 | smell: 4.5 | taste: 3 | feel: 1.5 | overall: 3
Bottle #505 of 1,080
A - Pours up a murky red brown with a thin off-white head that dissipates immediately.
S - Spicy bananas and licorice right after the pour then quickly turns to acidic cherries, apples, ginger, and grapes. Heavy oak aromas, reminds of scotch. A mix of berries and fruity malt underneath.
T - Tart fruit-grapes, apples, under-ripened plums and sour cherries. Oak has big presence and brings vanilla and green apple scotch flavors. Spice, licorice, and orange stick to the back of the tongue. Finish has a mineral sweet-tart type of finish.
M - Flat, way low carbonation.
Lots going on here. The sourness was more than expected but welcomed. The oak defiantly took this quad over and made it completely different than the original. It actually balanced out the super sweet malt of the original. While I've never had a quad this sour I actually enjoyed the beer very much, except for the mouthfeel.
924 characters
Oak Aged Belgian-Style Quad from Choc Beer Co. / Pete's Place
3.45
out of
5
based on
20
ratings.