Brauerei Fässla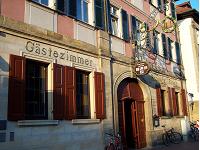 PLACE INFO
Type:
Brewery, Bar, Eatery
Obere Königsstraße 19-21
Bamberg
, 96052
Germany
(49) 09 51 2 65 16 and 2 29 98 |
map
faessla.de
Notes:
No notes at this time.
Added by BeerAdvocate
Reviews: 15 | Ratings: 21
3.9
/5
rDev
+7.1%
vibe: 3.75 | quality: 4 | service: 4 | selection: 4 | food: 3.25
I have drunk beer here (a lot of beer...), stayed here (several times) and eaten here. I find that the hallway drinking area is just about the best in Bamberg (roomier than the others), the food good but not great (I prefer the Brauerei Spezial across the street) and rooms range from adequate to great. They also serve a great breakfast when you stay there. I have spent many an hour in the hallway during my visits and have enjoyed it - discussing with the locals just about everything imaginable in my poor German - great! I also have visited the restaurant and even discussed it with a German pensioner - we both agreed that it was good, not great. I have also stayed there several times including alone with an adequate room, but when I visited with my wife, I was offered a standard or premium (5 euros more) room. We took the premium and it was stellar! Decent sized room, view of the Spezial and the street and nice bath (with shower) -- Comfy! Recommended to stay when you visit Bamberg due to it's location and amenities!
1,031 characters
2.69
/5
rDev
-26.1%
vibe: 4 | quality: 2.5 | service: 2 | selection: 3
Styled like most of the Bamberg brewpubs, this place offers their two own beers on cask.
OK, we visited this place quite late (11:30 PM) and just the beer garden was open. So we had to order the drinks at the counter, which is normally unheard of in Germany. The staff seemed more interested in chatting to each other than taking orders.
The beer garden is located at the inner courtyard with old brewery stuff on display on the walls.
The establishment also offers a few rooms for rent. According to a friend who has stayed there, they are quite basic and it seems like the guests often sleeps there just to be able to say "I have lived at a Bamberg brewpub".
670 characters
4.11
/5
rDev
+12.9%
vibe: 4.5 | quality: 5 | service: 3.5 | selection: 3.5
This was my first stop on my second trip to Bamberg. It was about noon on a Wednesday and the place was already packed with random dudes getting drunk in the hallway.
It is a rustic themed place with the brewery in production with all of its doors open literally right down the hall. There is also a small biergarten in the middle.
I had the pils and it was delicious.
For me the service was just the window. The prices were tremendously cheap like in all of Bamberg.
This place was so good I came back later in the day.
524 characters

3.88
/5
rDev
+6.6%
vibe: 4 | quality: 4 | service: 4 | selection: 3.5 | food: 4
Stayed here for a few days in June of 2011. I figure I can offer up some insight on the establishment as a hotel, bar, and restaurant.
We arrived on a Sunday morning as they close at 1PM that day. Luckily you have a key to not only your room, but the entire establishment! Rooms are nice, comfy, priced well, and include a solid breakfast every morning, too. The staff was great. I just figured I should mention that since it's an excellent option for travelers. You're essentially right in the middle of all of the local breweries, so the location is one of the best available.
In terms of the pub, like pretty much everywhere in Bamberg, there's a hallway (with ordering window), a standard wooden dining area with 2 rooms of tables, and a mini biergarten. I'd say it's roomier than most places and the family that runs the place is attentive. Things seem to be busy around lunch and especially in the later afternoons/evenings, but there's always some room to stand or sit. Oddly enough, they seem to have more "all-day drinkers" than most other places.
They have a beer menu at the window showing their offerings and mentioning which ones are draft vs. bottle. The bottling plant is in the back, so it's not like freshness matters!
They have a pils, helles, weiss, dark (kind of a dunkel/schwarz hybrid) and seasonal stronger brews on occasion. I wasn't a huge fan of the pils, but I definitely enjoyed the others.
Food was excellent. I think they had the largest cut of schnitzel in town. Prices were fair as well.
While I'm sure any visitor to Bamberg will likely want to hit up as many breweries as possible, Faessla is worth some extra time and I'd say it's a good place to stay as well. You're right in the middle of things and close to the train station to boot. When I return, Faessla is on my short list of places to stay.
Edit 8/13: On this visit the Gold Pils was surprisingly terrific, so maybe I just caught them with an older keg the first time? It wasn't quite Herren Pils-level, but it wasn't far behind either. They're still crowded with the "all day" crew, though.
2,087 characters
3.73
/5
rDev
+2.5%
vibe: 4 | quality: 4 | service: 4 | selection: 3
We visited here early June 2011, on a rainy Wednesday morning around 11.30am. The Stube bar rooms were already busy with locals playing cards, and a lively (now smoke free!) atmosphere. We sat outside in the central corridor (there is a tiny beer garden at rear in a courtyard) where there is a self serve counter. We had the "keller beer" in crock jug from small wooden barrel at €2.30 half litre and very pleasant it was too. Several locals were also standing in the corridor drinking the Pils and Keller beers and enjoying conversation. Several people came in and took away beer from the same counter. Despite the wet, a good stream of visitors enjoying the beers. One guy walked past us smiling and said "you like the smoke drought?!!" To which we agreed!
A very traditional beer establishment, popular with locals (as is Spezial opposite) and good beer - we even saw locals enjoying the beers in the corridor at 9.30am Sunday morning! Worth a visit, though don't be surprised if you cannot get a seat anywhere!
John W
B'ham Uk June 2011
1,045 characters
3.75
/5
rDev
+3%
vibe: 4 | quality: 4 | service: 4 | selection: 3 | food: 4
This was the first stop for Knuckles and I when we first got to Bamberg. We arrived right around lunchtime, and the place was packed with locals - all sitting at their usual tables. Lots of people were playing cards, which we discovered was a pretty standard thing in Bamberg.
Fässla has a central entry hall with a couple main dining areas off of that. It took us a couple minutes to find a place to sit and when we did find a place it was with another gentleman who was having his lunch. As it turned out this guy was born and raised in Bamberg, but had lived in the states for several years - which made for good conversation and also gave us great insight into the best of Bamberg's many breweries. Thanks whoever you were!
I had their Pilsner, which was nice - kind of average for German beer - but was a bit disappointed when that was all they had on tap at the time.
Using my hack german, I was able to decipher some fish-related item on the menu and ordered. Unfortunately the item I picked was basically raw trout with cold cream sauce - the only disappointing meal of my week in Germany, really - and mostly my fault for not knowing what I was ordering. My friends seemed to like their meals just fine.
We were on a mission to go to all 9 of the key breweries in Bamberg, so we had to go to Fässla. I'm glad I did, but on returning, I would probably focus on some of the other places.
At any rate - I like the little dwarf rolling the barrel that's on their logo.
1,480 characters
4.2
/5
rDev
+15.4%
vibe: 4 | quality: 4.5 | service: 4 | selection: 4 | food: 4.5
My first day in Bamberg was very rainy and we were hungry so it was off to either Spezial or Fässla for lunch. Spezial was full so Fässla it was. Easily found a seat and ordered their lagerbier which was very good. Also had a Helles Weizla which was pretty normal, so I then had another Lagerbier. Food was really good. The schweinhaxen were very tender & moist inside and krispy outside. Bratwurst good too.
The room itself was very nice and the indoor courtyard would be spectacular if it weren't raining.
510 characters
3
/5
rDev
-17.6%
vibe: 3 | quality: 3 | service: 3 | selection: 3
It was unfortunate that both Fässla's guest rooms (as well as Spezial's) were booked solid on our day in Bamberg, but I still wanted to take a quick look and have a Beer.
This place is a lot more worn down than the others, it didn't seem like the historical timewarp that Schlenkerla was, it was more like an old man's tavern, the Moose's lodge you grandpa hung out in. Oddly, it seemed to be more of a twentysomething hangout, even on a weekday afternoon. If there's a no smoking section in there, I didn't find it, but our little corner wasn't too bad, but bad enough not to eat or have more than one Beer. The house lager vom fass was good, but not great. Service was typical, our waiter was prompt with our order but turned into the invisible man when it was time for Zahlen bitte.
787 characters
4.1
/5
rDev
+12.6%
vibe: 3.5 | quality: 4.5 | service: 4 | selection: 4 | food: 4
I stayed here many years ago, but well before I became a BA, so this review is from September 2006, my third visit.
Grubby looking, but interesting all the same. We sat in the rear courtyard, past the sanding only, window served corridor, overlooked by the gabbled letting rooms.
The two inside drinking rooms are wooden panelled and smoke stained from years of old locals 'chewing the cud' and puffing away like mad. They were there on this visit also, filling the rooms with conversation and plumes of smoke, which is why my party of 6 decided to sit outside, as we wished to eat as well as imbibe.
The draught helles and my dunkel were all first class, each poured from a tap surrounded by a small barrel (fassla), can't tell where the beer really comes from though, certainly not from the little fake barrels.
If you have no German, the menu will be difficult, local dishes mostly, not found in any guide book. It appears to change daily, about 10 meals to choose from. Pork was the days meat (like most days I should think), although Beef was also on offer. Everyone enjoyed their food, my Jager (mushroom) sauce on my lump of pork was really good.
1,165 characters
3.64
/5
rDev 0%
vibe: 3.5 | quality: 3.5 | service: 3.5 | selection: 4
stayed a night in the pension upstairs with a window on the street overlooking Spezial. the atmosphere downstair was not what i found with other older spots, but i watched a world cup game with some aussies. the projector screen was in a side room that didn't have the ambience that the other might have had
service came from a window, and i was dissappointed they didn't have the Bambergator. but i suppose it was june (wasn't going to stop me). the three beers i tried were decent but unexceptional...go accross the street for superior brew
goood as an accomodation for the night—reasonable price, i believe, and i could use my Visa
641 characters

2.8
/5
rDev
-23.1%
vibe: 2.5 | quality: 3 | service: 2.5 | selection: 3
This place seemed a lot more 'blue-collar' than Spezial across the street. Very smokey. Oddly, the beer was actually a little more expensive?
Lot's of people standing around, smoking & drinking in the entranceway. I still don't quite understand this concept?
We sat inside, and shared a table with an older gentleman dressed in traditional bavarian (octoberfest-like) clothing. I should've posed for a picture with him!
I had both of their weizens (only available from the bottle at the time), and wasn't very impressed. I did have their Pilsener from a wooden cask though... and I'm pretty sure it's the best Pilsener I've ever had!
This centuries-old brewery has a colourful hologram projected out onto the sidewalk at night. Cool.
745 characters
3.86
/5
rDev
+6%
vibe: 4 | quality: 4 | service: 3.5 | selection: 4
Close to the train station, 5-10 minutes away from Schlenkerla. Several pretty dark rooms. I couldn't see much, as people were watching a soccer game in all the rooms. I sat close to the entrance, on a bench at a nice wooden table, with a large painting representing Bamberg in front of me. I had to get my beer from a booth, but that was probably due to the soccer game. Beer was cheap, and could be bought by 0,3l glasses, which was good for tasting (1.10 euro). Just before I left, I realized there was a tiny but very nice patio in the back. I missed it. Unfortunately, I couldn't try their strong beer, which is a autumn seasonal. A nice unpretentious brewpub. Good atmosphere.
684 characters

3.88
/5
rDev
+6.6%
vibe: 4 | quality: 4 | service: 4 | selection: 3.5 | food: 4
This place is located right across the street from Spezial. Typical archway, and some locals get their beers thru a window and drink standing around under the arch.
I visited the room to the right after entering the arch. The room was very well lit (sunlight, during the morning), and was quite busy even at 11 AM. Typical wooden tables with chairs and benches. The walls were adorned with framed pictures and old diplomas.
There were only a couple of biers available on tap, and I was sorry to find that their well known Zwergla was not one of them. However, the Pils was very good, and I was happy with that. Several biers were available in bottles including the Bambergator bock during my visit in November.
The service was very good, and the food was good (I sampled the "curry sausage" plate.) Overall a nice, comfortable place with good bier.
857 characters

3.94
/5
rDev
+8.2%
vibe: 3.5 | quality: 4 | service: 4 | selection: 4
I have overnighted at Fässla on three occasions thus far, and I very much do recommend it as a great place to stay at reasonable prices while in town. On my first visit in 1999, I did get to sample the beers and experience the nightlife of this place. I did enjoy it all. However, on the following two trips, I admit that although we had stayed there, there was simply too much journeying and such. Thus we missed out. I will offer that in my opinion, based on the latter two visits I noticed a more "scruffy" local crowd -- at least in the interior (the beerkeller outside may not have been quite so, since there were some couples). Still, I would not hesitate to recommend the place, especially if one is nearby. The fore-room by the service window is cozy when available, as there is a nicely-drawn mural of old Bamberg on the wall.
836 characters
3.73
/5
rDev
+2.5%
vibe: 4 | quality: 4 | service: 4 | selection: 3
This a good little pub right across the street from Spezial in Bamberg... when you enter you are in a sort of courtyard....you can get a bier inside from the waiter and drink it here if you like. Else, enter the Stube itself, which is a series of 2 long, narrow rooms off to the right. Place is lined with typically dark wood, and has many tables to accomodate you. Need I say smoky and sometimes loud? We're in Germany, right? You can get a slightly smoky lager vom Fass, or a nice dark bier called Zwergla. They also offer a Pils, Weizen and (seasonally) a Bock. Rooms are also available to rent if the need arises. Prosit!!
overall: 3.73
atmosphere: 4 | quality: 4 | service: 4 | selection: 3 | food: n/a | $
39
716 characters
Brauerei Fässla in Bamberg, Germany
3.62
out of
5
based on
109
ratings.