Kölsch
| Brown Van Brewing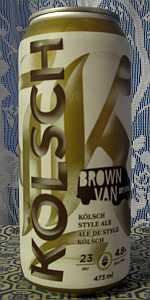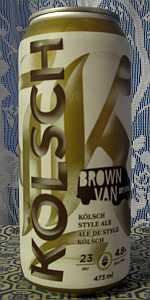 BEER INFO
Brewed by:
Brown Van Brewing
Ontario
,
Canada
brownvanbrewing.com
Style:
German Kölsch
Alcohol by volume (ABV):
4.80%
Availability:
Year-round
Notes / Commercial Description:
No notes at this time.
Added by mrcasual on 10-15-2016
HISTOGRAM
Ratings: 13 | Reviews: 6
Reviews by thehyperduck:

3.84
/5
rDev
+5.2%
look: 4 | smell: 3.75 | taste: 4 | feel: 3.5 | overall: 3.75
473 mL can from the LCBO; packaged Jul 11 2017 and served slightly chilled. Tried this right after a Gaffel for comparison.
Pours a clear, pale straw-yellow colour, with its half-inch of loose, soapy white head lasting no more than 2-3 minutes before diminishing to a frothy collar and thin cap. A mottled, sponge-print pattern of lacing is imprinted onto the glass, completing the look for this attractive lagered ale. The aroma is clean and plain, which is apt for the style - grassy, wet hay and grainy pale barley malt sweetness are discernible, with added hints of weedy, leafy herbal hops. To my surprise, this is actually quite similar to the Gaffel so far.
A pretty solid German-style brew, although not without its flaws. The taste is along the same lines as the nose, with gritty, grainy pale malts and light crackery sweetness at the forefront of the sip. These are countered with the customary, restrained continental hop bitterness, which comes off grassy, leafy, and just a tad herbal and spicy; it finishes dry, without much in the way of an aftertaste. Light in body, with moderately low carbonation that softens significantly over the course of the glass. The mouthfeel is the only aspect of this brew that bugs me - I prefer a more crisp texture from a kölsch, and this one feels a little, well, Still, it's refreshing enough to serve as a proper thirst-quencher.
Final Grade: 3.82, a B+. Brown Van Kölsch may not be perfect, but I'd say it's still a strong effort and a respectable emulation of the style. Plenty of Ontario brewers have taken a stab at 'lagered ales' over the past two years or so, yet almost none of them have really managed to nail it. This one is better than the majority of those.
*Update: I grabbed a second can a few days later and my opinion hasn't changed much. I'm tempted to call this one of the best examples of a kölsch you can find at the LCBO these days... not bad for a contract brewer. If you like Lug Tread, seek this one out.
1,987 characters
More User Reviews:

3.6
/5
rDev
-1.4%
look: 3.75 | smell: 3.75 | taste: 3.5 | feel: 3.75 | overall: 3.5

3.75
/5
rDev
+2.7%
look: 4.25 | smell: 3.5 | taste: 3.75 | feel: 4 | overall: 3.75
Pure gold with chill haze, head pure white like rice, thick and fluffy with very good retention.
Aroma is mineral, metallic, mildly vegetal, grain.
Caramel malt, big on the butterscotch, but not too sweet as it is balanced with mineral notes and a lightly dry finish. It's relatively crisp, with medium body and carbonation.
A good example of the style, avoiding be overly sweet which is usually the turn off for me. Even so, not something I would go back to simply because I'm not a fan of style.
498 characters
2.93
/5
rDev
-19.7%
look: 3.5 | smell: 3 | taste: 3 | feel: 2.5 | overall: 2.75
Can: Poured a clear golden color Kolsch with a nice large white foamy head with good carbonation and some retention. Aroma of unrefined grain with light butterscotch notes is more or less pleasant. Taste is also a mix of unrefined grainy notes with light butterscotch notes and a weird finish. Body is about average with good carbonation. This is a tough style to master and this one was a miss.
396 characters

3.69
/5
rDev
+1.1%
look: 3.5 | smell: 3.75 | taste: 3.75 | feel: 3.75 | overall: 3.5
Can from the lcbo for around $3. Refreshing.
44 characters

3.58
/5
rDev
-1.9%
look: 4 | smell: 3.5 | taste: 3.5 | feel: 3.5 | overall: 3.75
4
/5
rDev
+9.6%
look: 4 | smell: 4 | taste: 4 | feel: 4 | overall: 4
Light golden in color. Light floral scents. At 23 IBU and 4.8 ABV, this kolsch is light, refreshing, and highly crushable. Canned from the LCBO.
152 characters

3.75
/5
rDev
+2.7%
look: 3.75 | smell: 3.75 | taste: 3.75 | feel: 3.75 | overall: 3.75

3.79
/5
rDev
+3.8%
look: 3.75 | smell: 3.5 | taste: 3.75 | feel: 4.25 | overall: 4
Review from notes. LCBO purchase for just over $3 CDN.
Appearance - Clear and bright golden color. Close to a finger of dense white head rests on top of the beer and sticks around for awhile.
Smell - Some bready malts, slight lemon aroma. Fairly simple. A touch of white grape at the back end.
Taste - Pretty much like the nose, with a little bit of amplification. The bready flavors and slight grassy taste come through nicely as does crisp suggestion of lemon and grape.
Mouthfeel - Excellent, extremely crisp and clean, abundant carbonation but not too fizzy and drying finish.
Overall - A pretty damn good representation of the style, as we move to hot summer days, beers like this are fantastic in beating the summer heat.
732 characters

4.2
/5
rDev
+15.1%
look: 4 | smell: 4 | taste: 4.25 | feel: 4 | overall: 4.5

3.25
/5
rDev
-11%
look: 3.25 | smell: 3.25 | taste: 3.25 | feel: 3.25 | overall: 3.25

3.5
/5
rDev
-4.1%
look: 3.5 | smell: 3.5 | taste: 3.5 | feel: 3.5 | overall: 3.5

3.63
/5
rDev
-0.5%
look: 4 | smell: 3.5 | taste: 3.75 | feel: 3.5 | overall: 3.5
A good clean koelsh, not too heavy or sweet, nicely hopped. Grassy on the nose and to taste. Hazy lemony yellow with a substantial head and good lacing. Agreed that it is not overly sweet, which I'm not to find of in the style. Plain drinking, competently made.
261 characters
Kölsch from Brown Van Brewing
Beer rating:
3.65
out of
5
with
13
ratings