3 Ravens Rye
| 3 Ravens Brewing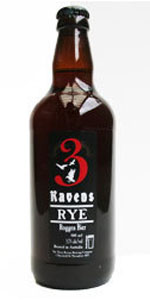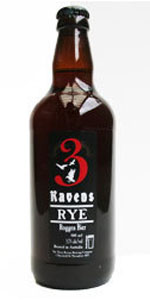 BEER INFO
Brewed by:
3 Ravens Brewing
Australia
3ravens.com.au
Style:
Roggenbier
Alcohol by volume (ABV):
5.70%
Availability:
Limited (brewed once)
Notes / Commercial Description:
No notes at this time.
Added by brendan13 on 09-26-2010
This beer is retired; no longer brewed.
HISTOGRAM
Ratings: 8 | Reviews: 8
Reviews by lacqueredmouse:
3.64
/5
rDev
+6.7%
look: 2.5 | smell: 3.5 | taste: 4 | feel: 3.5 | overall: 3.5
500ml bottle purchased from Slowbeer.
Pours a goopy red-brown colour, with a generous heft to the body, and almost no head to speak of. Actually, that's unfair, as a vigorous pour gives a tenuous ring of white bubbles around the edge of the glass, and some fine filming across the top. Body is insanely thick for 5.7% ABV. Carbonation is fine. It looks, just a little bit too odd.
Nose is pleasant with a slightly sour rye spice and a hint of smokiness. Pleasant savoury notes come through, and a touch more roasted than the colour suggests. Not bad.
Taste is very pleasant, if light. There is indeed a smokiness to the palate, but it bounces off the light flavours of the rye, giving a spicy, smoky melange that is surprisingly refreshing. Minimal sweetness, and surprisingly little body, despite what it looks like.
Not a bad brew, if a somewhat subdued one. 3 Ravens do tend to brew pretty mild beers, even ones that are oddities of style like this one. But although they're simple in characters, I don't think I've ever disliked one, and this is no exception to the rule.
1,079 characters
More User Reviews:
3.67
/5
rDev
+7.6%
look: 3 | smell: 3.5 | taste: 4 | feel: 2.5 | overall: 4
Pours copper with a small head.
Nose shows fruity and floral hops (lots of orange) along with slightly toasty malt and hints of coconut. Very sweet, later on some spicy cloves show.
Similar flavours with lots more orange peel. Some soft alcohol shows, merging with the sweetness.
Carbonation is distractingly high.
314 characters
3.2
/5
rDev
-6.2%
look: 3.5 | smell: 3.5 | taste: 3 | feel: 3.5 | overall: 3
500mL bottle thanks to
[email protected]
Treacle on the pour, clear ruby red against the light. Head is yellowy white and sudsy, bit over a finger, and falls to a bare ring.
Plenty malty and yeasty, with a moderate lactic sourness. Caramel, banana, musk, balsamic and morello cherries, with touches of candied cinnamon and nutmeg. Quite a clean aroma really.
The rye turns it on, putting all but the sweet ester character in the shade and contributing an earthy, woody, metallic flavour.
Medium bodied with decent length thanks to the rye, with a spicy prickle on the tongue mid-palate.
Interesting hybrid of better known styles. Reasonably drinkable but unconvinced whether the level and nature of the rye contributes more positive than negative qualities.
761 characters
3.2
/5
rDev
-6.2%
look: 3 | smell: 3 | taste: 3.5 | feel: 3 | overall: 3
This pours a cloudy amber colour with a thick beige head that disappears to leave a very light covering.
On the nose I had a hint of antiseptic first off but that blew off and left sweet caramel malt. Not getting the bananas that I was expecting after reading the other reviews.
On the palate I get medicinal smokey flavours. Lots of smokey flavours coming through as it warms up.
Full bodied with a tongue coating unctuous that I'm not a fan of.
I've let this warm up to see if the bananas would come out and all I get is more smoke. I think they have tinkered with the recipe.
I think I would have prefered the bananas.
626 characters

3.27
/5
rDev
-4.1%
look: 3 | smell: 3.5 | taste: 3 | feel: 3.5 | overall: 3.5
A - Five seconds of an active, bubbly head, then nothing. No lace. Body is a rusty, ginger colour.
S - Rye bread, banana, honey, toffee.
T - Follows the nose yet less intense than I would like. Banana and rye are prominent. A slight bitterness to finish.
M - Clean. Light body, high carbonation.
O - Easy drinking. Id like more for my $$$ though. I think it was $14 for 500ml.
380 characters
3.15
/5
rDev
-7.6%
look: 3.5 | smell: 3.5 | taste: 3 | feel: 3 | overall: 3
This brew pours a burnt amber hue with decent carbonation that leaves behind a fast dissolving one finger head and no lacing,the aromas are bananna,nutmeg and a underlying sweet toffee alcohol aroma,the mouthfeel is very lightly bodied and well carbonated and the tastes of bananna,spices,toffee and barley sugar make a brief appearance but only brief and it definately isnt a complex or memorable brew by any means and to be honest im a little dissapointed as it comes across pretty much just like an above average amber ale i mean im glad this brewery tries these different styles but i just wish they could taste alot better as just like their last single batch brew i will not be revisiting this one either.
711 characters
3.63
/5
rDev
+6.5%
look: 4 | smell: 3.5 | taste: 3.5 | feel: 3.5 | overall: 4
A - Quite a clear amber colour with a 2cm off white head that falls away fairly quickly.
S - Smell is full of banana with tocuhes of pepper spice.
T - More banana in the taste with some pepper notes & light maltiness.
M - Suprisingly quite light bodied with a moderate carbonation.
D - Well worth trying and I'd probably drink it again.
340 characters
3.5
/5
rDev
+2.6%
look: 3.5 | smell: 3.5 | taste: 3.5 | feel: 3.5 | overall: 3.5
Mildly hazy copper colour with a small light tan head. Poor head retention.
Mild banana and clove ester profile with a light spicy hint in the background.
The flavour is smooth, slightly sweet with obvious esters and phenolics from the yeast. There is a touch of rye spice but it could be higher. There is a slightly odd not on the backend.
Medium body with moderately-high carbonation.
A decent beer but it lacks a bit of finesse and could do with a higher proportion of rye.
480 characters
3 Ravens Rye from 3 Ravens Brewing
Beer rating:
3.41
out of
5
with
8
ratings