Labatt Lite

Labatt Brewing Company Ltd.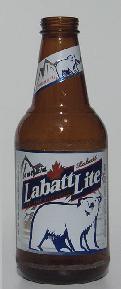 Write a Review
Beer Geek Stats:
| Print Shelf Talker
Style:

ABV:

4%

Score:

Avg:

2.37

| pDev: 30.8%

Reviews:

6

Ratings:

From:

Avail:

Year-round

Wants

Gots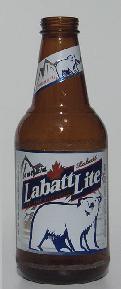 Notes: Labatt Lite was introduced in 1977 as the first "light" product in Canada and was initially called Labatt Special Lite. Using a patented fermentation process, the beer is brewed to a lower caloric content while retaining full flavour (this process minimizes carbohydrate content in the finished product). Labatt Lite is slightly more bitter than most light beers, with a true hop flavour delivery. Using imported European hops and a unique special blend of malt; it delivers a truly dry taste with minimal sweetness and low aftertaste.
Reviews: 6 | Ratings: 18
3.41
/5
rDev
+43.9%
look: 2 | smell: 2.75 | taste: 3.75 | feel: 3.75 | overall: 3.75
Don't understand all the bad reviews, don't taste watery like bud light and doesn't have the bad aftertaste Coors light has which is the two most popular beers here, by far my favorite light beer
195 characters
2.85
/5
rDev
+20.3%
look: 2 | smell: 2 | taste: 3 | feel: 3.5 | overall: 3.5
Poured into a glass beer mug. If you cant drink beer out of a mug its not a beer!
Appearance- Pale Clear Yellow
Smell - Not much more than a hint of beer odor
Taste- Clean. Not much flavor.
Mouthfeel- No bitterness. Very light and clean. not much for an aftertaste.
Drinkability- Easy to drink. Would be good on a hot day. Nothing unique or interesting about the flavor.
375 characters

2.08
/5
rDev
-12.2%
look: 2 | smell: 1.5 | taste: 2 | feel: 2 | overall: 3
A: Pours a very pale clear yellow. Poured a two finger soapy head that quickly went away. Leaves the occasional bit of lacing.
S: Very light smell of grains and maybe some corn.
T: Tastes like water. Maybe some grainy and corn notes but otherwise there's really not much to the taste. Basically the same taste as Labatt Blue except that it's more watered down.
M: Very fizzy medium carbonation with a very light body. Finishes dry.
D: This is quite easy to drink seeing as the body is so light. There's not much to say about this beer since there's really not much too it. I can how it's a more popular macro beer (at least in Manitoba) but once you get a taste of something with actual taste, you'll never be able to look at this one the same.
751 characters
1.98
/5
rDev
-16.5%
look: 2 | smell: 1.5 | taste: 2 | feel: 2 | overall: 2.5
Since I've been reading a decent book about the Labatt/Molson advertising wars of the past number of decades, I was moved to grab a cheap single of each of their products - thought I was getting Blue Light with this one - naw, who am I kidding - I'm not expecting anything...
This beer pours a very pale straw "colour", with a quarter finger (I measured) of thin soapy white head, which actually leaves some lace around the glass as it quickly flattens out to the surface. It smells of very mild white grain/corn, and a light essence of nail polish remover. The taste is a wafer thin white grain/corn huskiness, and then, well, nothing. Zip. Beer over. The carbonation is too fizzy, the body way light and watery, and it finishes dry, and clean, the measly grain ingredients too exhausted to stick around for closing.
Apparently there are two lite/light versions of Labatt's flagship pilsener, and I found the one that seems already well demoted to the remainder bins of the nations' liquor store, which is exactly where I found this little slice of banality. I could drink this all day, especially if it were hot and sunny, and I was craving water, and not the taste of beer, even in the slightest.
1,201 characters
1.75
/5
rDev
-26.2%
look: 2 | smell: 2 | taste: 1.5 | feel: 1.5 | overall: 2
Wow, Lab Lite. Again, sitting around at the Girlfriend's Parents place, so I try and review it... This is called Labatt Blue Light in other provinces.
Looks like almost-clear piss. Pours with almost no head, a bit flat looking. Weak skunky odour of corn and vegetable malts, and maybe a bit of soap for good measure... Taste is almost non existent, incredibly watery with mostly sweet malts and a skunky aftertaste. Like I've been drinking cheap beer. (Go Figure) Where are the hops? I'm not sure.... Mouthfeel is all fizzy water.... I'd drink this all night if I had a big bottle of clamato juice to go along with it, at least it would have a bit of flavour.
663 characters
1.67
/5
rDev
-29.5%
look: 1.5 | smell: 2 | taste: 1.5 | feel: 2 | overall: 1.5
This is a strange brew. Labatt's tried to get rid of Lite (introduced in 1977 when it was called Special Lite) but folks wanted to keep it so, now there are two light lagers! Neither one are particularly good but this one is worse. It is a very pale yellow, nearly clear. Soapy head. Nose: boiled corn. Thin, watery, dead. My goodness there are NA's out there that are much better than this. Almost tasteless. One really needs to concentrate on trying to taste something. Metallic? I can not bring myself to finish this. Deciding to try every beer I can buy in my own province has brought me to this. I'm not coming back.
621 characters
Labatt Lite from Labatt Brewing Company Ltd.
Beer rating:
67
out of
100
with
18
ratings