Labatt Twist
| Labatt Brewing Company Ltd.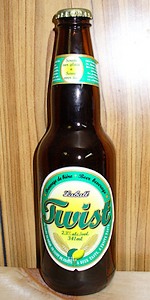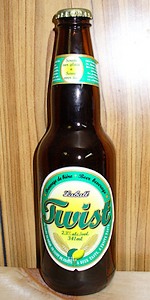 BEER INFO
Brewed by:
Labatt Brewing Company Ltd.
Ontario
,
Canada
labatt.com
Style:
American Adjunct Lager
Alcohol by volume (ABV):
5.00%
Availability:
Summer
Notes / Commercial Description:
No notes at this time.
Added by BeerAdvocate on 05-03-2008
This beer is retired; no longer brewed.
HISTOGRAM
Ratings: 9 | Reviews: 8
Reviews by tgbljb:
3.45
/5
rDev
+27.8%
look: 3.5 | smell: 3.5 | taste: 3.5 | feel: 3 | overall: 3.5
Part of a variety pack on sale for $12 at the local store.
Poured a bright golden color with moderate white puffy head. Good retention and some nice lacing.
Smell has some distinct lime character.
Taste also has a touch of lime, and some sweetness in the background.
Finishes a bit thin with rapidly disappearing taste.
Not a bad beer. Good for a summer afternoon.
369 characters
More User Reviews:
3.6
/5
rDev
+33.3%
look: 3 | smell: 3 | taste: 4 | feel: 3 | overall: 4
rating this for what it was designed to do...
like the other labatt's in this 'heritage' collection (?!), it pours a nice head, good lacing, golden like a lager...nothing sad or amazing.
smells like any macro lager but with the hint of lime...at least it isn't overpowering, so that's good.
the lime taste is actually on the subtle side...i expected worse! if anything, after weedeating, this is very refreshing....and not as dull as the Summer Blonde i had before! the lime makes this otherwise usually ok lager make a stand for something. for what it is supposed to be, i rate this as GOOD (4...!). yikes. good thing i did just have a nugget nectar....
mouthfeel is fine, average, what it should be.
drinkability is good for sure....that is, if you are hot, at a party, finished with a chore...all of the above. i wouldn't want one sitting in a bar when there HAS to be better choices. this has its place. and i assume its better than those put out by miller, etc. kudos for AT LEAST the subtlety...
1,006 characters

2.53
/5
rDev
-6.3%
look: 3 | smell: 2.5 | taste: 2.5 | feel: 2.5 | overall: 2.5
I found this single 12oz brown bottle at the Binny's in Plainfield, IL for $1.19. I didn't know Labatt's made a lime beer. I hope it's better than the other lime beers I have tried so far.
The beer pours a crystal clear golden color and makes a 1 finger fizzy white head. Retention lasted about 90 seconds and there was very minimal lacing present.
The beer smelled like a powdered lime-ade mix and that's about it.
The lime flavoring in here is a lot more subtle than what you find in most lime beers. Unfortunately, the malt content is also so low that the beer doesn't have much flavor at all. It tastes a bit like lime flavored seltzer water.
The carbonation level is really high so the beer has a light and spritzy mouthfeel but there's not enough beer flavor to make it enjoyable. Looks like another lime flavored beer bites the dust.
845 characters

1.16
/5
rDev
-57%
look: 2 | smell: 1 | taste: 1 | feel: 2 | overall: 1
Pale yellow and completely clear with a fizzy seltzer head that shrinks into a skim almost at once. The smell is powerful artificial lime and cheap beer, it kind of reminds me of a urinal cake. Yup, it's bad, kind of like a Corona with a lime even more like the dreaded Bud light lime. Light bodied and effervescent. A wretched concoction that skews the line between shitty beer and Flavored malt beverages.
407 characters
2.97
/5
rDev
+10%
look: 2.5 | smell: 3 | taste: 3 | feel: 3 | overall: 3
Pours a clear, pale straw color. 1/3 inch head of a white color. Slight retention and poor lacing. Smells of lime, slight grain, and slight pale malt. Fits the style of an American Adjunct Lager. Mouth feel is sharp and crisp with an average carbonation level. Tastes of lime, slight grain, and slight pale malt. Overall, the lime is dominate of other flavors and aromas, but otherwise very lacking.
399 characters
2.98
/5
rDev
+10.4%
look: 3 | smell: 2.5 | taste: 3.5 | feel: 3 | overall: 2.5
Poured from a 12 ounce bottle as part of the summer sampler 24 pack. Pours golden with about an inch of head that quickly falls flat. Lemon lime soda/ fizzy water flavor. Very little malts flavor hiding in there. Almost a sweet tart flavor or kind of reminds me of pixey sticks. Mouthfeel is mostly watery. Could be easy enough to drink a few of these.
352 characters
2.31
/5
rDev
-14.4%
look: 3 | smell: 2 | taste: 2 | feel: 3.5 | overall: 2.5
A. Looks abit awful. Labatt and Lime. I Doubt this will be tasty.
S. Smells vaguely beery. Like spent cereal grains.
, Tastes a bit malty, but then an artifical lemon/lime taste thats bad. Sickly sweet and on par with Corona and lime syrup poured into labatt blue. E'Gads!
M. Its medium bodied and smooth. Not the worst part of the beer, its the flavor.
D. One is more than enough. I would not reccommend drinking this.
423 characters
2.81
/5
rDev
+4.1%
look: 2 | smell: 3.5 | taste: 2.5 | feel: 2.5 | overall: 3
Clear straw yellow color. Totally see-through. Bubbles like ginger ale. No head, decent carbonation. No body.
The light lager aroma completely is overshadowed by a sweet Sprite-like lime aroma. Has a surprising vodka aroma. Actually surprisingly refreshing because the beer is overshadowed.
The taste is sweet 7Up and a little sourness. Butterscotch aftertaste. Actually, the malt emerges a bit, but this is a beer for non-beer drinkers. Too sweet and sour. Might as well go gin-n-tonic.
The feel is lacking: almost no body. Some carbonation adds a little. This is not a "beer." Nonetheless, it's drinkable. Weak, but pleasant enough.
637 characters

Labatt Twist from Labatt Brewing Company Ltd.
Beer rating:
2.7
out of
5
with
9
ratings