Labatt Honey Lager
| Labatt Brewing Company Ltd.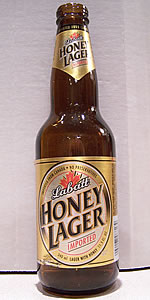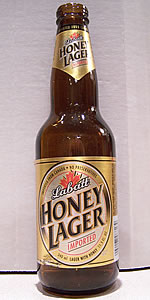 BEER INFO
Brewed by:
Labatt Brewing Company Ltd.
Ontario
,
Canada
labatt.com
Style:
American Adjunct Lager
Alcohol by volume (ABV):
5.00%
Availability:
Year-round
Notes / Commercial Description:
No notes at this time.
Added by jadpsu on 01-13-2009
This beer is retired; no longer brewed.
HISTOGRAM
Ratings: 10 | Reviews: 8
Reviews by Buggies:

2.98
/5
rDev
+5.3%
look: 3 | smell: 2.5 | taste: 3 | feel: 3 | overall: 3.5
A typical adjunct lager I suppose. There isn't much on aroma or taste. For a honey lager, I really didn't pick up on any in the aroma or flavor. It is mostly sweet malt and corn, with no hops at all. This one isn't terrible, but I would buy this by the case.
258 characters
More User Reviews:
2.85
/5
rDev
+0.7%
look: 2.5 | smell: 2.5 | taste: 3 | feel: 3 | overall: 3
looks ok, smells ok, tastes a little more than ok (the honey at least doesn't add 'sweetness' but rather a tartness), decent carbonation...all makes it drinkable, but nothing special or standout. i mean, nothing bad at all, but then i don't drink beer because it's consumable or tastes ok...yawn
295 characters

2.55
/5
rDev
-9.9%
look: 3 | smell: 3 | taste: 2 | feel: 2.5 | overall: 3
Clear honey copper with a greyish white head that fades quick. Faint honey spiked cereal grain makes up the nose. Light adjunct flavors with a hint of honey and a slightly metallic flavor. Finishes squeaky clean. Thin bodied and crisp. Drinkable? yeah, but just another in the long line of light lagers.
303 characters
2.87
/5
rDev
+1.4%
look: 3 | smell: 3.5 | taste: 2.5 | feel: 2.5 | overall: 3
Poured bottle into pint glass.
Appearance: Pours a golden color that is fairly clear without being either cloudy or crystal clear. It has a small head that dissipates quickly.
Smell: Has a nice malt smell that is a little sweeter than normal. It's fair to assume it's honey, although I couldn't identify honey specifically.
Taste: I was slightly disappointed here. I was expecting something a little sweet and mildly unique, but it has a pretty standard watered-down adjunct flavor. It is fairly smooth, though.
Mouthfeel: Has quite a thin body while not exactly watery.
Drinkability: It's okay, but it's nothing particularly special.
644 characters
2.63
/5
rDev
-7.1%
look: 3 | smell: 2.5 | taste: 2.5 | feel: 2.5 | overall: 3
Poured from a 12 ounce bottle in to a mug. Amber color with a thin lacing of head. No basic smell other than added sweetner. Crisp sweet flavor, not totally unlike honey sweeted granola. Nothing to interesting here. Mouthfeel is okay but ends up kinda dry. Pretty drinkable, nothing offensive.
293 characters

3.02
/5
rDev
+6.7%
look: 2.5 | smell: 3 | taste: 3 | feel: 2.5 | overall: 3.5
Got this as part of sample 12 pack. Couln't find anything of ABV.
poured medium golden, clear along with a generous off white head, with basicaly little if any retention.
Honey, though not strong and not much else does come through in the aroma.
Hops are nearly absent and maltiness is only a little greater.
Drink is thin and weak with little carbonation. Nothing offensive but nothing worth the price of over $20.00 for a case.
430 characters
2.78
/5
rDev
-1.8%
look: 3 | smell: 2.5 | taste: 3 | feel: 3 | overall: 2.5
A pale amber color with a thin white fizzy head,lots of carbonation. Aroma of a corn based pale lager with a hint of sweetness. Flavor was pretty flat with some malt and a touch of the honey coming through, a tiny,tiny hint of hops.Thin mouthfeel,crisp finish, a refreshing drinkable beer but not a rebuy for sure.
314 characters

3.4
/5
rDev
+20.1%
look: 3 | smell: 3 | taste: 3.5 | feel: 3 | overall: 4
Sampled this from a sampler pack, didnt know labatt made anything but blue. This beer was not that sweet for a honey beer. Had a nice taste of barley, yeast and honey that went down quite smooth. A solid summer beer that is rellatively inexpensive. Not a bad canadian beer for the money.
287 characters

Labatt Honey Lager from Labatt Brewing Company Ltd.
Beer rating:
2.83
out of
5
with
10
ratings