Juicy IPA
| Celis Brewery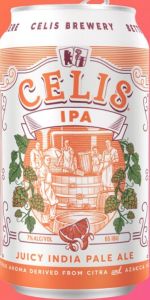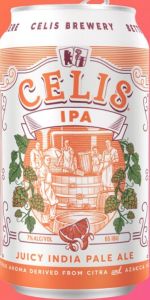 BEER INFO
Brewed by:
Celis Brewery
Texas
,
United States
celisbeers.com
Style:
New England IPA
Alcohol by volume (ABV):
7.00%
Availability:
Year-round
Notes / Commercial Description:
None provided.
Reviews: 6 | Ratings: 11
Reviews by imnodoctorbut:
2.41
/5
rDev
-22.8%
look: 2.75 | smell: 3 | taste: 2.5 | feel: 1.25 | overall: 2
poured from can to pint glass. (and i don't even feel bad about it)
A: hazy as hell, light yellow-golden in color, high rising off-white head with low retention that settles down into a thin cap. I guess this is "ATX-does-NEIPAfad"
S: light citrus, faint hop, sweet biscuit in there somewhere. pretty passive-agressive, overall, but HEY. some people don't even stop to sniff their beer. isn't that weird? not as weird as ATX, folks, lemme tell ya.
T: continuing the "passive-agressive" trend, this one has suggestions of quite a few things, and an assertion of what may probably be the *wrong* thing, if you are trying to make an IPA. first up, its a medium slab of orange-citrus riding in on a light biscuit malt, holding a sign of "HOPS" and immediately followed by said hops and the bitterness it entails.....BUT THEN OUTTA NOWHERE *wrestling announcer voice* IT'S BANANAS AND CLOVE LIKE A HEFEWEIZEN YEAST-BY-SOUTHYEAST FESTIVAL. yep. heard it here folks, it's a hefeweizen knock-off with hops. holy hell. lastly, there's a spicy factor at the end. not like "mexican food" spicy, like SPICE spicy.
F: all dramatics aside, this one is super carbonated, fairly thick in body, and has a near-bubble-gum coat to boot. did you know that roller-derby was popular here in ATX? why mention it now, you ask? oh, no reason.
Overall (personal opinion):
hyperbole? no. this is one confused brew. almost as confused as I was when I said aloud in the HEB when I picked this up: "Celis made an IPA?" - welp, now I know. Sometimes you try a beer and wonder how or why the hell you actually finished it in the first place. then you remember it's because you're an absolute lush and at the end of the day, a beer is a beer, and there are of course larger things to regret. like canning this beer and calling it an IPA, for instance. if that's what you're going for, then go for it. if you're looking for an actual citrus IPA? look elsewhere...literally, any-old-(where?)-else-where.
1,972 characters
More User Reviews:
3.5
/5
rDev
+12.2%
look: 3.5 | smell: 3.5 | taste: 3.5 | feel: 3.5 | overall: 3.5

2.85
/5
rDev
-8.7%
look: 3 | smell: 3 | taste: 2.75 | feel: 3 | overall: 2.75
CAN:
C / AVERAGE
17 characters
3.47
/5
rDev
+11.2%
look: 3.75 | smell: 3.5 | taste: 3.5 | feel: 3.5 | overall: 3.25
1.44
/5
rDev
-53.8%
look: 3.5 | smell: 1.25 | taste: 1.25 | feel: 1.75 | overall: 1.25
A juicy IPA... ugh, where do I start?
First off, this is NOT an IPA by anyone's definition. There are no discernable hops whatsoever.
Nose is minimal, and the flavor follows this: slightly tart, but otherwise very simple.
It's "juicy," but I'm looking for a bit more in this beer. It's 9ne of the most disappointing beers I've had in the past 6 months. I worked hard just to finish a pint of this.
Brewers: stop calling this an IPA. You're fooling no one. It's a simple tart ale and nothing more.
Drinkers: know what you're getting with this and maybe move on.
565 characters
3
/5
rDev
-3.8%
look: 3 | smell: 3 | taste: 3 | feel: 3 | overall: 3
2.71
/5
rDev
-13.1%
look: 4 | smell: 3 | taste: 2.5 | feel: 2.5 | overall: 2.5
Poured from can into tulip, good 2+ finger head, good retention and lacing. Pale golden opaque in the glass, aggressive pour yielded some particles. Smells faintly of citrus and something else I can't quite put my finger on, something not quite tart but wanting to be. Taste is well not that great to be honest. Just checked the can and it is < 2 months old, there is a small burst of hops then it just falls off. One dimensional, actually going to probably pour this one, as I have a lot of beer in the fridge and it just isn't worth it. Glad I only grabbed a single. FYI Celis if you read these reviews, relabel Citrus Grandis as a Belgian Pale and put it in cans and keep it fresh, it is a great beer. Everything I see is from Feb/Mar of last year. Get it off the shelves.
784 characters
5
/5
rDev
+60.3%
look: 5 | smell: 5 | taste: 5 | feel: 5 | overall: 5

2.86
/5
rDev
-8.3%
look: 3.25 | smell: 2.75 | taste: 2.75 | feel: 3 | overall: 3
Second incredibly mediocre to poor IPA I had this weekend. I have become accustomed to "standard" IPAs which are good but note very remarkable. This beer and the other are simply sub par for IPAs.
Had this on tap. Not bad looking, but hardly any smell and a dull taste. Will not repeat.
291 characters
3.87
/5
rDev
+24%
look: 3.75 | smell: 3.5 | taste: 4 | feel: 4 | overall: 4
Certain reviewers are higher on themselves than is probably healthy. Take us all with a grain of salt, it's the internet afterall. This beer is fine. Nice looking can with a flat paint feel. Poured out a decent head with gentle lacing throughout. Smells of a pleasant tangerine, but honestly it was tough to discern as I was at a BBQ restaurant. Taste was nice, would be great on a hot day. Nice finish with orange peel notes. I'd drink it again and would look forward to it after some yard work.
496 characters
3.23
/5
rDev
+3.5%
look: 3.5 | smell: 3 | taste: 3.25 | feel: 3 | overall: 3.5
It was "juicy" and smooth and refreshing, and went down just fine. But that is all I will remember from this largely forgettable hazy IPA served to me because they no longer served the infinitely superior Electric Jelly Fish IPA from Pint House Pizza Brewery.
259 characters
Juicy IPA from Celis Brewery
Beer rating:
3.12
out of
5
with
11
ratings