Claro
| Bavaria Brouwerij N.V.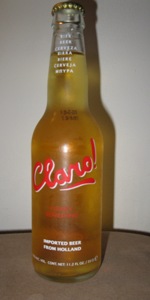 BEER INFO
Brewed by:
Bavaria Brouwerij N.V.
Netherlands
bavaria.nl
Style:
Euro Pale Lager
Alcohol by volume (ABV):
5.00%
Availability:
Year-round
Notes / Commercial Description:
No notes at this time.
Added by TheBrewo on 05-02-2011
Reviews: 3 | Ratings: 8
1.71
/5
rDev
-22.3%
look: 2 | smell: 1.5 | taste: 1.5 | feel: 2.25 | overall: 2
330ml bottle from Mercado Progreso Cubano (Cienfuegos, Cuba):
Definitely not a beer that could be considered a good one but it was far from the worst that I tried while in Cuba & I only feel slightly cheated by the fact that it was a Dutch beer. There isn't really much that can be said about this one other than it was a fairly basic, cheap offering that came through with a lot of adjuncts & not too much else; a disappointment for sure & not one I'd have again.
464 characters
2.2
/5
rDev 0%
look: 3 | smell: 3 | taste: 1.5 | feel: 3 | overall: 2
Big thanks goes out to Budweiser of Greenville for this one! No seriously... That is where this bottle came from for free. Shared during one of our weekly tastings. Served from bottle into a Mikkeller flute. Poured straw yellow with a half finger white head that subsided to a minimal amount quickly. There was no lacing evident throughout the glass. The aroma was comprised of sweet malt, floral notes, wheat, grain, and fruit. The flavor was of sweet malt, floral notes, wheat, grain, and skunk. It had a light feel on the palate with medium carbonation. Overall this brew was just plain BLAH. When I say 'skunk' in this one, I don't mean skunky hops, I mean that it tasted like a skunk smells. Just plain horrible. It was so abrasive that it took everything in my power not to spit this one out. Good thing it was free though. I suggest this as a cruel joke to one of your friends. Trust me, you will get a laugh out of it.
926 characters
2.33
/5
rDev
+5.9%
look: 3 | smell: 2.5 | taste: 2 | feel: 2.5 | overall: 2.5
We pour a crystal clear brew of medium yellow, which nearly becomes neon when light is passed through it. It holds a brief one finger head of choppy white bubbles. Lacing is left in little rings as the head dissipates. No sediment is noted and carbonation appears highly active, with many bubbles clinging around the bottom of the glass. The aroma is full of pale malts and floury adjuncts. There is a metallic twinge coming from the yeast. These characteristics combine and give off an aroma akin to a cold, alcoholic water cracker. There is some cutting sweetness of white sugar, but no other balancing aromas appear. As we sip the mouth is met, at first, by souring and bitter grains. There is a bite through the middle, of metallic malts, with any traces of other flavoring being washed away. The finish is quite mild, with more bittering adjuncty grain hitting the back of the tongue on its final stop down the gullet. The aftertaste breathes with little flavoring, with only hints at malt and baking flour, and a slight boozing. The body is light and the carbonation is very high. The feel to each sip is simple, without any clear slurpability or froth, despite the robust carbonation. The beer is actually thin and watery. The abv is within range, and the beer drinks as easily as anything in the style.
Overall, what we found most enjoyable about this brew was how, as advertised by the bottle, it was fairly refreshing. This is the type of beer you want to grab a cooler of and head down to the beach with a group of friends. There is nothing outright offensive about this beer, but rather there was just nothing to really grab your attention. It is light, watery, and above all, lacked any punch of flavoring. It is on the scale of something such as Presidente or Carib, but only lighter in the flavor department.
1,826 characters
Claro from Bavaria Brouwerij N.V.
2.2
out of
5
based on
8
ratings.