Dreher Köbányai
| Dreher Brewery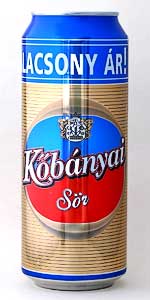 BEER INFO
Brewed by:
Dreher Brewery
Hungary
dreher.co.za
Style:
Euro Pale Lager
Alcohol by volume (ABV):
4.50%
Availability:
Year-round
Notes / Commercial Description:
No notes at this time.
Added by bark on 03-12-2006
Ratings: 14 | Reviews: 5
2.5
/5
rDev
+7.3%
look: 2.5 | smell: 2.5 | taste: 2.5 | feel: 2.5 | overall: 2.5

1.98
/5
rDev
-15%
look: 2.5 | smell: 2 | taste: 2 | feel: 1.5 | overall: 2
Very interesting to see how people rate this beer as "okay." It might be a shame that I diss this beer as I am Hungarian but nevertheless this one is not a beer that I would call okay.
I remember the times when back in the 80's-90's - and must admit, even after the turn of the century - this was a staple beer in Hungary along with Borsodi and Soproni, with this being the one that you only drank when you had not enough money for buying a "decent" beer but you wanted to get drunk all the same.
What I disliked about it so much was that weak and tasteless, cheap lager feeling with sharp over-carbonation that felt somehow stale, as if the CO2 pumped into it has been made of rotten eggs or dust. Or both.
Okay? It is below average. Maybe I'm wrong but if I have a choice, I'd rather not drink anything than drinking this one. At the same time, it is not the worst beer in the world though. Does this mean "okay?"
915 characters
3.01
/5
rDev
+29.2%
look: 2.75 | smell: 3 | taste: 3 | feel: 3.25 | overall: 3

2.18
/5
rDev
-6.4%
look: 3 | smell: 2.5 | taste: 2 | feel: 2 | overall: 2
2.63
/5
rDev
+12.9%
look: 2.75 | smell: 2.75 | taste: 2.75 | feel: 2.5 | overall: 2.25

2.67
/5
rDev
+14.6%
look: 2.5 | smell: 3 | taste: 2.5 | feel: 3 | overall: 2.5
yup, another half liter can of cheap euro brew. only a few days left of drinking these, so lets hang in there! this one smells pretty decent actually, with some pink grapefruit notes in there amongst the watery malt. taste is generic and dull, some faint hops detectable though, which is more than i can say for many of its peers. still, metallic and thin. not nice. feel is decent, bright carbonation and a medium body, smooth to drink, down easy. overall its just anther euro beer, as i am afraid everything in the fridge is tonight...
537 characters

2.03
/5
rDev
-12.9%
look: 2.5 | smell: 2 | taste: 2 | feel: 2 | overall: 2
One more beer that you want to try,and do not want to drink never again.
Little darker color,small foam and low carbonation.
Smell is very weak,nothing special.
It tastes on hops,citrus,grain aroma.
It goes easily then expected,but nothing to special.
251 characters
2.27
/5
rDev
-2.6%
look: 2.5 | smell: 3 | taste: 2 | feel: 2 | overall: 2
Ligh yellow colour, foamy head which dissipates quite quickly, almost no lacing.
Aroma is weak hoppy with hints of citrus fruit. Taste is very plain and watery - some extremely weak bitterness upfront and light and short sweetish aftertaste. Feels very diluted.
Mouthfeel is thin with low carbonation. I did not like this one at all - maybe ok when the beer is cold on hot summer day, but buying and drinking it regularly - no way.
433 characters
2.2
/5
rDev
-5.6%
look: 2 | smell: 2 | taste: 2 | feel: 2 | overall: 3
The colour is medium yellow; the tiny head sinks quickly down into… a thin layer of little island of foam. It doesn't look very inviting.
The medium strong smell got notes of spicy hops, but the dominating flavour is sweet and musty.
The taste is simple, somewhat sweet, light and almost watery. The aftertaste got some notes of sweet malt, salt, wheat flour, diacetyl and wet paper. The bitterness is weak.
Easy to gulp but in all other aspects, it is a dull beer.
478 characters
Dreher Köbányai from Dreher Brewery
2.33
out of
5
based on
14
ratings.