Geisterzug Gose Quinced

Freigeist Bierkultur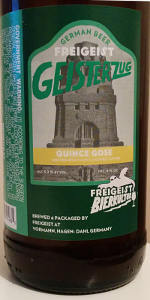 Write a Review
Beer Geek Stats:
| Print Shelf Talker
Style:

ABV:

5%

Score:

Avg:

4.03

| pDev:

6.95%

Reviews:

14

Ratings:

From:

Avail:

Rotating/Seasonal

Wants

Gots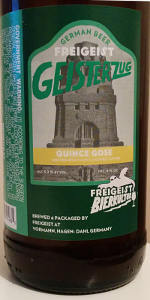 Notes:

Bitterbill from Wyoming
4.39
/5
rDev
+8.9%
look: 4.25 | smell: 4.5 | taste: 4.5 | feel: 4 | overall: 4.25
Bottle bought at Liquor Shed.
It pours a hazy orange with an impressive head of foam, even with a gentle pour. Lacing is top notch.
The smell is apple pear, what Quince is all aboot when I googled it. Lovely aromas, tart just edges out sweet.
Taste is as good as the smell. More of an apple taste up front that brings some mild tartness, pear flavour, to me, brings a mild sweetness. I definitely taste some salt. It finishes dry.
Light body with medium to medium light carbonation.
Excellent and very enjoyable. A new favourite of the style.
Sep 04, 2018
Snowcrash000 from Germany
3.85
/5
rDev
-4.5%
look: 4 | smell: 4 | taste: 3.75 | feel: 4 | overall: 3.75
Pours deep gold/pale amber coloration with a large, frothy head. Smells lovely of what I can only assume is quince, a mixture of citrus and apple aromas with a hint of spice and sea salt. Taste follows the nose, with a tart and zesty quince taste that is reminiscent of lemon and green apple, with light notes of hay, grass, grains, coriander and sea salt. Quite a bit of sea salt, actually. Finishes with a dry sourness and a good dose of sea salt lingering in the aftertaste. Light/medium body with medium/lively carbonation.
This is not quite as good as their Rhubarb Gose to me and only in part because I like rhubarb better than quince. It's not as perfectly balanced, or maybe just different. It lacks the subtle sweetness, being more zesty and dry, but with a decent balance in its own right. The sourness is quite light, but appropriate for the style, while the salt seems a little overdone, although it's not too bad.
Jul 14, 2018
SLeffler27 from New York
4.52
/5
rDev
+12.2%
look: 4.75 | smell: 4.5 | taste: 4.25 | feel: 4.5 | overall: 5
Clear straw yellow with a huge four inch fluffy white head that lasts several minutes before settling to a foamy pillow. The Stiegl stange holds a coating of sticky lace above. After yeast is added in the second pour, it turns cloudy orange.
The aroma is reminiscent of fresh sea breeze with lemon or lime. Other nuances include floral lilac and lavender and honeydew melon. The yeast addition adds earthiness and green apples.
Light tartness balances the brine. Honeydew melon lingers in a mild finish. Overall this has a mild, sweet, tart/acid balance. It warms well but is best cool. Yeast added faint banana.
The body is light and silky with fine scrubbing carbonation and faint alcohol. This is a refreshing thirst quencher. Mouthfeel became creamy with yeast.
This is a very relaxing, subtle beer that I will look for in the future. It is better without the yeast.
Jul 09, 2017

BubbleBobble from New York
4.26
/5
rDev
+5.7%
look: 4 | smell: 4.25 | taste: 4.25 | feel: 4.5 | overall: 4.25
Pours a deep hazy orange, nice big foamy head, just a bit of lacing left behind. Aroma is mildly sweet, some sour apple, subtle marmalade that becomes more prominent as this warms up. All the flavors of an orange (or I guess quince? to be honest, unsure what a quince tastes like) marmalade are there, minus the sweetness. Touch of pithy bitterness as well. It seems sweet without being so, if that makes any sense. Nice refreshing mouthfeel as well. Really enjoyed this one.
Apr 29, 2017
AtrumAnimus from Texas
5
/5
rDev
+24.1%
look: 5 | smell: 5 | taste: 5 | feel: 5 | overall: 5
This one pours a very cloudy dark yellow color that has a moderate head that settles fast and leaves a complex lacing down the glass.
The nose is is peppery grass, with notes of sour apple, salt air.
The taste is phenomenal gose style and it is scrumptious. the flavors are sweet, sour, savory and effervescent with notes of citrus lemons and oranges that are dry and not a dominant sweet. A perfect example of the gose style of beer.
The mouthfeel is light and delivers this incredibly good beer to the palate perfectly.
Overall this is a phenomenal Gose style beer and a perfect example of how it should be. I cannot recommend this one enough.
Feb 05, 2017
zonker17 from Texas
4.16
/5
rDev
+3.2%
look: 4 | smell: 4.25 | taste: 4.25 | feel: 4 | overall: 4
0.5 mL bottle poured to Oktoberfest glass. Deep golden color, 2 finger head that mostly diminishes. Fruity nose of pear with a hint of funk. Clean taste with a finish that lingers, keeping the fruity tones and almost tasting like cider. Average feel and carbonation.
Sep 11, 2016

Ozzylizard from Pennsylvania
4.21
/5
rDev
+4.5%
look: 4 | smell: 4.25 | taste: 4.25 | feel: 4 | overall: 4.25
$ 8.69 (Including tax)/0.5 L bottle ($ 0.514/oz) at State Line Liquors, Elkton, MD
Undated bottle at 42 degrees into a hand washed and dried JK snifter
Aroma – salt air and citrus
Head – small (Maximum two cm, aggressive pour), white, frothy and dense, diminishing to
Lacing fair – narrow rings of tiny to small bubbles, with many thin fingers
Body – medium yellow, mostly chill haze
Flavor – begins tart and citrusy, fruity but nothing I've had before, ends with a tangy aftertaste; no malt, no alcohol, no diacetyl
Palate – light to medium, watery, lively carbonation
A pleasant gose which has introduced me to quince. I remember my grandmother had a quince bush in her yard and no one ever harvested the fruit, slightly smaller than a kiwi fruit as I recall.
Appearance 4, Aroma 4.25, Flavor 4.25, Palate 4, Overall 4.25
Aug 01, 2016

Phil-Fresh from California
3.99
/5
rDev
-1%
look: 3.75 | smell: 4 | taste: 4 | feel: 4 | overall: 4
A: Light quince and resiny, pine needles coupled with a faint saltiness and mild lacto sourness.
A: Orange color, super hazy with moderate white semi-rocky head that has solid retention. Light lacing is left in the glass.
T: Light quince and pine needles, coupled with a faint saltiness and a mild tartness.
M: Medium bodied with moderate carbonation.
O: Solid; the quince and pine needles bring an interesting aroma and flavor combination to a traditional gose. The beer also has solid overall balance, however the beer could be better if more effervescent and if the salt were slightly more noticeable.
Jul 27, 2016
Premo88 from Texas
3.82
/5
rDev
-5.2%
look: 4 | smell: 4.5 | taste: 3.75 | feel: 2.5 | overall: 3.75
16.9 oz. bottle poured into weizen glass
L: crystal clear gold, pushes up almost 2-finger head of white foam, no sticking, very little lacing but it's keeping a nice white collar of foam; clarity is at a pilsener level, stunning
S: pizza dough, pizza crust, yeast and grain, salty marinara sauce as it warms
T: tonic water, quinine, slightly tart, grain, has a light malt sweeter finish as it warms
F: very soft, almost flat, carbonation feels very low, brew is light and watery
O: easy-drinking gose, has some interesting sweet notes that dive in and mix well with the salty aroma and quinine flavor; far from sour, but it does have a tart finish
May 29, 2016
StJamesGate from New York
4.18
/5
rDev
+3.7%
look: 4 | smell: 4 | taste: 4.25 | feel: 4.25 | overall: 4.25
Loose white foam over cloudy wax-yellow. 4
Lime zest, white vinegar, flowers, and waxberry. 4
Hit of lemon-tropical fruit soda, white vinegar, pompelo, yet more fruity jam on the comeback. 4.25
Grapefruit finish and tingly grape skin champagne linger.
Crisp, light, dry. 4.25
Crazy how this is both fruity and savoury. Tart more than sour makes it super quenching. Super summery, historic but not fusty, overall superior. 4.25
Aug 28, 2015
sprat1960 from Massachusetts
3.97
/5
rDev
-1.5%
look: 3 | smell: 4 | taste: 4 | feel: 4.25 | overall: 4
Look: Golden in color. Pours with a very small cream-colored head that disappears quickly leaving only a small trace of foam on the surface of the beer. Can see some small bubbles upon close inspection, though the beer looks kind of dead rather quickly. Fairly commercial looking.
Smell: Very fragrant aroma. Sweet and sour; think malty scent in combination with green apples. Interesting and inviting.
Taste: Tastes just like it smells - only more intense. Sweet and sour; think malt in combination with tart green apples. More tart/sour than sweet. Very refreshing.
Feel: Medium body. Smooth start, followed by a very slight fizzy feeling from the mild carbonation, ending with a slight syrupy/slippery wet feeling. Refreshing feeling; no dryness at all. I really like the sensation.
Overall: I really enjoyed this beer; very refreshing and thirst-quenching. This would be great on a hot day.
Mar 17, 2015

busternuggz from California
4.21
/5
rDev
+4.5%
look: 4 | smell: 4.25 | taste: 4.25 | feel: 4 | overall: 4.25
Poured from a 500 ml bottle into a tall tulip.
Nice golden color with a creamy 1/8" white head. Recedes to a ring, a little bit of lacing.
Bright tangy smell, pineapple, melon, a little brine, pear juice. Nice.
The taste comes in with soft wheat malt, sharp sea salt, spicy pineapple, peach pit. Subtle tartness balancing slight fruity sweetness. Ends soft with peach and honeydew melon. I've never had a quince, so maybe it tastes like quince.
Soft, fluffy body, ends fairly clean.
I liked the rhubarb version better, but this is also good. Like the rhubarb, it manages to get a complexity of fruit flavors out of one fruit. Less tart than other goses I've had, I wouldn't mind a little more.
Dec 14, 2014
UCLABrewN84 from California
3.8
/5
rDev
-5.7%
look: 3.5 | smell: 4 | taste: 3.75 | feel: 3.75 | overall: 3.75
5.2% ABV per the label.
Pours a murky orange with a foamy bone head that settles to a partial film on top of the beer. Thin streaks of lace form around the glass on the drink down. Smell is slightly sour with grain, fruit, and salt aromas. Taste is much the same with slightly sour grain, earth, fruit, and salt flavors on the finish. There is a very mild amount of acidity on the palate with each sip. This beer has a lower level of carbonation with a slightly crisp mouthfeel. Overall, this is a pretty good beer with solid fruit and salt characteristics, but the sourness in this one is fairly mild in my opinion.
Serving type: bottle.
Nov 25, 2014

elNopalero from California
4.55
/5
rDev
+12.9%
Corrected: as I realized I posted this review originally in the "regular" version, not the Quinced variant.
This pours a light straw amber with a hint of grapefruit pink. Aroma has a quince note, far as I can tell—it's something akin to a candied yet fresh grapefruity floral note. Tastes so good.
It's … well, it's tartly sour, refreshing and crisp, yet funky and strange in the most engaging sort of way. It could have easily been a mess but somehow it works. This might have been the most interested beer I've tried in a while.
Sep 11, 2014
Geisterzug Gose Quinced from Freigeist Bierkultur
Beer rating:
90
out of
100
with
70
ratings