Buzzards Bay Farmhouse Reserve Barrel Aged Ale
| Buzzards Bay Brewing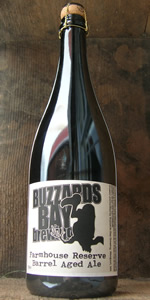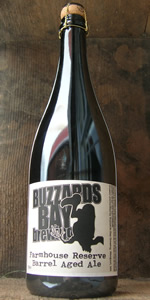 BEER INFO
Brewed by:
Buzzards Bay Brewing
Massachusetts
,
United States
buzzardsbrew.com
Style:
Belgian Saison
Alcohol by volume (ABV):
not listed
Availability:
Limited (brewed once)
Notes / Commercial Description:
None provided.
This beer is retired; no longer brewed.
HISTOGRAM
Ratings: 8 | Reviews: 7
4.42
/5
rDev
+7.3%
look: 4 | smell: 4.5 | taste: 4.5 | feel: 4 | overall: 4.5
Popped this one last night after much debating. Not too many of these floating around out there anymore and thankfully for folks like me, it doesn't carry the same hype as a lot of rare one-offs from other breweries. Having said that, thanks for trade Nelson!
The appearance is a nice ruddy amber with a small bubbly head that quickly recedes to the edges of the glass.
Smell is really nice, a good amount of brett and funk complimented with a little bit of oak.
Taste initially is brett centric with mellow oak. I decided to let this one warm up for a bit and the closer it came to about 60, I began to get nice tart crispness and a lovely cab-like flavor.
Mouthfeel is good, maybe a *hint* of too much carbonation.
This one is incredibly drinkable and I really wish I had more bottles. I also wish I had been able to try it upon it's initial release, but as of right now, it really is a great beer and one to be sought out if you can find it.
949 characters

4.15
/5
rDev
+0.7%
look: 4 | smell: 4 | taste: 4 | feel: 4.5 | overall: 4.5
Bottle received a while ago in a trade with blisscent thanks!
Appearance: Pours a muddy garnet with a nice 1 finger dark khaki crown that shows good retention and lace.
Smell: A solid amount of belgian yeast, a touch of kandi sugar, grapes, red apples, and a faint touch of pepper. Nice combo but a touch mellowed out due to the nearly 2 years of age on it.
Taste: A bit muddy. The tartness of grapes and apples up front followed by some kandi sugar and fruity malt. A small dash of pepper then makes an appearance and the finish is all grapes.
Mouthfeel: Nice medium body with a really refined creamy mouthfeel. Not quite lush but very nice.
Drinkability: This one has an interesting flavor profile and a good mouthfeel. I'm not getting any alcohol presence so I'll say its fairly drinkable.
Age wise this one seems to be in a bit of a transition. It was probably more tasty a year ago and might turn into something special in another year from now. I'd say if you are still holding one, crack it open next summer!
1,023 characters

4.32
/5
rDev
+4.9%
look: 4 | smell: 4.5 | taste: 4.5 | feel: 4 | overall: 4
Thanks to Joey for sharing this beer at La Bella this past Tuesday night.
Pours a cloudy, rusty brown color with a quickly disappearing head.
Very nice brett aroma, horseblanket, acidic, phenolic, hints of lemon, orange, just lovely. Slightly spicy and acidic with hints of sweetness at times.
Spicy oak flavors, toast, funk, bitter orange, toast, apple sweetness and tannic like biting on the seeds. The acidity was quite high, ugh, I was still feeling it the next morning. Moderate carbonation. Refreshing and still easy to drink but the whole bottle might be just too acidic to drink alone. Great beer overall and I'm glad I got to try it.
646 characters

4.12
/5
rDev 0%
look: 4 | smell: 4.5 | taste: 4 | feel: 4 | overall: 4
Big thanks to Joe for bringing this one - this must be super obscure as I've never heard of it and there are a whopping three reviews. Served in my Kuhnhenn tulip glass.
A - Pours with a finger of light blonde foam that slowly dissipates to a a thing ring with some light haze and some spotty lacing. Very murky amber/dark apricot color. Nice foam, not the most attractive body.
S - OK - first thing is that is about as much of a Saison as Beekeeper was. Lots of sweet fruitiness, mixed with funk, and some caramel and brown sugar sweetness, with some strong woodiness that gets more intense as the brew warms up
T - The taste is a mild disappointment - there's some intense tannic woodiness, some light vanilla, caramel apple, and some light cabernet sauvignon. It takes a while to warm up and it never gets as intense as the smell. There's a huge tannic aftertaste that builds shockingly quickly when compared to the milder taste.
M - The feel is also a little more tingly and carbonated than I prefer. The texture has some nice softness and the finish is fairly dry with some light acidity.
D - This brew had the unfortunate task of following up some crazy-awesome brews and it's probably taken a hit because of that. That being said, I was happy to refill my glass, but the intense woodiness gets a little fatiguing after a while.
1,339 characters
4.5
/5
rDev
+9.2%
look: 4.5 | smell: 4.5 | taste: 4.5 | feel: 4.5 | overall: 4.5
Wow, thank you Josh for opening this one up.
I've been trying to get this one for a little while now. 750ml corked and caged bottle.
Poured a deeper amberish / brownish color with a smaller sized off white head. Initial pour was clear which clouded up towards the bottom of the bottle. Aromas of woodiness, vanilla, brett, funky, and citrus. Tastes of wood, vinous, caramel, funky, vanilla, citrus, and earthy. Light to medium tart finish. Very drinkable. I wish I had some more of this!
Notes from and tasted on 9/20/08
523 characters

4.1
/5
rDev
-0.5%
look: 4 | smell: 4 | taste: 4.5 | feel: 4 | overall: 3.5
This beer, when poured into my large Tripel Karmeliet Tulip, produces a three finger thick, light tan colored head. The beer has an interesting, purple stained, red plum color and shows a hazy, light cherry color when held up to the light (I would guess the cabernet barrel has significantly reddened this beer up). The aroma is a nice mix of funky-farmhouse cheese notes and oak aromatics, with a fruity note that ties the two together. Aromas of apricot scented chanterelle mushrooms, oaky butterscotch, a lightly spicy / pepper oak note, light barnyard musk, damp-molding wood, a touch of sharpness associated with blue cheese and an expressive fruit character that reminds me of dark berries, a light jam like quality, some blackberry notes, a slight cherry scent, basically a solid cabernet influence has leached into this beer. I really like how the barrel has contributed both fruit and oak aromatics here, both significantly, but not overwhelmingly. The wild funk is really hitting some nice notes as well, the aroma is not overly phenolic, but instead has a solid Brettanomyces contribution that melds quite well with the fruit and accentuates the oak character. There is definitely a wonderful nose on this brew.
Light and a bit fizzy at it first hits my mouth, the beer is incredibly dry and correspondingly light bodied. The oak though adds some structure to the body, with a tannic quality that provides a bit of creaminess and some teeth coating oak notes. The oak contributes a substantial spiciness that leans towards woody pepper notes, as well as a Bourbon like spicing. As my palate gets used to the dryness, the fruit character starts to come out to play; without really picking up any sweetness I notice notes of blackberries, ripe cabernet grapes and tannic berry skins. This finishes with a bit of heat from the oak, and perhaps a hint of alcohol as well (I really wish I knew how strong this beer is, pale ale sounds light, but you never know, & the final assesment was that I felt this was near 8% at least). Flavors of tart plum, a touch of sherry & port and hints of pear. This is not overly tart, in fact it has only a light lactic sourness to it; it is enough to anchor the beer, but it plays second fiddle to the oak and fruit notes. Not quite as funky in the flavor as it is in the aroma; it is more musty than anything.
I really like how much character this picked up from the Cabernet; this really has picked up an incredible fruit character from the barrel, in fact if not for the wine notes, this beer would be unbalanced due to the oak character that was picked up during its rest. Definitely a complex, interesting beer, but I can't help wishing for a bit more tartness ;-)
2,712 characters
3.85
/5
rDev
-6.6%
look: 3.5 | smell: 3.5 | taste: 4 | feel: 4 | overall: 4
Poured from a 750ml bottle, which was purchased at the brewery, into a tulip glass.
A: The beer is a deep amber color, with a large off-white head that fades quickly and leaves a spotty lace on the glass.
S: The aroma is of Belgian yeast, apples, grapes, brown sugar, caramel and light malts. There's a lot going on with it.
T: The taste is very complex and starts out quite sour with flavors of grapes, apples and raisins, no doubt the result of the beer being "barrel aged for over 2 years in cabernet sauvignon soaked French oak" as stated on the brewery's web site. There's a subdued sweetness from flavors of caramel and brown sugar, but it maintains itself consistently. As you continue to drink it, the sourness tones down a bit and the characters of malt and Belgian yeast assert themselves along with a decent presence of hops bitterness, to provide a good balance. The after-taste is slightly sweet and slightly sour.
M: Crisp and smooth, medium body, medium carbonation, finish is clean and dry.
D: Tasty, goes down easy, not too filling, good kick, nice representation of style while adding a lot to it. One can certainly appreciate the craftsmanship of this beer, with so much having gone into it and the effects are definitely present. While it might not be the best beer to pound down, it's a good alternative if you're looking something different and complex.
1,394 characters
Buzzards Bay Farmhouse Reserve Barrel Aged Ale from Buzzards Bay Brewing
Beer rating:
4.12
out of
5
with
8
ratings